By Eileen Ogintz
WURZBURG and ROTHENBURG, Germany — Potty talk—in a palace!
It's not easy to make a historic palace interesting for kids. But all it takes is a little potty talk.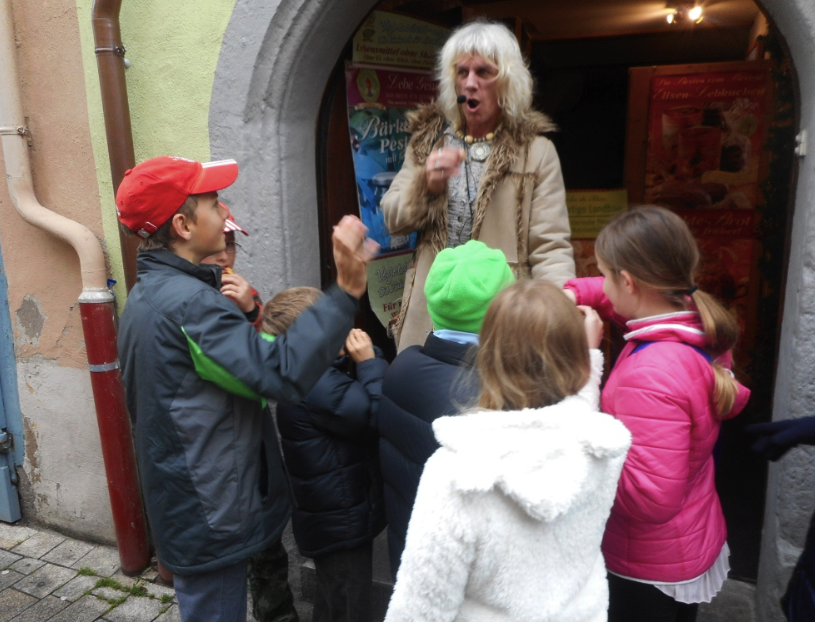 We're in Wurzburg in Bavaria, the third day on our Uniworld Cruises family trip in the middle of Germany in a city that was nearly all destroyed by British bombers during allied bombing in 1945. Fortunately, the city has been totally rebuilt.
We're at the Wurzburg Residence, the former palace of the Wurzburg prince-bishops and one of the most important baroque palaces in Europe finished in 1780. It's a UNESCO World Cultural Heritage site and unlike other palaces was built nearly within one generation.
"Where do you think the bathrooms are in a palace?" Our local guide Charles Conard asks the 16 kids in our group. They are amazed—and giggling of course–when he tells them that people would just pee into a pail or sit on a commode right in front of everyone. That was better, he said, than many palaces where people did their business on the floor.
They laugh as he points out the famous ceiling fresco by the Venetian Giovanni Battista Tepolo – huge at 18 x 30 meters—that represents the four continents that were known at the time. The artist had never seen an ostrich, Conard told the kids and drew it from someone's description—thus legs that look human but the rest of the beast looks like an Ostrich. Check out the huge ears on the elephants!
The roof amazingly withstood the bombing. He called the room of some 600 mirrors the "Oh my god!" room because of all of the gold and makes the kids laugh when he asks in the bedroom where was the bed? "They brought their bed and furniture with them," he explained. "Do you think an empress wants to sleep in a bed some dirty man had slept in… remember they didn't take baths like we do today."
On family sailings, Uniworld engages guides who can gear a tour for families (there are other guides for other guests) and this is one of the best I've seen, parents and grandparents agreed. "When we were in Versailles, the girls couldn't wait to leave," said Kristen Manton, but at lunch her 10 year old twins gave Conard's commentary a positive review—especially the potty talk!
There's also an effort to please the kids—as well as the adults–at meal times. One youngster was eating schnitzel every night for dinner, though it wasn't on the menu. We were served up a variety of German sausages for lunch but some kids preferred hamburgers. Not a problem!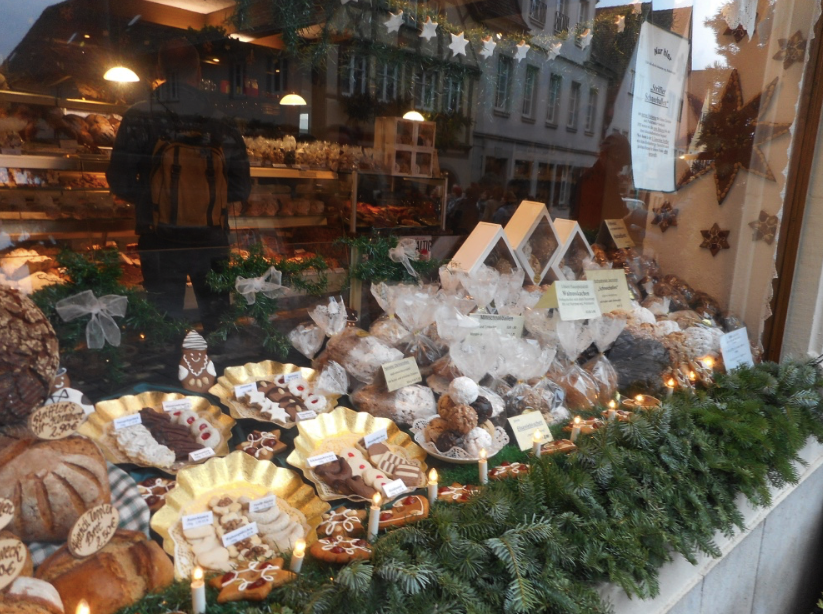 One child was having French toast every morning for breakfast. My husband tried it – yum! There's also plenty on the buffets at breakfast and lunch—cheese, cereals, smoked fish and yoghurt fruit at breakfast, salads and soup and meats at lunch, along with what you can order.
Not a problem either if the kids need something to eat before the scheduled 7 p.m. dinner—it's served to them in the lounge. And after the parents of the youngest kids on board—five and six asked—they arranged an earlier dinner in the dining room for the kids .
"You can have schnitzel any time too," the engaging server tells my husband. "You just have to ask."
We were lucky to have Charles Conard again as the "family guide" for our day in Rothenburg, famous for its 42 towers, half timbered houses, cobblestoned streets and of course, Christmas Market. We sampled sausages and the town's famous pastries that translate to "snowballs" in English—big, round fried dough that comes in various flavors—the chocolate is the best! We tasted half a dozen different kinds of sausages as well as those snowballs. We walked part of the famous medieval wall and climbed to the top of the tower for a view of the city.
There is a bonafide Christmas Museum, a dolls and toy museum and what the boys in our group liked most– the Medieval Crime Museum. We agreed we wouldn't have wanted to live here then where if you fell asleep in church, you were forced to wear a gigantic wooden rosary; if you ate too much, a gigantic pig's mask; drank to much, a giant wooden barrel.
The kids of course thought it was all hysterical. Yes there were a lot of tourists. But it was the kind of town that was fun—the Christmas market (AWESOME SAUSAGE!) the pastry shops with every variety of snowballs.
I only wished we could have been there to see the lights at night.