By Eileen Ogintz
Sometimes even the most seamless vacations go awry—through no fault of our own. Vacations get derailed by bad weather, flight delays. In our case, a young woman fell off her balcony to her death just hours after we had departed Miami for a six-night Caribbean cruise.
It is difficult to fathom how this could have happed, but it did. The ship (Virgin Voyages' Valiant Lady) returned to Miami for an overnight investigation. The itinerary was scrapped. Rather than Roatan and Costa Maya, we will have an extra day at sea and then go to Cozumel and the new cruise line's private beach club at Bimini.
"We were looking forward to Roatan but it is what it is," said Zach Krassin, from Binghamton, NY.
The cruise line is offering the passengers a free cruise—basically whatever they paid for this one—as compensation as well as refunds for whatever shore excursions they had booked.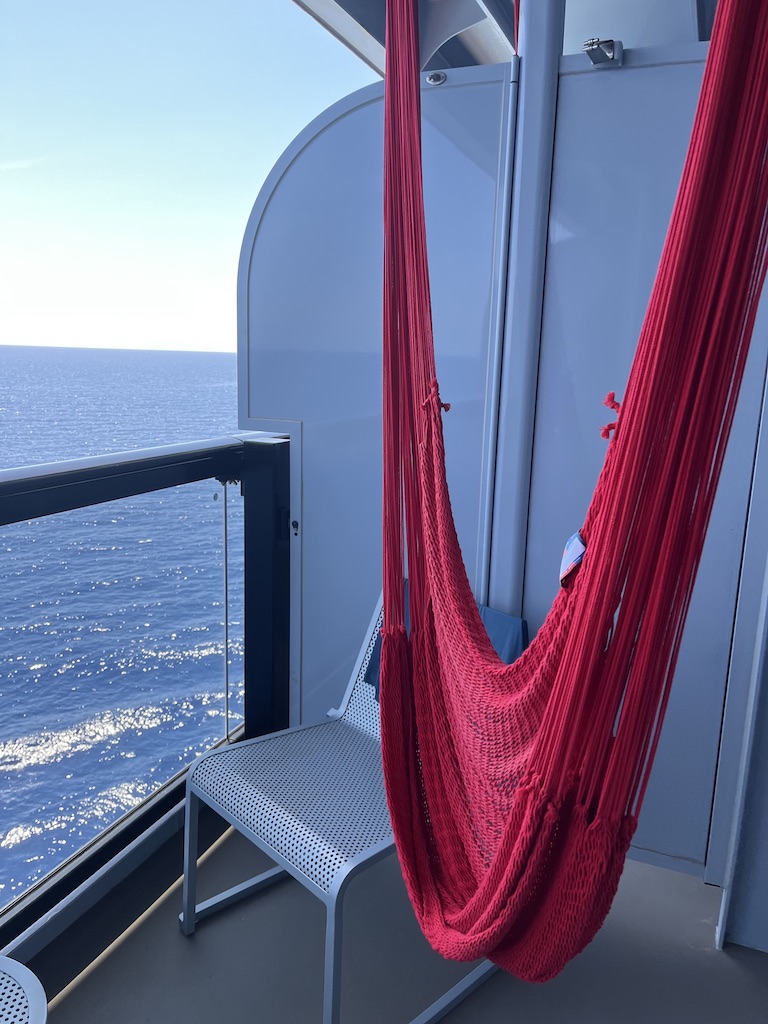 Virgin Voyages, the latest foray from Richard Branson, is designed around "The Modern Romance of Sailing."
The Manor, the ship's signature nightclub, traces back to Richard Branson's first Virgin music studio: Voyage Vinyl is a record ship with personal listening stations where you can also shop for limited-edition albums. There's Karaoke, casino, spa, plenty of original entertainment—everything from a DJ to cabaret to blues.
Virgin Voyages four-ship fleet is known as the Lady Ships, a play on the British term "your ladyship." The Scarlet Lady sails four and five night itineraries from Port Miami; Valiant Lady will sail seven-night cruises from the Mediterranean from Barcelona this summer.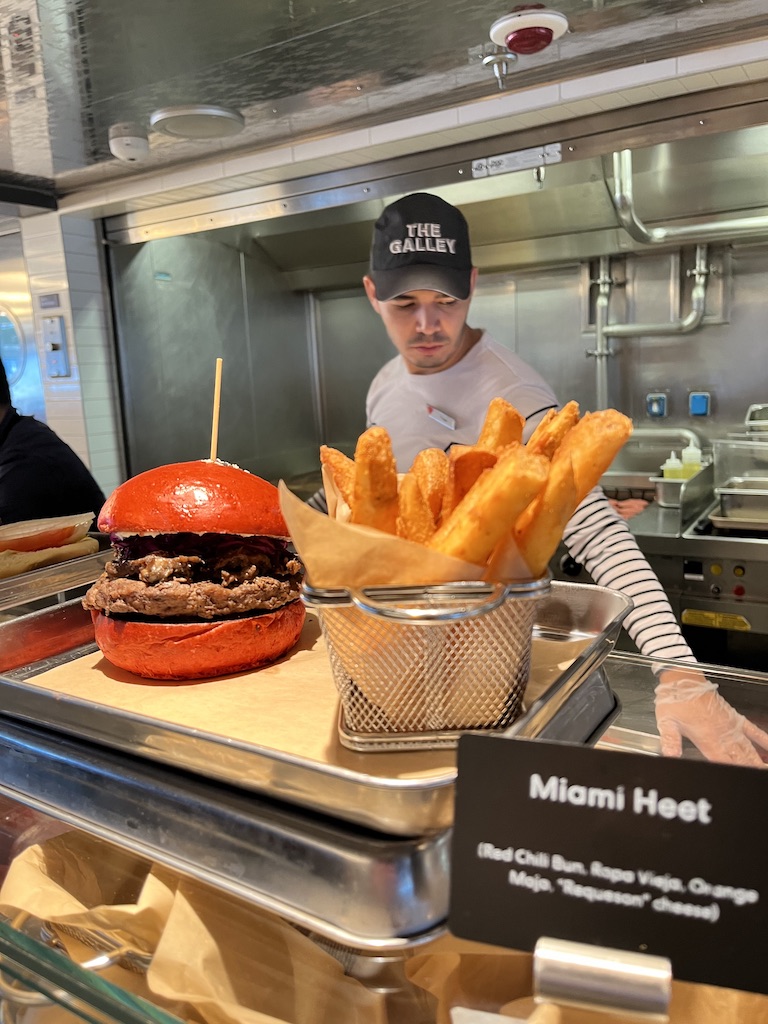 Those concerned about climate change will be happy to know the cabin sensors can automatically detect when someone has left and go into energy saver mode, conserving energy. There are no single-use plastics—not even straws and take-away drinks are served up in recyclable contains. All of the seafood has been sustainably sourced and sunscreen on sail is reef-safe.
"It is different," said Krassin, noting he and his partner, Jaclyn Jew, chose Virgin Voyages because more was included — WIFI, tips, eight restaurants, sunrise and sunset yoga and expansive fitness enter including an outdoor training zone, a boxing ring, strength, and gymnastics equipment. Passengers also were enjoying the seesaws and tire swings overlooking the ocean.
There are only a few people riding mobility scooters, which sometimes cause traffic jams on other cruise ships. The well-equipped fitness center was full this morning.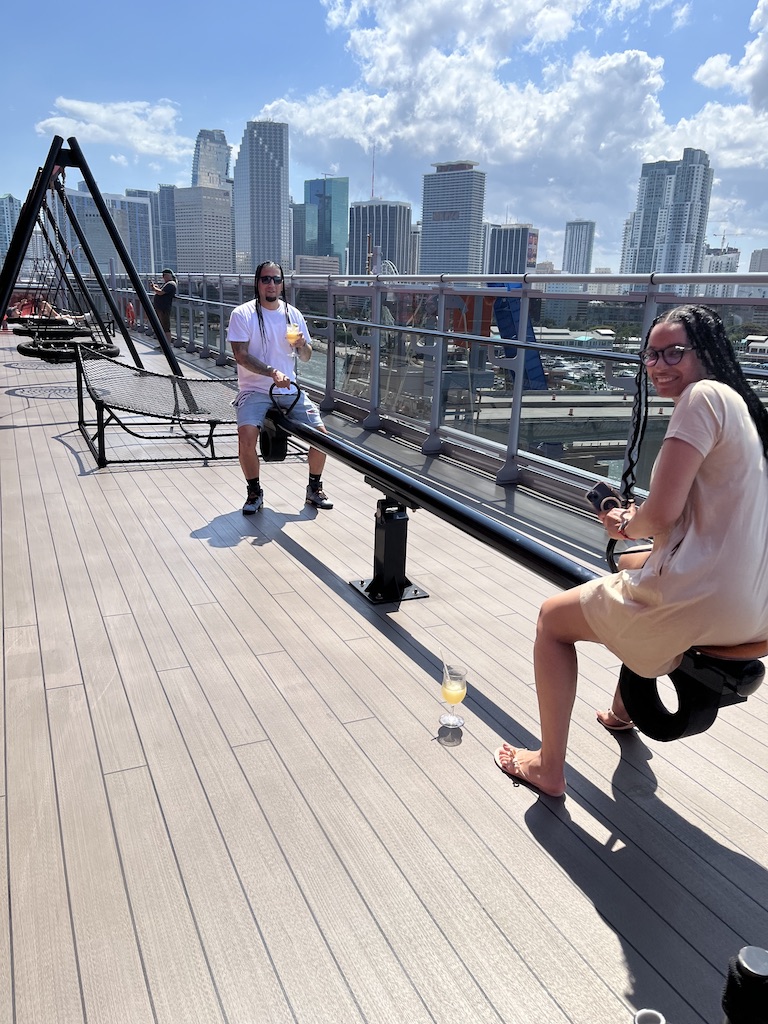 There are no kids either. You must be 18 to cruise Virgin Voyages and those on board range from twenty somethings to those well into their seventies or older. "I miss the kids," said Lily Gonzalez, the mom of three who won the trip in a raffle and is cruising with her husband. "But it is new and different," she said.
The vast majority of cabins have balconies complete with hammocks, handwoven by artisans from Yellow Leaf, a woman's enterprise in rural Thailand that fosters women's empowerment. And the ship isn't too big, holding 2,770 passengers (roughly 2,400 on our cruise) and 1,160 always smiling crew from around the world.
There are no buffets. At the Galley, there are a plethora of choices—burgers, paninis, street tacos, a sushi bar with bento boxes, noodle bar, salads, and a 24-hour diner. But rather than guests getting their food, we put up a flag at our table and a server takes our order. Outdoors, at The Dock, there are carts of small plates catering to grazers and an array of fresh meat and seafood skewers made to order as are the pizza at the Pizza Place. There is even a spot to order Poke.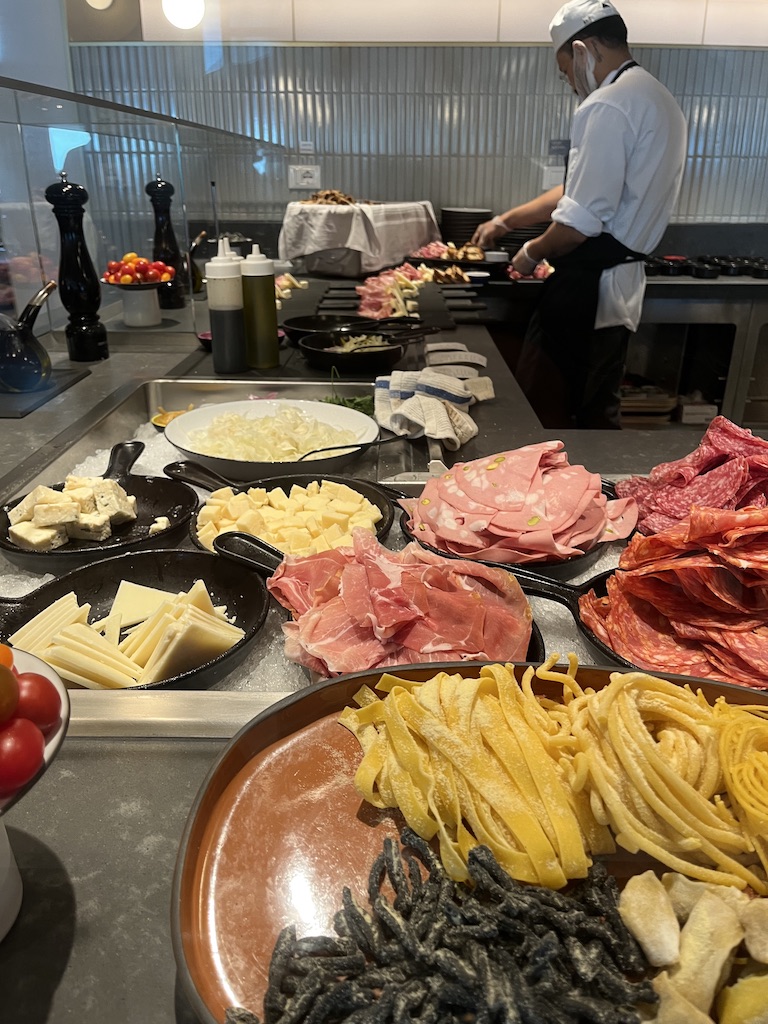 The food is delicious. And unlike other cruise lines, the specialty restaurants are included. We had a first rate Italian dinner (I especially liked the crispy artichoke antipasto and the chef's selection of salumi and cheese) at Extra Virgin. The Wake is a modern take on a steakhouse. Razzle Dazzle is named for the camouflaging pattern on WW1 and WW2 warships and is largely vegetarian (though there are meat add -ns). The Test Kitchen is part cooking school and part restaurant — guests get a list of ingredients which then is crafted by the chef. Pink Agave is a nod to the Mexico City culinary scene with everything from sopas and tortas to tamales—and an extensive mezcal menu. Gumbae is an interactive Korean BBQ where guests grill their own meats on a flameless grill.
There are also 10 bars, including Richard's Rooftop for suite guest (love the circular lounges and the complimentary bubbly at 5 pm). Draught Haus with eight beers on tap, a big range of artisanal craft beers.
One plus of so much time at sea: more time to experience all the ship has to offer. "We're easy to please," said Krassin, smiling.