By Christopher Morales, Taking the Kids Correspondent
LOS ANGELES — If your best friend asked you to jump out of a window, would you do it? Now you can. Not literally, of course, but the newest attraction in Los Angeles certainly comes close to it.
OUE Skyspace LA is a new attraction at the heart of Downtown Los Angeles built in the U.S. Bank building–currently the tallest building west of the Mississippi River–and the buzz is booming after its grand opening in June.

According to OUE's Lucy Rumantir, President & Chief Executive Officer, The Americas, "With its 1,000-foot-high observation deck and one-of-a-kind Skyslide, OUE Skyspace LA welcomed approximately 10,000 people for our grand opening weekend."
The trip begins with an elevator ride to the 54th floor, where there is an interactive, technological exhibit. In this exhibit, there is a timelapse-panoramic view of the city of Los Angeles. From sunrise to sunset, the video simply displays the everyday life of an Angelino.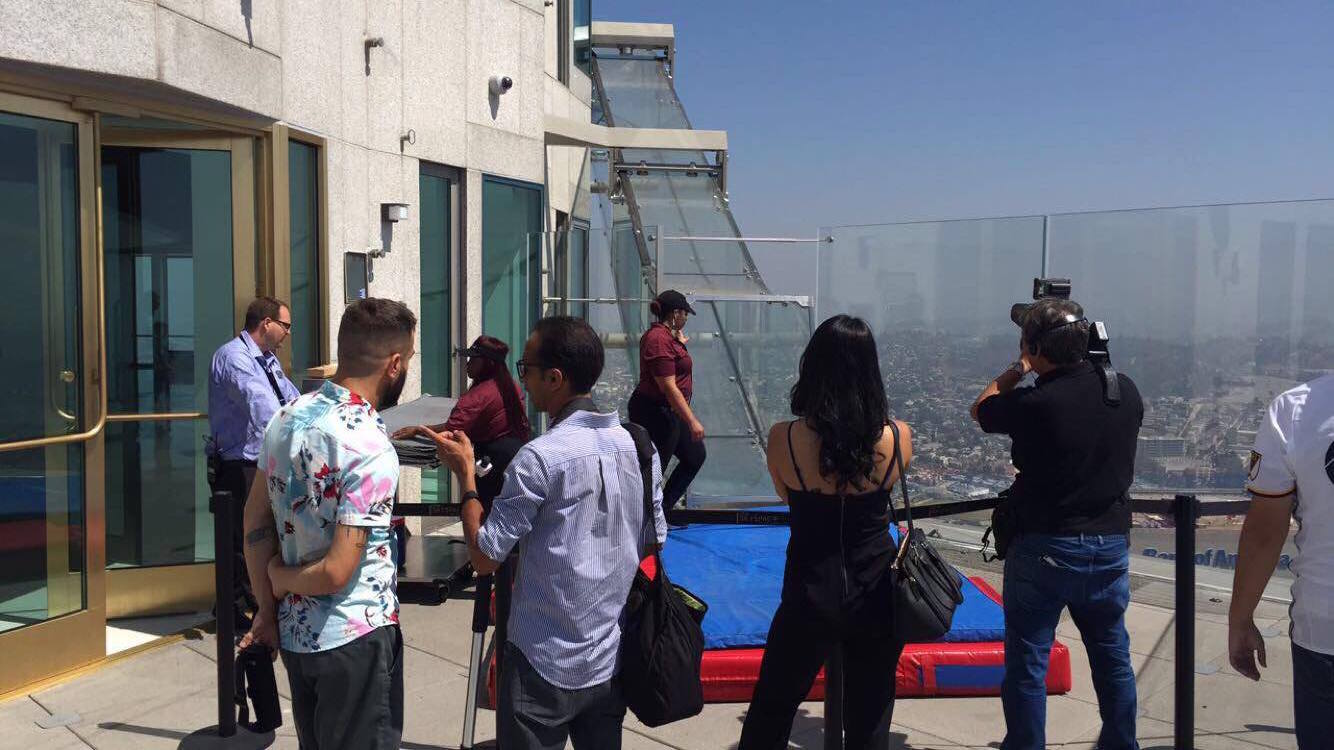 Once you pass through the exhibit, an elevator takes you to the 70th floor. On the 69th and 70th floors, there are observation decks all around to view the beautiful city of Los Angeles–a one-of-a-kind attraction in all of California. On a sunny and clear day, one could look out as far as 35 miles.
To add spontaneous adventure to your experience, there is one part of OUE Skyspace LA that you may have heard about: The Skyslide.
The Skyslide weighs 10,000 pounds, is 45 feet long and available to ride! Many people did so today, and the reactions were amusing.
One man, who wished to remain anonymous, said, "I am scared of heights, and it was hard to go at first, but thankfully it was a quick ride. I'm just glad I got it over with."
Slide-goer Alex Flores said, "It's high. If you're scared of heights, you don't want to be here, but you gotta be here. It's really cool."
OUE Skyspace LA is an amazing attraction available for all ages to visit. In addition to a unique observation experience, OUE Skyspace LA is a venue for private events, too. Paris may have the Eiffel Tower, New York City may have the Empire State Building, but Los Angeles now has OUE Skyspace LA.
To buy your tickets to OUE Skyspace LA, gain access to their observation decks and ride the Skyslide, click here. OUE Skyspace LA is open all year round and is open to all ages.