By Eileen Ogintz
KENAI PENNINSULA, Alaska — Where's the bear?
We've canoed and hiked a mile through the forest and canoed some more across Addison Lake where the salmon are spawning, thinking we might see a bear snacking along the shore.
No such luck. We weren't really that disappointed–not with the sea otters and harbor seals in the waters, Bald Eagles in the trees, the Trumpeter Swans with their cygnets, Mew Gulls, Barrows Golden Eye ducks, Mergansers and more… we gorged on the wildlife and Alaskan scenery.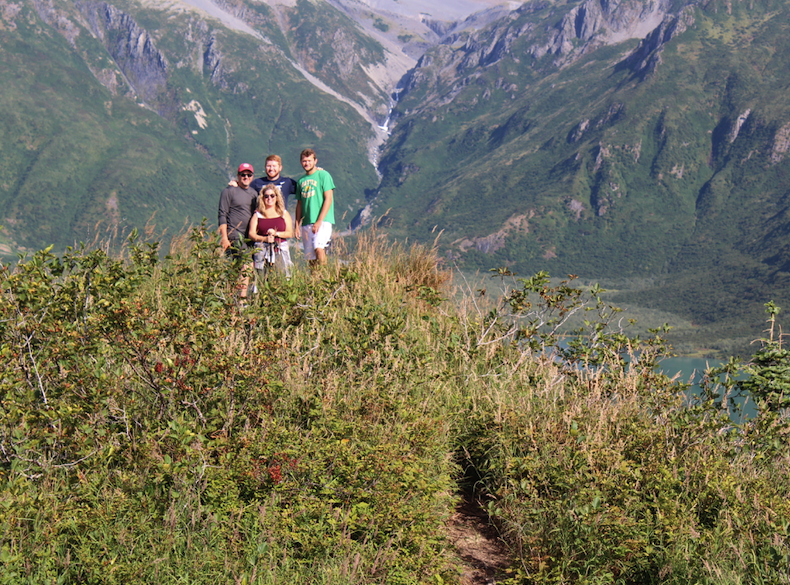 There are no cruise crowds here in Kenai Fjords National Park. In fact, this small lodge, Kenai Fjords Glacier Lodgewhich opened 10 years ago, is the first and only lodge in the national park and accessible only by boat from Seward. It is set on the 1,700 acre Pedersen Lagoon Wildlife Sanctuary on three miles of beachfront with views of the Pedersen Glacier.
The vast majority of visitors to Alaska arrive by cruise ship but since 1977, Alaska Wildland Adventureshas been offering a different option and opportunity, starting with a tenting safari, Kenai Riverside Lodge on the Kenai River famous for anglers wanting to catch salmon and trout, and the Kenai Back Country Lodge in the heart of the Kenai National Wildlife Refuge that also, like where we are, is boat-only-in.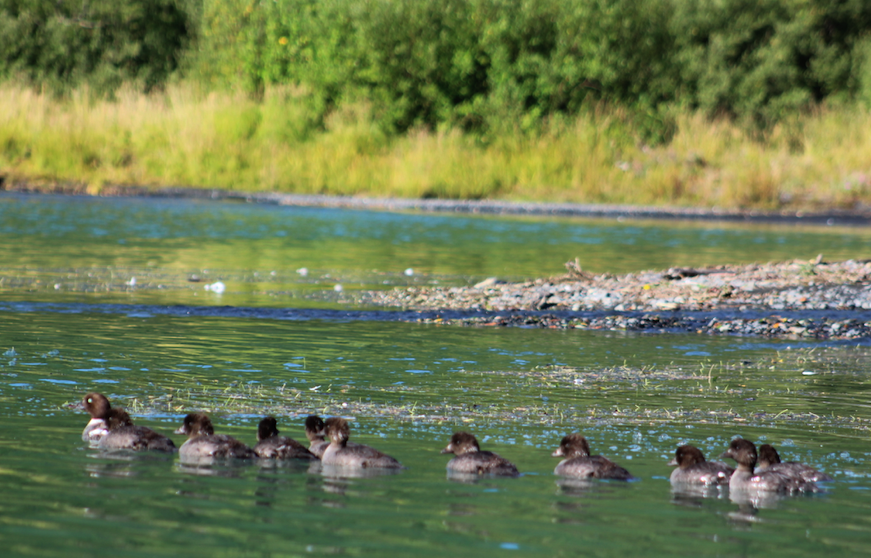 "Alaska is about the wilderness experience and being here is a fantastic opportunity to have comfort and be in the wilderness," said Craig Sprots, here with is wife Tae and two kids from the San Francisco Bay area.
Ryo Sprots, 8, especially loved the all-day seven-mile kayak trip complete with eating lunch in the kayaks in view of the alaik Glacier, the largest tidewater glacier in Alaik Bay.
"We didn't want to be with a lot of people," explained Jan Whittingham, traveling with her son Chase,26, from the San Francisco Bay Area. "This has been unbelieveable..now I understand why they call this The Last Frontier."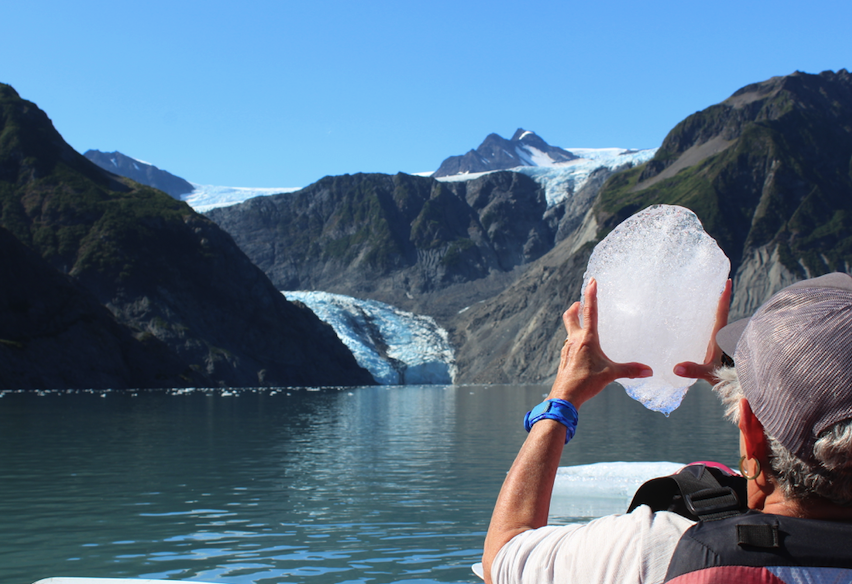 We meet a honeymooning couple from England, Jenny Denman and Guy Volle, who joke they are still married after the all day Kayak to the Aialik Glacier, the largest tidewater glacier in Aialik Bay. That trip is many guests favorite, including the Whittinghams.
"That was amazing," Hase Whittingham said. "We were so close we could really see it and hear it and we ate lunch on Slate Island, just looking at the glacier."
We met two families celebrating 50thbirthdays, 25thanniversaries and upcoming college graduations.
"I love the set up," said Haley Yamada, 21, a college senior from suburban Chicago here with her parents and younger brother and part of one of the celebrating families. She and her family are sitting in rockers outside the lodge looking out at the lagoon and the glacier. "I feel like we are totally disconnected (there is no Wi-Fi or cell service) and it is so gorgeous…"
That is an understatement–plunging fjords, rumbling and calving glaciers, wildlife everywhere you look—and comfortable log cabins all with stellar views as well as delicious meals—glamping at its best.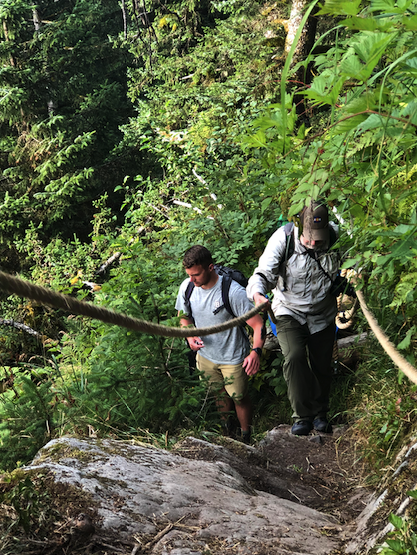 She added that she appreciate the chance for family time, especially now that she and her brother are away at college. Entertainment was watching the ice melt and skipping rocks in the lagoon. And that was very entertaining," she said, her brother Trevor, 19, agreeing.
We spent a peaceful afternoon kayaking the Upper Lagoon to the Pedersen Glacier, making a game of scooping up some of the smaller glacier ice floating in the water for cocktails later. It is a perfect afternoon—sunny, warm and the water so calm. We sat floating about a mile from the glacier and listen to the noise watching a sea otter pop up here, a gull fly by there, a seal…
We're with our knowledgeable guide, Val Massie, and Sally and Greg Mann, from Indianapolis and their two sons Luke and Jake, celebrating the big milestones. This trip, Sally Mann said, was on Greg's bucket list. We later toasted our afternoon with cocktails made with the glacier ice we brought back. "That was one of the highlights," joked Sally Mann.
We were joined by two of young guides, Hanna Larve and Massie, both of whom have been here multiple seasons. "I love being off the grid," said Hannah, who grew up on the Kenai Peninsula in Homer.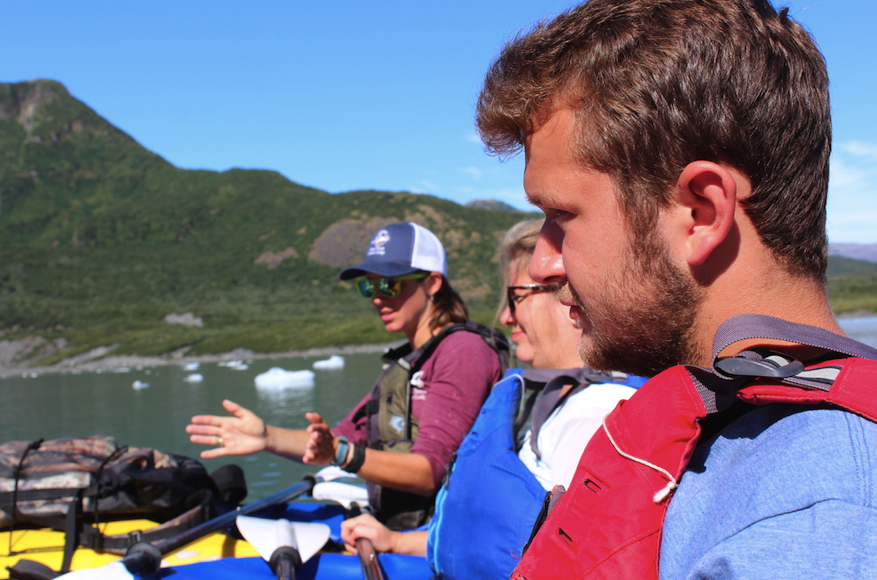 The next morning, we opted for the Overlook Ridge Hike that climbs the ridge winding through spruce forest, alder, salmonberry and blueberry thickets before ending in a small alpine clearing at the top with panoramic views of the bay, lakes, glaciers, forests and mountains, offering us the chance to see the water we have traversed via kayak and canoe. The views make the climb over roots–and including a 20-foot stretch of steep rock where we must hang on to fixed ropes—well worth it. I was glad to have another strapping recent college grad hiking in front of me, giving me a hand up when needed. Thanks Jon!
Our trip started with a four-hour cruise from Seward Alaska, where we had gotten off the Regent Seven Seas Marinerafter a seven-day cruise from Vancouver.
We stop for Orcas, cruise by sea otters, harbor seals, puffins and floated within a half mile of the Holgate Glacier, munching sandwiches along the way. Wow!
There are only 18 cabins here—a maximum of 40 people—but a staff of two dozen, many who have returned season after season. When we arrived, our bags were loaded in small vehicles and we walked 15 minutes to the lodge and cabins, all within land owned by the Port Graham Corporation, an Alaska Native Village Corporation. These lands are only a small part of the original homelands of the Alutiq people who once lived and traveled the entire coast of South Central Alaska.
Our cabin has rockers on a deck overlooking the lagoon and is very cozy, with three beds–ideal for a family with younger kids. Meals are family style—halibut one night; salmon the next with freshly baked bread, vegetables, salads and home-baked deserts. (The lemon tarts were spectacular!)
Breakfast and lunch are buffet style—everything from hot biscuits and gravy and eggs to granola, yoghurt and oatmeal. Those off on an all-day adventure make their own lunches—hearty sandwiches, fruit and brownies for desert; those of us who return for lunch have soup and sandwiches. The rest of us go off in the morning and return for lunch, off again in the afternoon.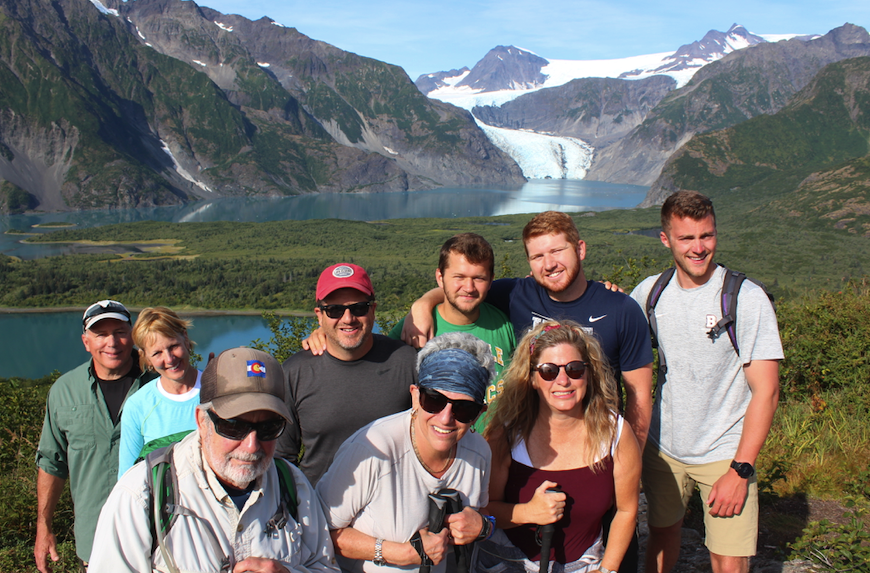 Jan Whittingham is traveling with her 26 year-old son Chase. "You are lucky when your son says he'll spend 10 days traveling with mom," she says, explaining they are replicating a trip her sister and brother-in-law had raved about.
Some guests, like Cori Perdue, 32, prefer to relax here while her 74 year-old mom Karla Martin, goes off on adventures. "I'm having fun relaxing not having to constantly check my phone," she explained. "This is fine for a person who likes to sit and look at the scenery and read."
Today after our morning hike and lunch (kudos to the chefs for the chicken chili!), we take the boat back to Seward, crossing paths with those just arriving.
We're just disappointed about one thing—"I wish we had an extra day," said Sally Mann. "We just didn't have enough time to relax and enjoy…"