By Eileen Ogintz
ASPEN, CO (July 20-21, 2020) — Pizza anyone?
The Gant Aspen not only is Aspen's only condominium hotel that offers food and beverage right here, but the new artisanal take out pizzas from Boulder's popular Boss Lady Pizza has proved a huge hit on weekends.
"We're doing 30-40 pizzas a night," said the Boss Lady herself, Whitney Hart, who is serving as the Gant's food and beverage director. "People want to eat where they are staying right now… it is just easier." Food is also served at The Ute Rooftop Terrace as well as the café and for grab-and-go.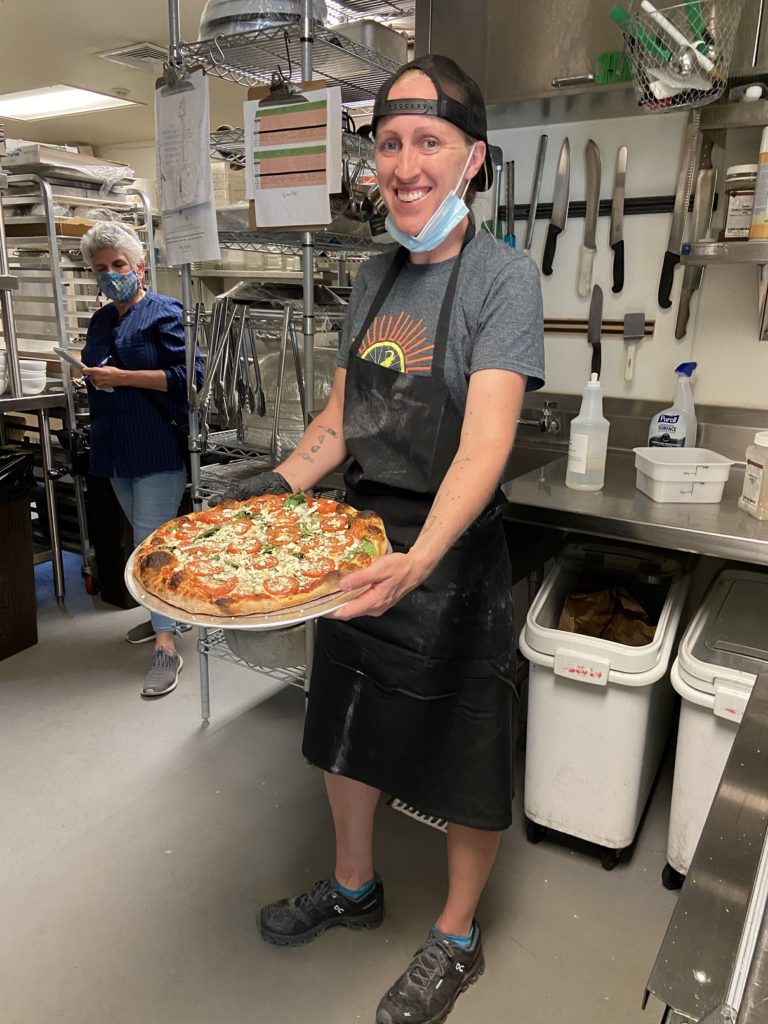 That's not to take anything away from Aspen's vibrant food scene known for everything from high end gourmet restaurants to burgers and yes, pizza. Many are doing take out—like Meat & Cheese, where we took home roasted chicken, a chopped salad and a bottle of wine with a brownie for desert. We could have eaten there, but it is just so comfortable to relax at The Gant, especially after a day biking or hiking or chasing kiddos or walking doggos, and there is no necessity to wear a mask.
Aspen, like other mountain towns, has expanded outdoor seating and the town is quite busy—in some cases with visitors who have come for a week or two and opted to stay for a month or more to escape the COVID spikes in Texas, Arizona or Florida, among other places.
The Gant, just two and a half blocks from Aspen's Silver Queen Gondola is a great place to settle in as it offers the amenities of home — an upscale kitchen, washer and drier, bathrooms comparable to an upscale hotel, as well as a concierge to help you plan your days, two pools, five tennis courts, three hot tubs, a WE-Cycle bike share station, fitness center even a free shuttle in-town service, though Aspen is eminently walkable. And in case you can't find enough to do, "Little Libraries" is curated book collections throughout the resort.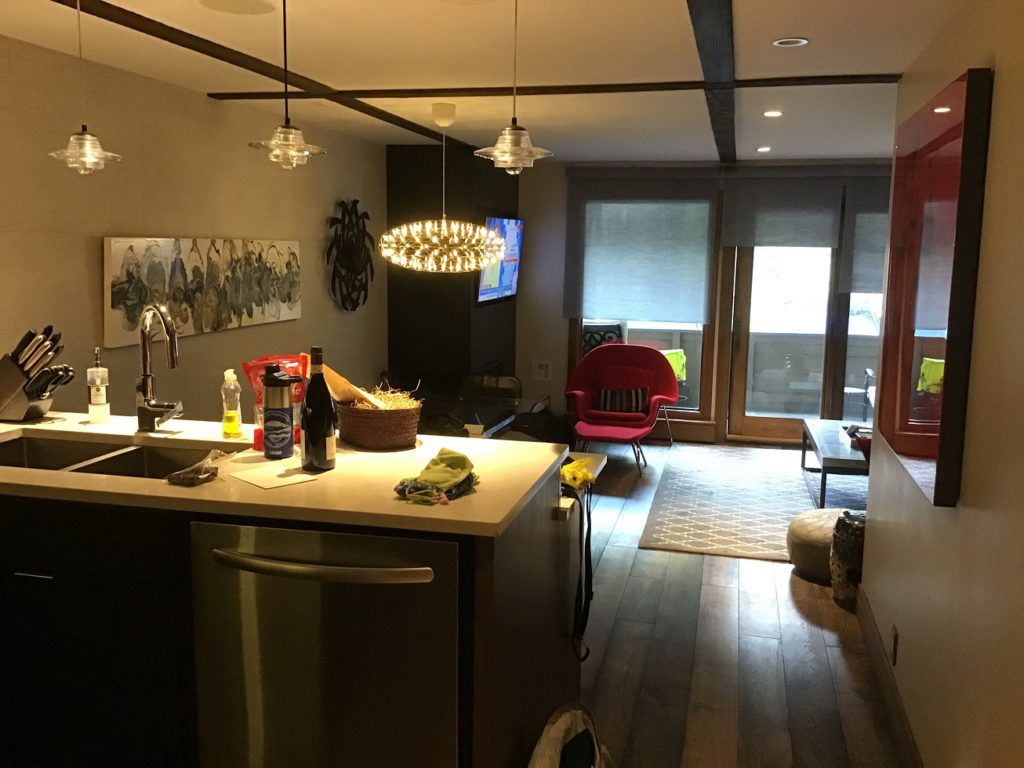 There are 140 units at the base of Aspen Mountain that makes this a convenient place to family-center, whether you want to shop till you drop, take the Gondola up to the top of Aspen Mountain –where there are free nature tours offered by the ACES (Aspen Center for Environmental Studies) — take the free bus to Snowmass to mountain bike, or to Aspen Highlands where you can rent E Bikes from 4 Mountain Sports to make it much easier to climb the eight miles to the top of the famous Maroon Bells Wilderness area. Or you can take a bike ride on the Rio Grande Trail (flat) or maybe go fly fishing.
Whitney Hart made us excellent pizzas in the impossibly small kitchen—breakfast and lunch are also served at Pepperjack's Café – on a jerry-rigged pizza oven. Families can eat poolside, just outside the Café, or have them delivered to their room. While kids typically opt for cheese pizza, the chicken pram is also popular, she said. We opted for a "white" garlic, olive oil, ricotta cheese pizza with sausage and another with spinach and feta cheese. The pies look—and taste—as good as any artisanal pizza place at the right price ($13-16) and because they reach you right out of the oven, you never have to worry about the pies arriving cold. The leftovers work for breakfast or an after-hike snack!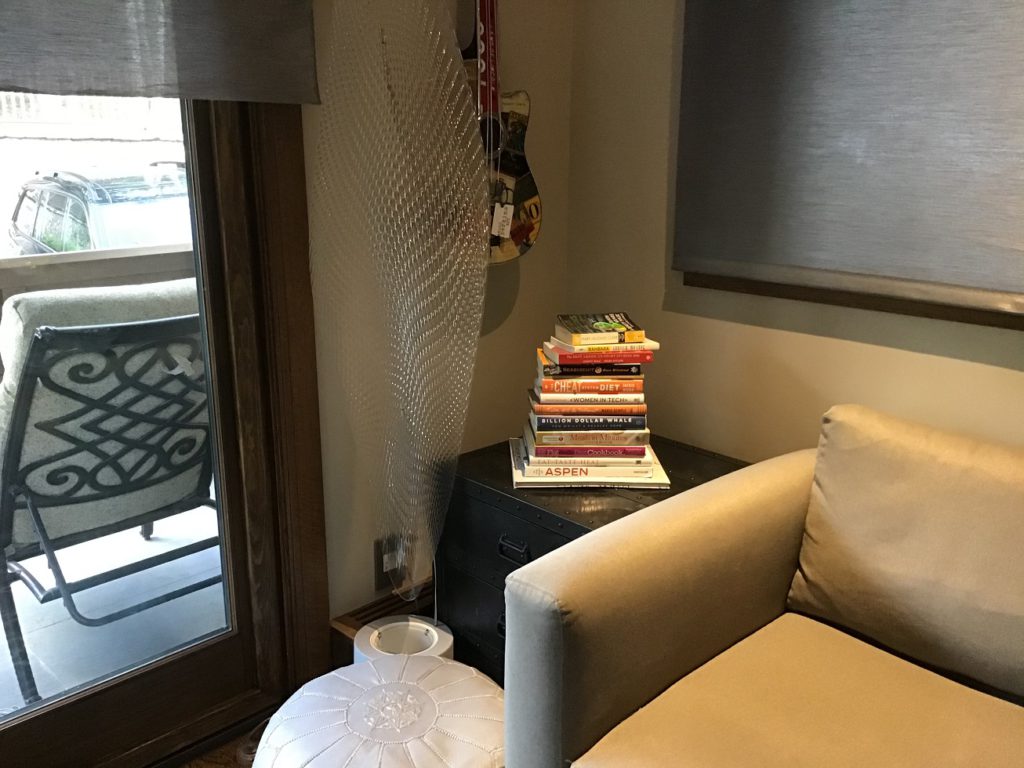 With so many schools starting fall with remote learning, fall can present an unexpected opportunity for a mountain getaway to Aspen—when the Aspen trees are in their peak fall color (vibrant yellow) — at the right price.
While summer rates start at $365, fall rates can be had starting at $195. There are also discounted packages for Coloradans, and others this summer depending on how long you stay (Save 20 per cent for three nights; stay six nights and save 25 per cent. There are $25 Aspen-Defy Ordinary Gift Cards with the packages as long as supplies last. There is also a special package for Mountain Bike Like A Girl for women who want to perfect their skills that comes with other amenities
I guess we'll just have to come back!