By Eileen Ogintz
DAY TWO (OF FOUR) – Cape Cod, MA — The kids are happily tossing balls and Frisbees; little ones playing on playgrounds. Families are picnicking on the grass, for once in no hurry to get to practice, to school, to work.
Everyone has that happy look of a day well spent in the sun and on the beach. This is Cape Cod, after all, where the beach and ocean has been drawing generations of families.
Tonight they've gathered for another Cape tradition—the Cape Cod Baseball League—10 teams comprised of 350 elite college players from around the country who live with 200 local families for the summer season.
Rooting on these players and these teams has become a top Cape Cod tourist attraction, drawing some 330,000 fans over the summer. "Nothing else draws nearly that many people on the Cape," says John Gardner, who serves as a spokesman for the League's all-volunteer organization.
A big part of the appeal: The chance to watch future Major League players and future superstars—for free. At this past June's Major League draft, 13 of the 18 collegiate players drafted all were Cape League alumnae. There are currently 265 Major League Players who spent a summer playing baseball on Cape Cod and the League counts 1040 players dating back to Babe Ruth's time and including his Yankees roommate "Jumping" Joe Dugan.
There are several hundred families here at the game in Falmouth, many wearing Falmouth hats to root on the Falmouth Commodores who are playing the Orleans Firebirds. Did I mention watching the game is free? A lot of the kids attend baseball camps with the players.
"This is much more in the budget than the Red Sox," said Laurie Farley, here with her two kids and three others happily sucking lollipops.
"It's really fun to come," said her son Aidan, 10. "We get to meet the players and get baseballs.
"This is easy and fun," she said. "And that's not always the way it is on vacation with kids. "It gets everyone outside and away from TV and IPads."
Greg and Carrie Flynn aren't even vacationing here but brought their three young sons and Carrie's parents, visiting from Texas, driving an hour each way from their Massachusettss home. "It's a way to take the kids to a baseball game without all the expense," explained Greg Flynn, his wife adding it's also a chance for an old-fashioned Cape Cold fried clam dinner sitting on the grass.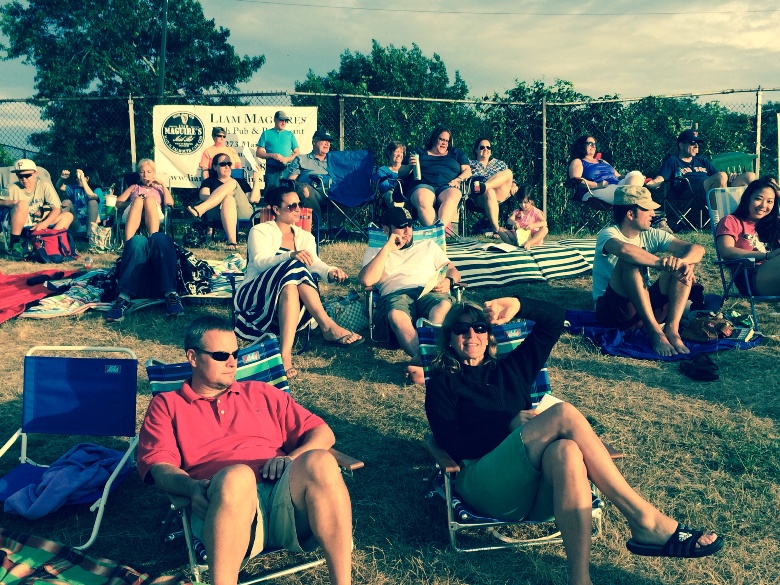 "We like any excuse for a picnic," laughed Carol Walters, from El Paso, TX.
This league has been a fixture here since Civil War days and many alumnae have gone on to the Major Leagues—Matt Harvey playing for the NY Mets; Buster Posey for the San Francisco Giants; Chris Johnson for the Atlanta Braves and Jacoby Ellsbury for the Boston Red Sox among them.
The players come from around the country—California and Nevada, Florida and Missouri, Virginia and Kentucky living with families who host boys year after year.
"I love it," said Matt Hall, who plays for Missouri State and is a pitcher for the Falcon Commodores. He comes over to pet our pooch because he said she reminds him of his dog at home. "It's a great experience playing the best players," he said. Just as much fun is teaching the kids in the baseball camps, he added.
The players talk to the kids and sign balls at the end of the games. "It's good old fashioned baseball," said Brian Garside, here with his eight year old daughter Caroline. They are vacationing from near Boston. "It's baseball back to the basics and the sunset will be gorgeous."
"So laid back," agreed 15 year old Hannah Sullivan, here with her mom and younger sister from Saratoga Springs NY
There's something special about these games for Anders Sullivan. While some boys may hope to be these players some day, Anders, 14, is just glad to watch. He's from Scotland so being at a baseball game is a rare treat—something his family makes sure to do every year when they come for vacation.
Much better than a trip to Orlando like his friends, he said. Especially in summer.