By Eileen Ogintz
CLEARWATER, FL (Day 3) — Just before sunset at the Hyatt Regency Clearwater, kids are in the pool on the eighth floor while parents are nearby nursing a cocktail. The beach is spread out below us.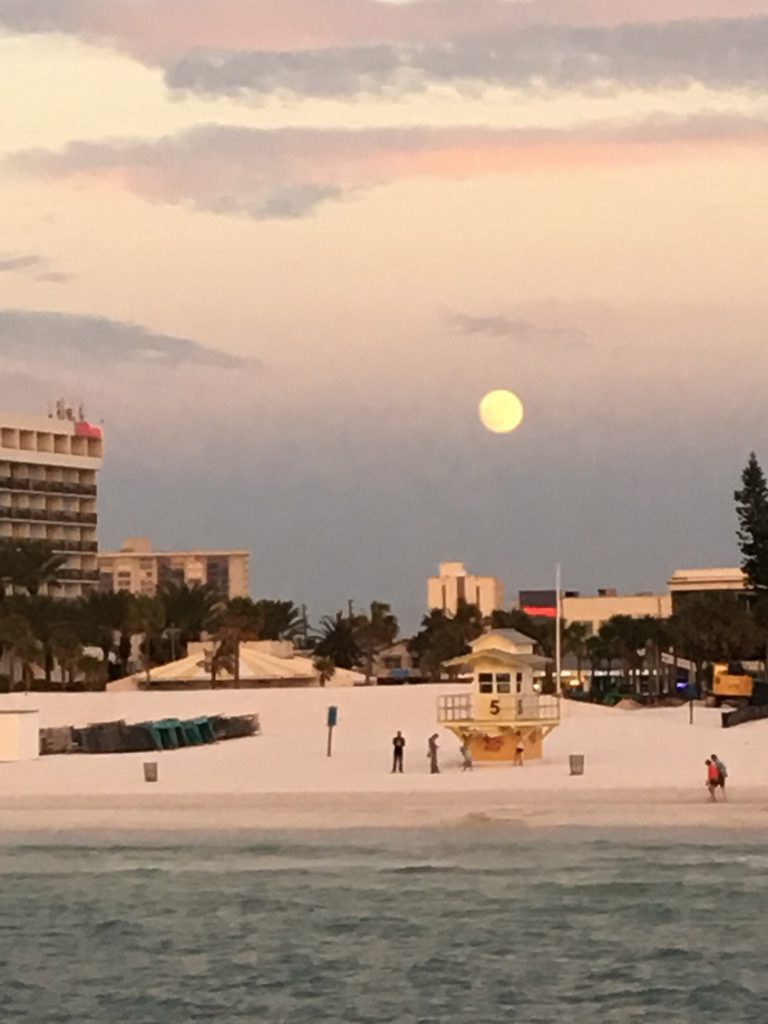 The rooms feature full kitchens and are oversized enough to comfortably accommodate a family. There is a Camp Hyatt, and of course the beach. The resort features 250 spacious suites—the smallest at 600 square feet bigger than many New York City apartments. I loved the fully equipped kitchens so a family could have resort amenities but not have to eat out every meal. Wheel Fun Rentals are available to explore the peach via pedicab or bike. And the Sandava Spa is available for when the kids are otherwise occupied, maybe at Camp Hyatt
Last night we stayed at the Holiday Inn Hotel & Suites Clearwater Beach, which promises that there is no charge for dolphin sightings. The pool fronts the Gulf of Mexico and kids eat free. The beach is just 400 steps away and Philadelphia Phillies spring training site, Brighthouse Fields, is just seven miles. Families love the Holiday Inn because of its price point and location—on the beach.
I love that Clearwater has options for everyone—whether they want just an affordable place to sleep, an upscale resort, condo or a renovated beach motel like Frenchie's dating back more than a half century.
Families come here for what all families on a beach vacation want—sun, sand, good local eats in a safe, carefree environment.
On our last night we stayed at the 230-room Opal Sands, an upscale property reminiscent of Miami's South Beach with its "million dollar views" from every room balcony, glass art and pantries on every floor with cookies and fruit,
We took an hour at the Opal Sands spa. I loved that the relaxation room overlooked the Gulf. I loved the massage even more.
The modern design and contemporary feel of the resort overlooking the Gulf of Mexico is beach-chic at its best—ideal for a couples or girlfriend getaway. Ready to jump in the pool overlooking the Gulf?