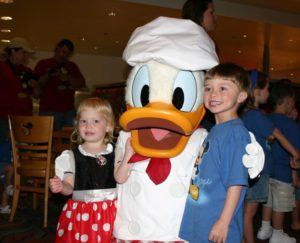 If you think your preschoolers are too young for Orlando's parks, think again.
Of course there is the Magic Kingdom at Walt Disney World and the chance to not only meet your favorite characters and princesses but be transformed into one at the Bibbidi Bobbidi Boutiques, complete with dress,, tiara and magic wand. (Boys—and girls—can become pirates too.)
This month, there's also the chance to celebrate Halloween with Mickey and Minnie at a not so scary party. Forget Harry Potter and head to the whimsical and oh-so-fun Seuss Land at Universal Orlando where there are plenty of other places for interactive fun and games for little park goers (think getting a mouse-eye view of the world at Fievel's Playland, or the chance to explore secret caves at "Camp Jurassic."). Get up close to Shamu at SeaWorld with three parks, its own Halloween Spooktakular and the chance to bring the kids back free to SeaWorld for a second day free.
And then there is the brand new LEGOLAND Florida, the largest LEGOLAND in the world, set to open Saturday, Oct. 15 in Winterhaven (45 minutes west of Orlando and a 45-minute drive east from Tampa) on property that once housed the iconic Cypress Gardens.
The LEGO bricks are everywhere—on the rollercoasters and the life-sized dinosaur and the lion that roars and even in the restaurant, where the kids can play at a giant LEGO table while waiting for their food. In case you are wondering, some 50 million LEGO bricks were used in this park and the designers also managed to save Cypress Gardens' beautiful trees and extensive botanic gardens and repurpose some of the old attractions (like the wooden rollercoaster, a first for a LEGOLAND) as well as tons of concrete. (One-day tickets to LEGOLAND are $75 for adults and $65 for kids ages 3 to 12. If you think you'll come more than once—and your kids will beg to return– opt for an annual pass. It's a bargain at $129 for adults and $99 for kids plus tax, with other more expensive annual passes offering free parking and other discounts.)
I got a sneak peak just before opening and that got me thinking about how much there is to do in Orlando—especially now–for the preschool crowd. (Let's not forget how much fun it can be to simply play in a resort's pools, especially if there is a water playground.) And since you don't have to worry about school schedules, come in fall. The weather is better, there are fewer crowds and your pick of deals for hotels and rental condos, many just under or over $100 a night. For example, get a third night free at the Nickelodeon Suites Hotels where your kids can get "slimed." At the show and get up close and personal with their favorite Nick characters. Check Visit Orlando for the latest offers and packages that include theme park tickets.
What I like most about LEGOLAND is that everywhere you go, the kids—even if they are still in diapers—are moving around making things happen rather than simply being entertained on a ride, by a computer screen or television. Preschoolers captain their own mini boats and drive cars (they get a drivers' license!). They shoot water cannons, get up close and personal with DUPLO farm animals and take over a mini town built just for them.
Even at the water stunt show—parents and grandparents will remember the famous water ski show at Cypress Gardens—kids are invited to participate at the new Pirates' Cove. There's also the largest LEGO store in the world, the chance to make a tiny LEGO person who looks like you and even an opportunity to introduce your kids to their first "thrill" ride with junior coasters designed for three-year-olds. (You need to be just 36 inches tall to ride with an adult.)
This is one theme park where you won't wince at the lunch choices either. Executive Chef Robert Sit is touting fresher more innovative options, many of which come from local producers. Kids will get fruit, milk or water with their meals rather than pop, salads and stir-fry dishes will be prepared as you watch and there will be rotisserie chicken, yogurt-granola parfaits and even roasted salmon — all for under $10, considerably less for kids. "I think people will be pleasantly surprised," says Chef Sit.
By the entire place, I think, and by how much fun you can have in Orlando with a minimum of muss and fuss. So go ahead. Bring the little ones. You don't have to stay a week. And you don't have to see everything. You can't even if you try.
You don't have to go home exhausted either.
You might actually leave smiling.