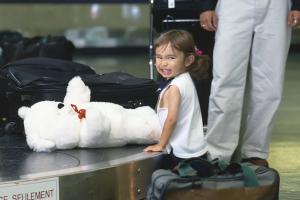 By Michelle Payne / Taking the Kids Guest Blogger
A couple of years ago I discovered that as part of my vacation planning, I could reduce the stress of travel by booking everything ahead. Along with making reservations for our hotel, plane tickets, and car rental online, I could also reserve a parking space at our local airport.
The annual family vacation is something my entire family looks forward to — whether we're heading to Washington, D.C. to visit the grandparents or we're Florida-bound to visit Mickey and Minnie.
Months in advance, the kids start counting down the days till our departure.
Meanwhile, I work on my checklist of things to do before we leave: call the hotel to confirm our reservation; buy new swimsuits for everyone; check the airlines' baggage policy; and reserve our parking space at the airport for the SUV.
Yes, we get reserved parking at the airport. No, we're not VIPs or parkers with special needs.
Airport parking reservation sites, such as AirportParkingReservations.com, offer a variety of airport parking options — on or offsite, lot or garage — at a discounted rate.
By spending just a few minutes pre-picking my spot, I've been able to avoid the hassle of searching for a spot while saving up to 50% off what I would have paid by just pulling into a garage and taking a ticket from the machine.
Pre-booking an airport parking space is as simple as making any other online travel reservation — just log on to the site, enter your travel dates, and take your pick of lots and spots.
If the convenience and savings aren't enough of a draw, a lot of the parking reservation sites also offer special courtesies and incentives to customers. For instance, if you reserve you space through AirportParkingReservations, the company also provides a shuttle service from all its off-site lots, as well as baggage assistance.
Some lots even offer car care services, such as washing, waxing, and detailing, so the car is shiny and clean when we arrive back from our trip.
Reserved parking at the airport isn't just for VIPs, but every time my family's used the service we've certainly received first-class service and a premium spot.
If you've ever tried to lug three suitcases, four carry-ons, and two kids from an airport parking lot to the terminal when you're late for a flight, you'll understand the beauty of this service. So, if you're looking for a way to alleviate some travel stress and save money, make sure you add reserving a spot at the airport to your to-do list.
Michelle Payne is resides in Washington, D.C. where she juggles family, pets, and the joys of running a small business