By Eileen Ogintz
PUERTO VALLARTA, Mexico – It's New Years Day and it feels like we're alone on board the Holland America Oosterdam. We are in Puerta Vallarta and most of the passengers have left for the day to go zip lining or whale watching, horseback riding or to a Mexican cooking class, among the offerings.
Shore excursions typically go rain or shine — and it's raining. Pouring actually. We had thought we would go explore before our Sunset Sail but it didn't look like there would be much of a sunset. People start returning to the ship saying the streets were flooded and many or most of the shops and markets were closed. Only two of the ship's shore excursions (including our sunset cruise) were cancelled, but others who planned activities ashore through third-parties or independently opted not to go.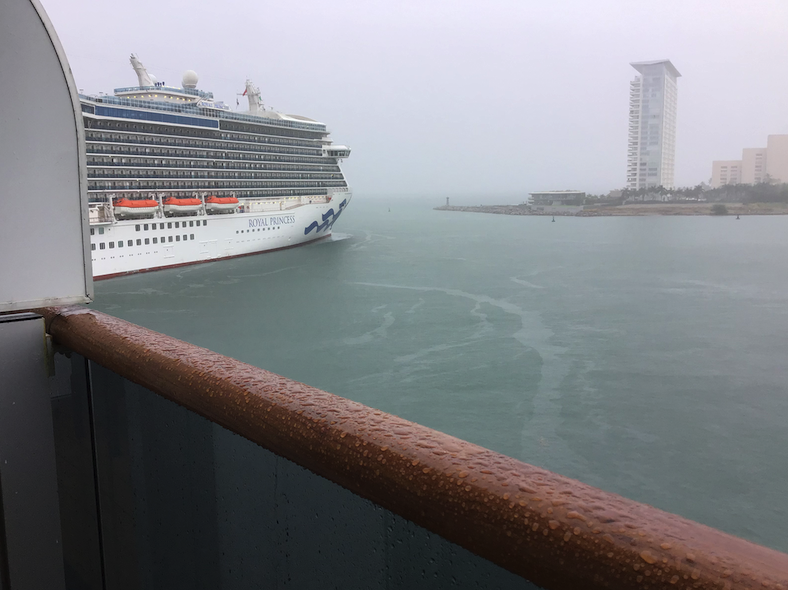 Rain happens.
So, given the weather, we've decided to kick back on board.
It is New Years Day, after all.
We started with a couple's massage (a 20 percent discount for booking on a shore day!), followed by a special New Year's Brunch in the Pinnacle specialty restaurant (unlimited mimosas! Spices waffles with pistachios, banana pancakes with Nutella and hazelnuts, avocado toast and steak and eggs… all delicious!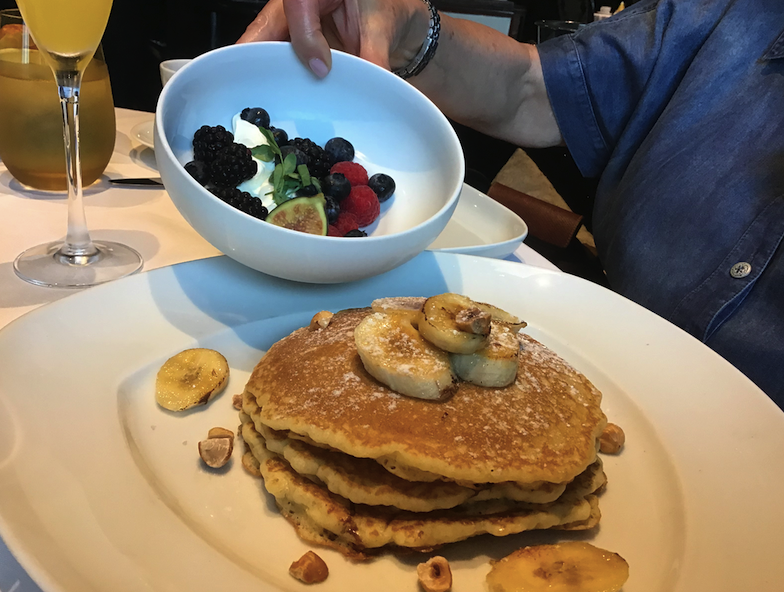 Now with most everyone gone, we won't have any excuse not to work out later in the fitness center or for that matter finding a chair around the pool (the retractable roof makes it comfortable in all weather) or in the Crow's Nest lounge—maybe to work on a jigsaw puzzle?
There are activities on board for those who want them—pickle ball or bridge, for example, Body Sculpt Boot camp in the fitness center but there is something nice about having no agenda—for a few hours anyway. One mom's complaint: not enough family activities for her three kids who range from 14 to 7—she has a point. "We feel a little neglected," fourteen year-old Jessica Crawford opined. "There isn't a whole lot for us to do."
They, like other families, were whiling away the afternoon playing a board game in the Crow's Nest. Only Jessica's dad and younger brother ventured off the ship in the rain, she said.
There are two other big cruise ships in port with us – the Carnival Panorama and the Royal Princess. From the looks of it, many of their passengers returned early too.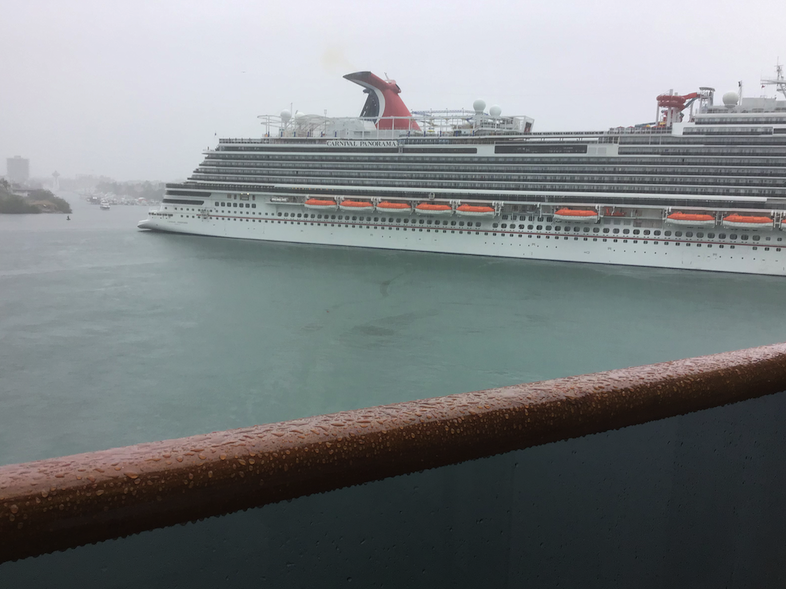 Seasoned cruisers who have been to the same ports before—some many times—like to be on board on port days to relax. I see why.
But on a rainy day in port—and the rain got heavier as worse as the day went on—more families who ventured into Puerta Vallarta's Old town return early, gravitating toward the pool where the roof keeps the downpour out.
"They were miserable… we were all drenched," said Yvonne Chuang, adding that her six year-old twins couldn't wait to get back to the ship – and into the pool. Instead of releasing sea turtles and having lunch in a local restaurant, they were back on board a little after noon.
Zoe Kirschenbaum, for one, wasn't sorry when her family opted out of the horseback riding expedition they had planned. After a late night of New Years Eve partying, the 21 year old said, "I slept till 4."
And the good thing about a cruise ship—whatever time you wake up, there is always plenty of food. Taco anyone?