By Eileen Ogintz
WALT DISNEY WORLD, FL — BAO WOW anyone?
At the popular Morimoto Asia in the heart of Disney Springs, the kids' menu not only is more fun than most—it comes with Origami paper and directions to make a fish—but the entrees are tempting for adults as well. The Bao Wow are hot dogs served on a soft steamed bun with cucumber…there is tasty ramen, lo mein and mac and cheese that the waiter assures us is as popular with adults as kids.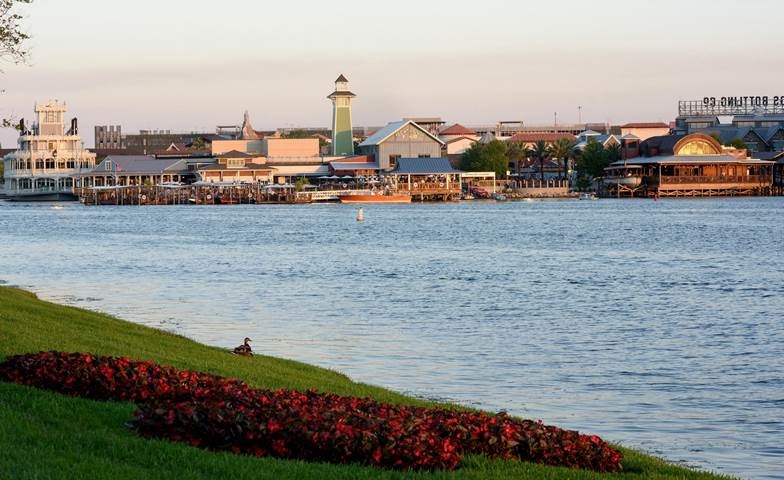 Of course, there is plenty for adults to enjoy here too–signature cocktails and sake flights; sushi and sashimi, Peking duck, dumplings, fabulous spareribs, noodle dishes and more. For those who want to graze as they stroll, there is a walk-up street food window (how about egg rolls or octopus fritters?). And starting at 10 p.m., there is a special Forbidden Lunge late night menu.
Like much in Disney Springs, Morimoto Asia is designed for adults and kids alike to have a special experience as food plays an increasingly important role in the vacation experience. The former Downtown Disney completed its multi-year transformation in 2016. Today, the rebranded Disney Springs has more than 150 shops, restaurants and other venues and is as popular with locals as for guests who are pleased they don't need a theme park ticket to visit. They can shop, eat, bowl, go to a movie, Cirque du Soleil or simply enjoy the street entertainment.
New restaurants continue to be added. The 200-seat Wine Bar George opened just six weeks ago, with Master Sommelier George Miliotes at the helm. He explained there are some 145 wines that range from $8 a glass to as much as $500. "I want a little of everything on my list," he said, adding that all guests should enjoy themselves "and have a little fun," whether they are wine connoisseurs or simply want to enjoy a glass of wine with a bite to eat. Charcuterie perhaps? Maybe a grilled whole sea bass? And for desert, how about pairing three wines and three chocolates? There is a kids menu including yummy house-made meatballs.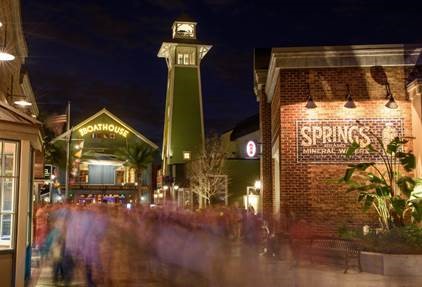 Some guests, Miliotes noted as he looked around the bustling two-story restaurant, might order less than $30 of food but $200 of wine. Others may ask for a nice glass of Cabernet to go as they simply want to enjoy a glass. An inside tip: Come Wednesdays at 10 a.m. when Miliotes holds classes for his team—he welcomes guests.
I'd love to be among the guests as the engaging Miliotes leads an adult-only Adventures by Disney river cruise on the Rhine River this fall. There will be a special emphasis on wine .
Terralina Crafted Italian also has just opened, curated by celebrity and James Beard Award-winning Chef Tony Mantuano. Think freshly-made pastas, salads, grilled vegetables all served up in an atmosphere designed to make you feel you have been transported to the Italian country side.
As this is Disney, there is an elaborate story simulating the turn of the 20th Century waterfront towns sprang up in Florida.
Guests stroll along the promenade in Town Center (check out the cupcakes at Sprinkles that come from an ATM-like machine). The Landing offers popular restaurants like Morimoto Asia, Wine Bar George, The BOATHOUSE with its amphi-car rides on the lake and retailers whether you want hats, shoes or brushes for the perfect shave. The Marketplace is where you'll find the World of Disney store – the largest Disney character store in the world — as well as the Lego story for hands-on play, a carousel and even Dockside Margaritas. The West Side now offers new elevated spaces to watch the action below and get out of the sun. Hop aboard Characters in Flight for an aerial view as the world's largest tethered helium balloon ascends 400 feet.
The Edison, reimagined from a historic power plant, is among the venues especially popular with the late night crowd who come for craft cocktails and entertainment ranging from aerialists to contortionists to singers and dancers. An order of DB Clothesline Candied Bacon, please!