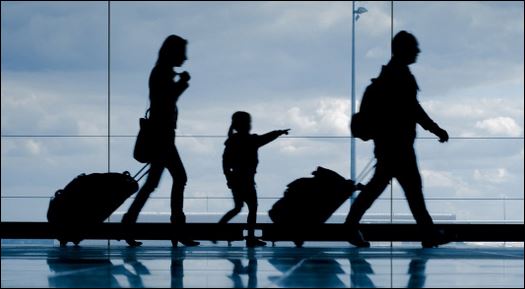 By Eileen Ogintz
It's never going to happen to you—until it does.
And suddenly, your vacation is derailed, through no fault of your own.
"You can be in a taxi and get in an accident," notes Dr. William Brady, a professor of emergency medicine at the University of Virginia Medical School, who also serves as the medical director for Allianz, one of the largest travel providers in the world. A teen breaks a leg on a cruise excursion; the baby's cold develops into a serious respiratory infection. A family emergency forces you to cancel a trip that has been paid for, like a cruise.
Travel insurance can alleviate costs—and stress–but many families aren't aware of the benefits or that with certain policies, kids under 17 may be covered free. "The one product that's always on trend to put cruisers' minds at ease is travel insurance," said Daniel Durazo, director of communications for Allianz Global Assistance USA which has just completed a new survey of cruisers.
"A big misconception we found was that many Americans (59.2 percent) believe their cruise line would be equipped to handle serious medical emergencies, when in actuality, cruise lines often require passengers to be transported to the closest medical facility for treatment. Often local medical facilities may not be equipped to handle major medical problems and some cruisers may need to be evacuated by air ambulance to the U.S. for treatment."
Dr. Brady, who oversees the team deciding if someone with Allianz insurance needs to be medically evacuated, added that most Americans traveling overseas simply assume medical care will be comparable to what they are accustomed to in the United States, but that is not necessarily the case.
Being airlifted back to the U.S. via air ambulance from Mexico or the Caribbean due to a serious medical issue can cost up to $20,000, which more than half of those polled didn't realize.
The right travel insurance policy may pay for medical bills incurred and a medical evacuation or cover non-refundable payments if a customer must cancel their cruise due to a reason covered by their policy.
It may also cover the cost to catch up to a cruise if a connection is missed, which may be more common since most Americans reported planning on arriving in the departure city of their cruise either the day before or the same day, leaving them more susceptible to uncontrollable factors such as flight cancellation or bad weather.
Consider that each year, Allianz receives 8,000 requests for help, but only 400 require medical evacuation for seriously injured or ill customers. Consider how much it could cost if:
— Your child gets an ear infection and you must reschedule flights
— Your father gets sick and you have to cancel the trip that you've already paid for
— Weather leaves you stranded for several days and you have to pay for hotels
— Your luggage gets lost — and doesn't reappear before you board your cruise ship
— The school schedule is extended because of snow days and you have to postpone your trip (If that is a concern make sure you have opted for the "Cancel Anytime" policy.
–You just found out you are pregnant and your doctor doesn't want you to travel where there is Zika Virus.
I've either experienced these situations, or know of people who have — in most cases, without travel insurance and incurring hefty unexpected expenses as a result.
But before purchasing a policy, read all of the fine print:
— Can you cancel for any reason, if you have a certain upgraded policy?
— If you are going to an exotic locale, do you have enough coverage in case a medical evacuation is required?
Sure, it will cost more (typically 5-10 per cent of the trip cost) But isn't the peace of mind worth it?
This content is sponsored by Allianz Global Assistance (AGA Service Company)