By Eileen Ogintz
ABOARD THE REGENT SEVEN SEAS MARINER in Alaska — Toby's mom died from eating plastic; Killisnoo and his brother Chaik were orphaned when their mom was killed.
They are among the bears now living happily at the Fortress of The Bear in Sitka, Alaska, a not-for-profit organization that protects and cares for rescued orphaned bear cubs who otherwise would be euthanized. The state of Alaska has no bear rehabilitation program in place and as a result, orphaned cubs are routinely shot by the Department of Fish and Game.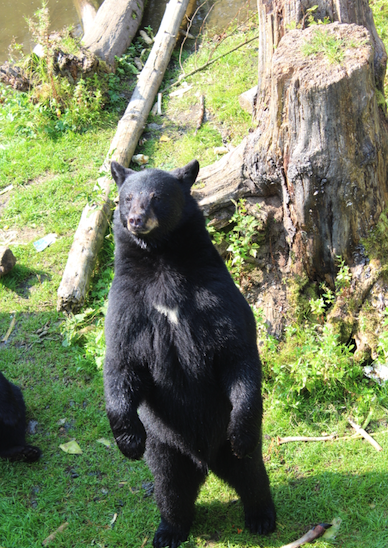 Not far away is another unique rescue operation, the Alaska Raptor Center, where eagles—including 17 Bald eagles, owls, and more–are brought after being injured. Some can be rehabilitated (there is also the state's only Avian Hospital where surgery can be performed) and released into the wild. Others who no longer can survive in the wild—there are 25 permanent residents currently—start a new life as educators, teaching visitors about raptors.
Even if you are lucky enough to see a Bald Eagle in the wild in Alaska, you won't get nearly as close as you can here! Check out their feathers—Bald Eagles have about 7,000 waterproof feathers and a wingspan of up to eight feet, though they don't even weigh 12 pounds!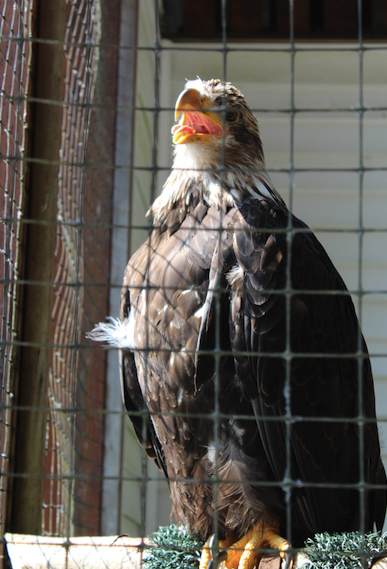 The Fortress of the Bear is unique rescue center opened in 2007 and now houses 9 bears, including two recently arrived Brown Bear cubs, and welcomes more than 20,000 visitors. This is a far more accessible and affordable way (cost is just $15 for adults and $5 for children) for families visiting Alaska to see and learn about these majestic creatures, getting within 25 feet rather than flying to a remote bear habitat. (You can get here by shuttle, city bus from the dock or taxi as well a as ship excursion). You can also feel good knowing the admission cost goes toward the bears' care.
The Fortress has sent bears to the Bronx Zoo, Montana Grizzly Encounter and elsewhere. Ultimately, the Fortress hopes some of the rescued and rehabbed bears can return to the wild, although Alaska currently prohibits that.
Meanwhile, it's clear the bears are loving life in what is an old pulp factory! Toby is a female brown bear and loves to eat so much that she will put her paws together to indicate she wants more food: Killisnoo and his brother came 12 years ago when their mother wandered into the kitchen of a fishing lodge, surprising the chef who killed her. Bandit is the largest of the three black bear cubs with a white heart–shaped patch on his chest.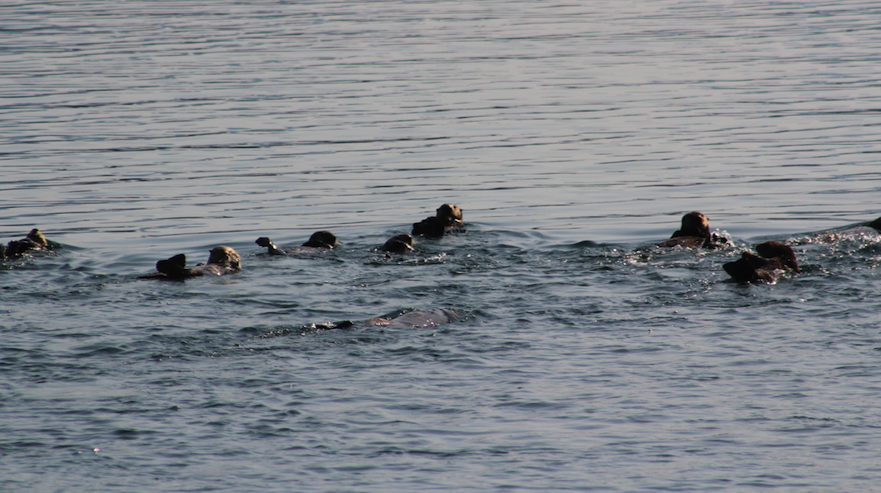 "Kids are surprised by how big they are—they ooh and aah at the size of their claws," said naturalist Ryan Moldenhauer.
Come next summer and the Fortress will have a far larger visitor center—a must-see if you are in Sitka.
Another must-see is a stop at the Sitka National Historic Park, a 15-minute walk from the city docks along the Lincoln Street greenbelt. However, be forewarned that if you stop at the new Sitka Community Playground (accessible to all) the kids may not want to go an farther. When was the last time they could experience different water sounds at a play ground with the push of the button, ride a "dolphin" or climb to the top of a " lighthouse." There's even a Kraken to play on.
This is the place for kids to become Junior Rangers (get the excellent activity book at the visitor's center!) and to experience 18 totem poles from throughout Southeast Alaska—along the Totem Trail, a mile loop through the temperate rain forest carved by Tlingit and Native Artists.
The poles were donated in 1901 by villages in Southeast Alaska to be shown at national expositions in 1904 and 1905 and then shipped to Sitka. As poles traditionally were allowed to deteriorate naturally, many that are here are replicas. That certainly doesn't take away from their beauty and the stories that they tell.
You might even see a master carver like Tommy Joseph at work here. His totem poles are on site at the Southeast Alaska Indian Cultural Center. Other artists demonstrate weaving, beading and engraving. There is a modern rendition of a traditional Tlingit clan house in downtown Sitka and the chance to experience native dancing as well with songs and dances passed down from generation to generation.
The park is very significant because of the Battle of 1804 between the Russians that had come to hunt sea otter for their valuable pelts and the Tlingit who had lived here for thousands of years—it was the last major battle between Europeans and Alaska natives.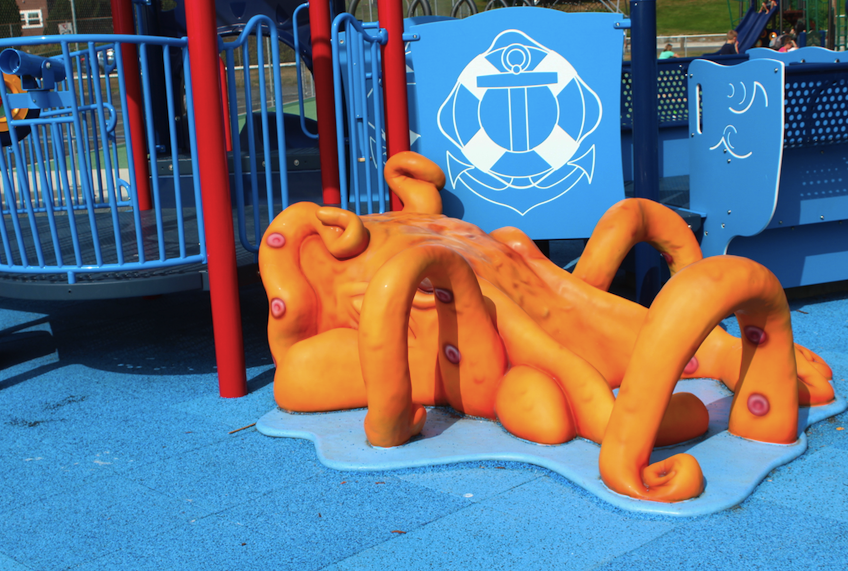 Come at low tide, and visit the beach in front of the visitor center at low tide where you will see all kinds of ocean creatures. Borrow a "Beach Explorer Pack," from the park rangers. If you are lucky, you might see a Bald Eagle soaring overhead. You might even see a cute sea otter – we saw dozens of them floating in "rafts" in the waters near Sitka.
Eagles, ravens, banana slugs, squirrels and salmon all live in the park. See the Sheldon Jackson Hatchery outside the Sitka Sound Science Center along your walk—which raises and produces millions of coho, pink and chum salmon each year, also training many of Alaska's fisheries biologist and managers.
If you have time and like history, the Sheldon Jackson Museum has the state's largest collection of Alaska Native artifacts.
Definitely make time for ice cream—locals flock to the old-fashioned soda fountain at the family-owned Harry Race Pharmacy for their homemade ice cream and milkshakes.The wild huckleberry is the best!