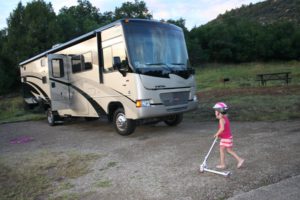 Erica and Daniel Mueller loved to camp. Then they tried it with their two young kids.
"It took so much time to pack and unpack and we were spending all of our time doing that instead of relaxing," said Erica Mueller, a Denver engineer.
"You could never clean up the tent," added Daniel, also an engineer.
So the Denver couple bought a small RV. I met them parked at the KOA campground outside of Ouray, Co. a couple of years ago next to a bubbling brook. Daniel Mueller was swinging in a hammock; Erica reading a magazine while four year old Sam and six year old Bella played."
"I like having a place for everything," said Erica. "It seemed like when we were tent camping we were always repacking and we could never seem to get organized."
Many suggest that despite gas prices RVing is cheaper than other vacations but the Muellers aren't so sure. That wasn't why they did it anyway—it was a lifestyle thing, to get outdoors with the kids.
Just as important, parents say, are the instant friends they and their kids make at campgrounds. That never happens in a hotel. Nor do you have to corral kids in restaurants; they can run around all they like after they are done eating at a campground.
Even better, they won't be glued to electronics or TV. "They have to interact," said Janelle Maland, from Missouri camping with her parents, siblings kids and nieces and nephews—13 of them in all to celebrate her parents 50th anniversary in a combination of tents, RV and campers. They'd gathered from Iowa, Missouri and Colorado. "Full frontal togetherness," joked another mom in the group.
Other families I met insist there is no better family time than the trips in their camper "The close quarters bring you closer together," one dad said. "At home we are all going in separate directions."
Forget tent camping with kids who have serious allergies and asthma, another mom said. A stove and electricity are key. And then there's the luxury of a shower. "Sun showers with cold water didn't do it for little kids," she laughed. Bathrooms too. It's no fun to stumble out of the tent in the middle of the night looking for the bathroom for kids who have to go "NOW!"
"True camping with kids was more work than it was worth," one Mom confessed. "This is a compromise. It gets the kids away from TV and the computer and outdoors with a lot less work for us."
That's what we're finding on our RV trip with my cousins and their two young kids in a Winnebago. Everything is an adventure for then seven year old Ethan and five year old Hannah—the bunks with curtains they can close (and individual DVD players), the table where they can sit while we drive—albeit buckled into a seatbelt—that they can get themselves a snack or go to the bathroom, the campgrounds where they can play on the playground or tool around on their scooters.
When everyone got hungry, we pulled over and had a picnic. "So much easier than taking them to a restaurant," said their mom Jayme. Healthier than fast food and cheaper too. That night, we made burgers and brats for the family traveling in tandem—some in tents at the same camp ground, some at a hotel in town. We ended the night with smores—making one after another until the chocolate ran out.
Call me a wus but when it was time for bed, I was glad for the AC.