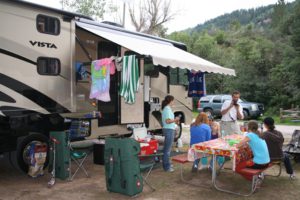 We're OFF!
A 32 foot RV stocked with food from Costco, toys, movies two kids aged five and seven, two parents and me.
I recently joined my cousins on a weeklong RV trip across Southwestern Colorado in a home away from home from Winnebago (www.winnebagoind.com ) that comes equipped with flat screen TV, bunks for the kids complete with individual DVD layers, stove, fridge, bedroom for the parents, sleeper sofa for me, bathroom and more cabinet space than my first NYC apartment.
Camping purists—like my wilderness-loving daughters—would turn up their noses at this, but with two young kids, we're glad for the space, the AC, the beds, the fridge, running water and shower, and when it rains, not being in a soggy tent. "The most awesome day of my life," declares 8 year-old Ethan Sitzman, who pronounces the RV "so much funner" than riding in the car. Here, though he is still buckled in a seatbelt, he can alternatively play games (Operation Shrek one morning), play video games or watch a movie on his iPod when we sit around a table. When he's hungry, we get him yoghurt from the fridge. The best part he declares, he doesn't have to wait for his dad to stop if he has to go to the bathroom.
His 5 year-old sister Hannah is happily coloring—deeming the bumps a challenge to her picture. Not that hard to drive, their dad Mike Sitzman declares. Just different than a car.
Our RV, of course, is lodging, restaurant and transportation as well as entertainment with many campgrounds around the country courting families with pools, and activities (tie dying anyone?). So I'm sitting at the table between the two kids who very quickly have made the space their own, with their blankies, stuffed animals Moosey and Teddy, pillows, crayons and more.
No whining… No "are we there yet?" Read the daily travel diary of our adventure at ttk-old.o2dev.net ).
Not exactly an old fashioned camping trip but an adventure just the same. And a lot less work than tenting it with kids. "It took so much time to pack and unpack that d we were spending all of our time doing that instead of relaxing," said Erica Mueller, a Denver engineer who was relaxing by a bubbling brook outside their new camper at the KOA campground outside of Ouray, CO . Her two kids were playing while her husband Daniel, also an engineer, rested in a hammock strung between two trees.
The RV industry (www.gorving,com ) is celebrating its 100th anniversary with a season that's seen an uptick in sales as well as interest from renters–likely because this is an economical way to travel. With the advent of cars and improved roads, Americans began to explore their country and the RV industry was born. Today one in 10 vehicle-owning households aged 50 to 64 own an RV but the fastest growing group of RVers is young families like the Muellers.
One recent study shows that a family of four can save 21 to 67 per cent on travel costs by using an RV. Kampgrounds of America (www.koa.com )is projecting a 15 per cent increase in booking—this at the time when hotels continue to struggle to attract families wary of spending on vacation. Figure on spending about $1500 a week to rent an RV. A typical 700 mile trip cost about $315 for fuel and campground for $200. So you can get away for a week for about $2000—not bad these days.
But for many people we meet at campgrounds, it's a lifestyle decision as much as an economic one. Jamie and Heather Shambarger, traveling with four kids aged 15 from Salt Lake City say they can well afford hotels and resorts but "in a hotel you take them from a house to another room. What fun is that?" asked Heather.
Just as important, Jamie added, pointing at his kids happily playing in the playground at the Ouray KOA Kampground (http://www.koa.com/where/co/06158/) are the instant friends they make from all over the country. While the kids play, the parents socialize too. That never happens in a hotel, the Shambergers say. "And I'm not apologizing 400 times in a restaurant for their behavior." Not that they are bad, he stresses, they are just kids.
Besides, picnicking and BBQing at night is more fun than a restaurant—at least from the kids' perspective. Certainly it's more relaxing for us.