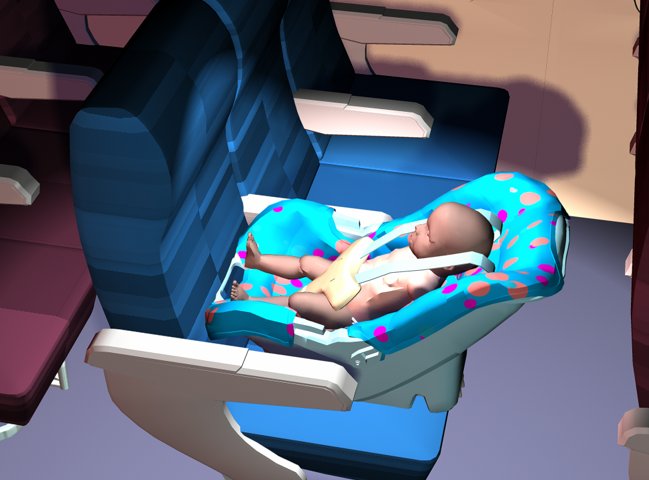 I just don't get it.
Parents stress more about their babies annoying other airline passengers than whether they are safe on board.
They wouldn't think of driving anywhere without securely strapping their baby in an appropriate safety seat and spend countless hours considering which safety seat to buy. But on airplanes, you are more likely to see infants and toddlers sitting in a parent's lap than in a safety seat.
This despite the fact that everyone from the American Academy of Pediatrics, the FAA and the National Transportation Safety Board recommends safety seats for young children, but many parents continue to ignore the advice. See what the FAA says at (www.faa.gov/passengers/fly_children/crs).
The NTSB has recommended that each passenger — including those under two — be restrained in a separate seat in an appropriate child restraint system during takeoff, landing and turbulence.
Everything on a plane — including coffee pots — has to be restrained during takeoff and landing and in times of turbulence–everything, that is, except young children sitting on a parent's laps.
More than 7 million children under the age of two fly on parents' laps on American carriers each year, according to government estimates. But you are not required to purchase a seat for your baby until they turn two and airlines don't charge for families to check a car seat. That is the crux of the issue that has stymied safety experts and pediatricians for years and has perhaps lulled parents into a false sense of security.
"I don't believe she'd be much safer in a seat. Having flown hundreds of flights, I've never experienced turbulence so strong it would cause me to lose grip of a child," one dad emailed me.
"It's cheaper and we are trying to take advantage of the savings before having to buy her a seat," said another.
In fact, the FAA has traditionally argued that requiring the use of child restraint systems would significantly raise the price of travel for young families and concluded that this would prompt some families to drive instead, in turn resulting in an increase in highway fatalities of children.
But other experts say that other research has found no clear relationship between the two.
Parents don't appreciate that the use of safety seats can be — and has been — a matter of life and death. There have been cases where young children survived air crashes because they were restrained in safety seats and others in which children died when sitting in the lap of a parent who survived.
Take the case of the United Airlines DC-10 that crashed in Sioux City, Iowa in 1989. The parents of the four lap-held children were told to put their children on the cabin floor and hold them in that position while the adults assumed "the protective brace position," But three of the parents reported to investigators they were unable to hold on to their babies and a 23-month-old died.
Five years later a USAir Flight crashed in Charlotte, N.C. Among the 37 who were killed was a nine-month-old baby held by her mother, who survived. NTSB investigators believed the baby might not have sustained fatal injuries if she had been properly restrained in a child restraint system.
The NTSB has been arguing for more than 15 years that each passenger should have their own seat, but the NTSB can only make recommendations. www.ntsb.gov/children.
It is up to the FAA to take action and so far, all they have done is "strongly urge" parents to use a safety seat approved for air as well as auto travel.
Meanwhile, it is up to you. Yes, that means you would have to buy a seat for your baby. Tell all your friends they should too. If you don't want to lug your safety seat to the gate, check out www.kidsflysafe.com , which makes CARES, the Child Aviation Restraint System, an FAA-approved, harness-type safety device — designed by a grandmother — that fits into a six-inch stuff sac and adjusts to fit airplane seats. It is designed for kids weighing 26 to-44 pounds (typically one to four years old).
I know in this economy it is tough to justify buying an extra plane ticket when you don't have to, but isn't your child's safety worth it?