By Eileen Ogintz
ATHENS (Day 10) — We all know the way to a man's heart—or a woman's–is through their stomach. Cook a delicious meal for your honey and he or she will be smitten.
But I think the way to a city's heart—or to understand its culture—is through its food. That's why in Athens I signed us up for a "Beyond Feta" food tour offered by Context Travel, which offers various themed walking tours all over the world.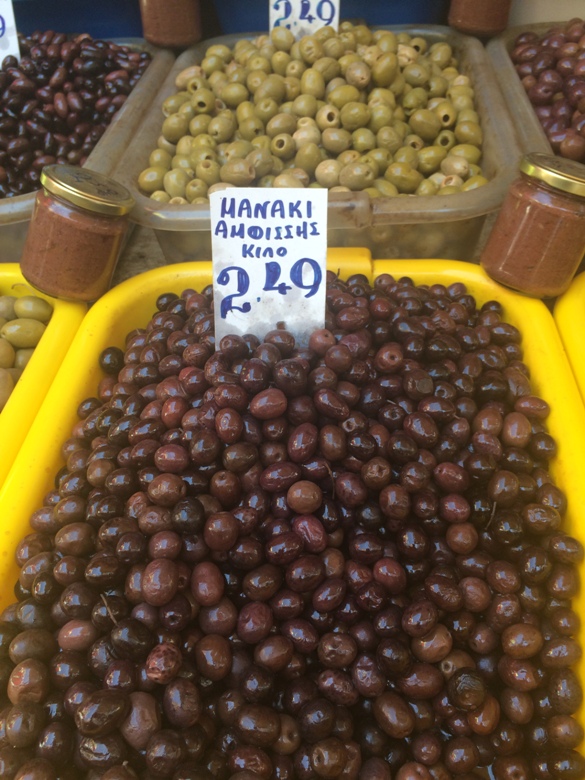 We were aboard Carnival's new ship Vista—our last day—and two other couples opted to join us. Our only drawback—and the first glitch this trip—was a cab driver from the port who charged us too much and dropped us a half mile from the designated meeting spot for our tour. The good news: Our guide Nikitas Patiniotis waited for us. I had tried unsuccessfully to call and text.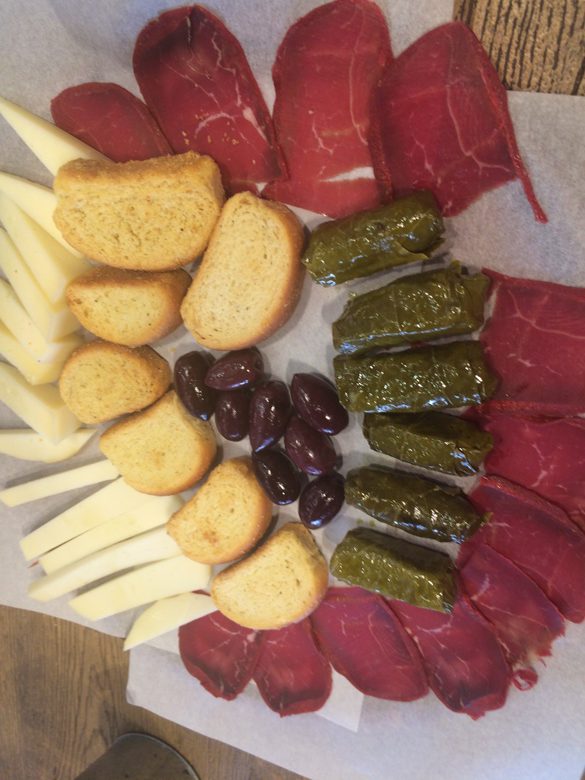 We were all pleasantly surprised that he took us to a less-touristy area of Athens, the Psiri neighborhood, which he said was the center of the city's emerging food scene. "You see a lot of women out here in the evening together. Maybe they are fed up with their husbands," he joked.
We started at a small 24-hour bakery for the typical Athens street snack—large round circles of bread covered with sesame seeds. Think a much thinner, gigantic bagel that could fit around your neck. Delicious!
We stop for "spoon sweets," made with different fruits and sugar, typically served in a bowl with a lot of spoons when you visit someone's home, Patiniotis said. The place is called Serbetia which literally means syrup, we learn. Traditionally, it seems, young women who wanted to get engaged would be expected to prepare spoons sweets for their future mother in law to see if she would be a good enough cook. Smart girls, Patiniotis said, would get help from grandmothers.
We taste honey, different varieties of goat and smoked cheese and a kind of smoked beef that is salty. Along the way, of course, there are olives, olive oil tasting and the sweetest balsamic vinegar I've ever tasted—so sweet that it is served over ice cream.
My favorite was the feta cheese. I know the tour is called "Beyond Feta," but this was the best feta I've ever tasted, drizzled with Greek olive oil, oregano sprinkled on top. The shop where we stopped specializes in products–wines, oils, ouzos, olives–that all are made in Greece by small family businesses.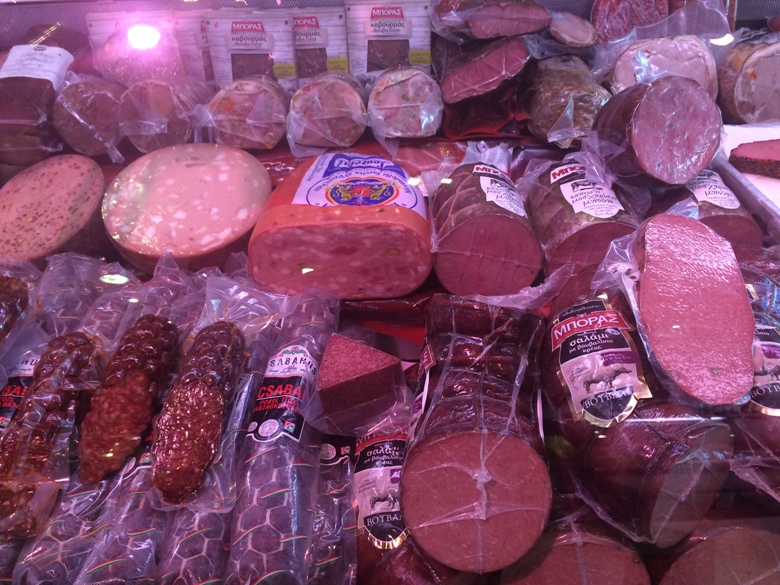 We walked through the Central Market, where the same families have been butchers and fish mongers for generations, and a fruit and vegetable market where the vendors are shouting out what's fresh—cherries or green beans, dried fruits, more varieties of olives than I've ever seen in one place, melons and strawberries. The market has been in Athens since the mid 19th Century and here since 1960.
We ended our tour in near the market that is downstairs in a basement called Pyorto, where Dimitris Koliolios tells us he has worked since 1957, when he was a young teen. He not only makes his own wine here, stored in big casks, but serves up Greek comfort food that was traditionally served early in the morning and at lunch time for those who worked at the market – Fasolada, a kind of bean soup, black eyed peas, chickpeas, a small marinated fish like sardines and delicious crusty bread.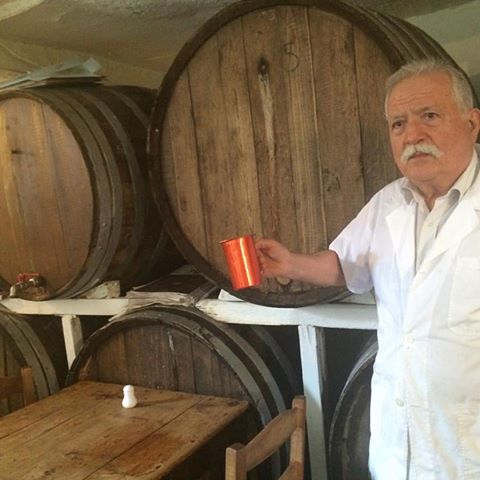 Our host insisted on posing for pictures, thoroughly enjoying himself. What would lunch be without desert?
For that we trekked up to a popular spot for Loukoumades, a hot fried dough confection dipped in honey and served with sprinkled cinnamon.
Good thing we were walking up the hill to the Acropolis after lunch!