By Eileen Ogintz
Tribune Content Agency
Those from the planet Xandar have the right idea.
They may live 2.5 million light-years from Earth in a different galaxy but as Irani Rael, the leader of Xandar explains: "We are more alike than different. … We were all created from the Big Bang."
Ready to save the galaxy? Disney World's newest and much-anticipated Guardians of the Galaxy: Cosmic Rewind adventure debuts with great fanfare at Epcot May 27. (See my ride!)
"If you loved Space Mountain, you will love this ride," promises Liz Diaz, one of the lead Imagineers on the project that has been in the works for some six years. Diaz notes that with a height requirement of just 42 inches, most kindergarteners (and some tall preschoolers) can ride.
Cosmic Rewind is the latest in the ongoing transformation of EPCOT, as Walt Disney World's 50th Anniversary Celebration continues. There are new neighborhoods (Cosmic Rewind is in the remodeled World Discovery area), new restaurants at EPCOT (beam up to a Space Station 220 for lunch or dinner; enjoy a French crepe at La Creperie de Paris or a freshly made pizza or dessert waffle at Connections Eatery), a new nighttime spectacular (Harmonious), the extremely popular 4-D Remy's Ratatouille Adventure for the youngest park goers. (Shrunk to rat size, you race through the kitchen made famous in the Pixar film "Ratatouille".)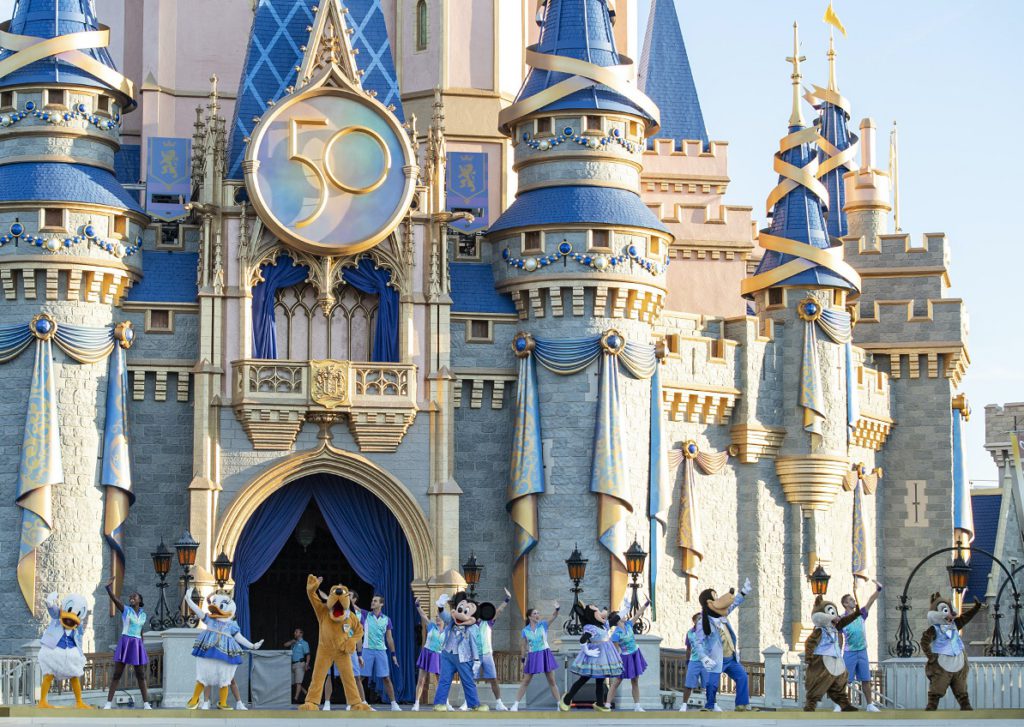 Characters are back hugging and posing for pictures in their shimmering finery with plenty of 50th Anniversary and Cosmic Rewind "merch" available. Ready to gear up as an honorary Guardian or cuddle up with a plush Groot alien who helps the Guardians?
With your My Disney Experience app, you can use your phone to open your hotel room, enter the parks or pay for purchases. Your kids, though, will want Magic Band+ when it debuts this year so they can unlock interactive scavenger hunts or wave it at Disney character statues so they'll talk to you. How old should kids be before you tackle Walt Disney World? Parents I met with young children had mixed feelings.
"I never thought it would be this hard," sighed one mom watching her three-year-old run around in circles in the hotel.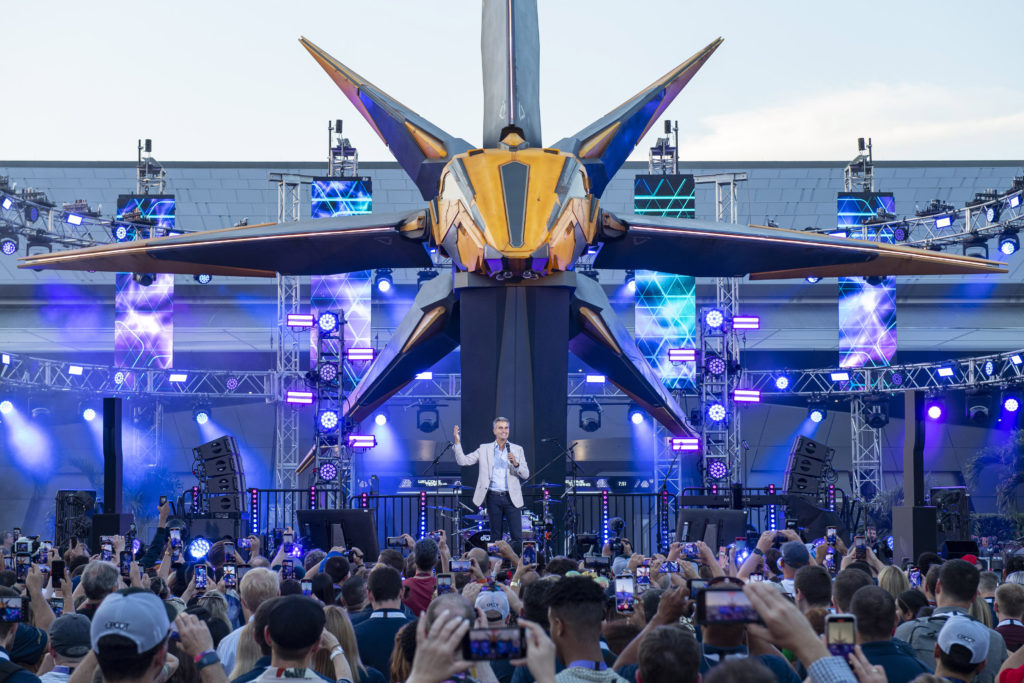 "The Magic outweighs the temper tantrums," insisted Melanie Reynolds, here with her 20-month-old. From Wisconsin.
Besides the #DisneyWorld50 celebration, Orlando has plenty else to offer from Universal Orlando Resort (Harry Potter!) SeaWorld Orlando (Ice Breaker is SeaWorld's first launch coaster with the steepest vertical drop in Florida) and LEGOLAND Florida (with the new Peppa Pig Theme Park) as well as a vibrant food scene. AAA says Orlando will be top US destination for Memorial Day travel, with 39.2 million people traveling at least 50 miles from home on the unofficial start to summer vacation season.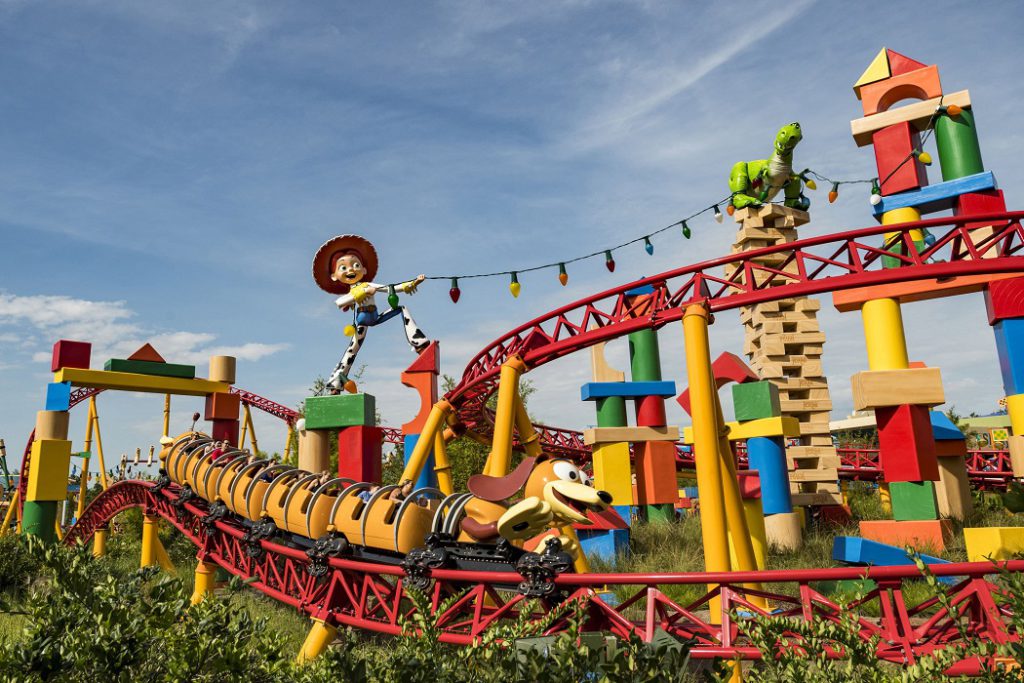 PopStroke, created in partnership with Tiger Woods, has two 18-hole mini golf courses with casual dining overlooking the courses.) And with the ever-growing food scene, golf, shopping, as well as new boutique hotels (the wellness-focused ette Hotel Orlando opens in June) you can avoid the parks entirely.
Guardians of the Galaxy: Cosmic Rewind is based on the blockbuster "Guardians of the Galaxy" movies. It features cosmic outlaws Rocket, Groot, Drax, Gamora and Star-Lord and Peter Quill, who loved visiting EPCOT as a kid, the story goes. (#CosmicRewind).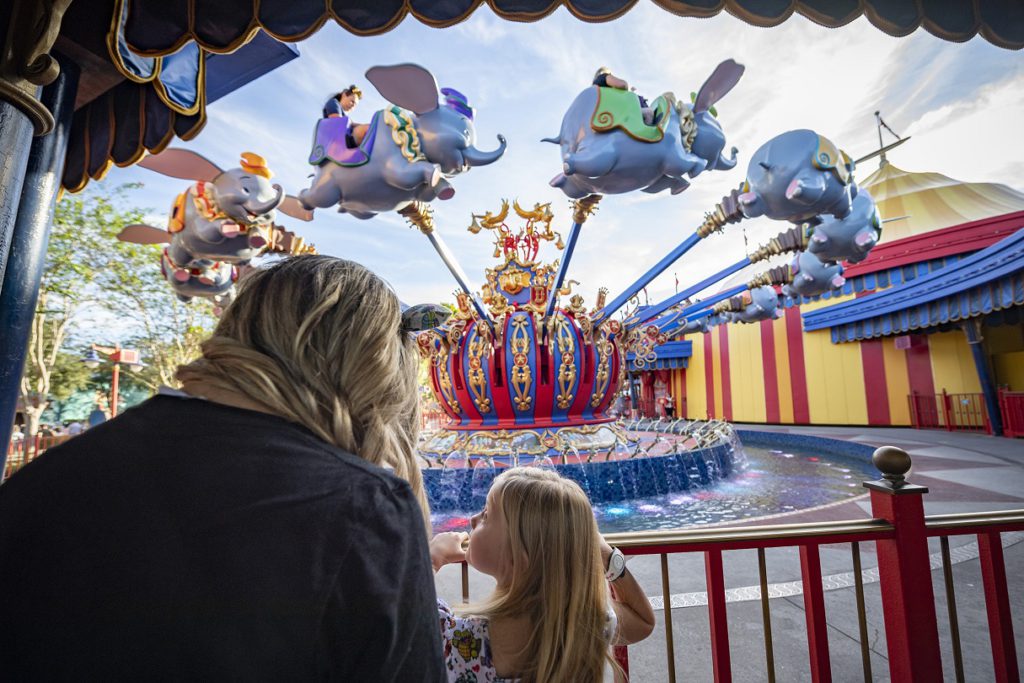 In fact, Quill suggests EPCOT as the perfect locale for Xandarians to show off their advanced civilization to us on Earth. The pre-ride Galaxarium shows us more about the two planets and Xandar's people and culture.
"I would hope people would take away the wonder of the universe," said Tom Fitzgerald,  the 43-year Disney creative executive who co-directed the development of this experience. Fitzgerald's career started at EPCOT, he noted, and this attraction underscores EPCOT's theme of exploration. 

Just as important, said Diaz, the attraction will encourage kids—and especially girls – "to do something as cool as science, " whether as space explorers, engineers, or perhaps Disney Imagineers. 
So after being introduced to Xandar—and the nudge toward STEM – we are teleported to a Starcharter cruiser circling Earth. The idea is to showcase the Xandarian Cosmic Generator that can whisk us through space via artificial tunnels far quicker. Got that so far?
But the generator fails. We evacuate via Star Jumper shuttles escape pods that then enable us to chase the evil Celestial (he wants to use the Cosmic Generator to jump back in time and change the course of humanity.)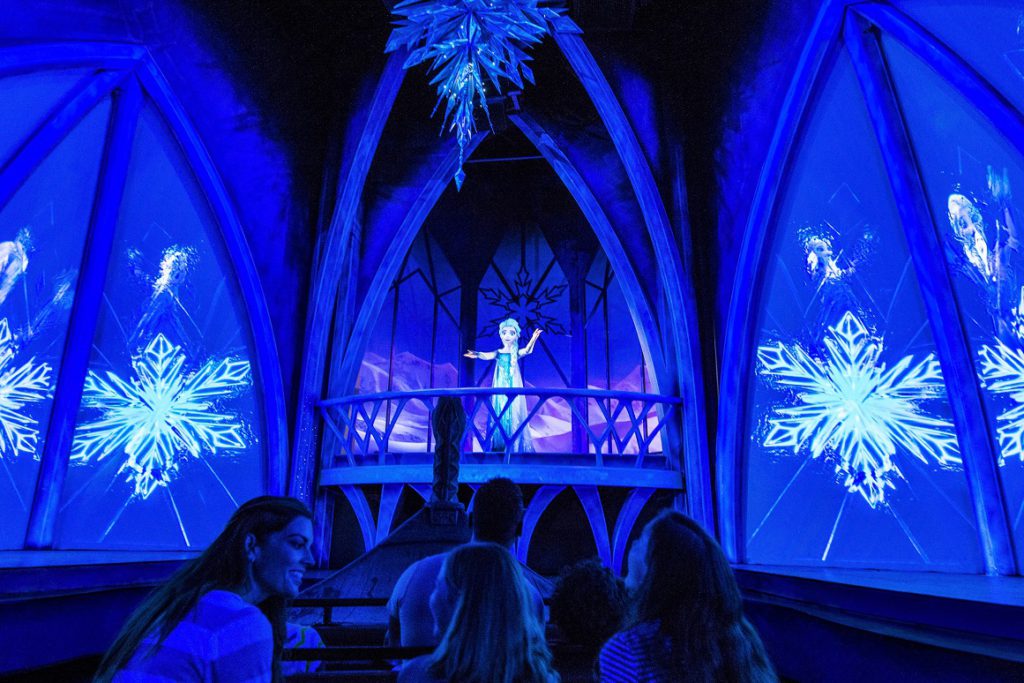 Now it's up to us to save the galaxy! Along with the Guardians of the Galaxy, we are in for a hair-raising chase through time and space.
This is the first coaster at EPCOT, the first reverse launch of a Disney coaster, the first Disney coaster where the vehicles make controlled side-by-side rotations and one of the longest fully enclosed coasters in the world. You won't know which song (six different '70s and '80s hits) you'll hear until you blast into space!
The attraction is terrific but expect very long lines, though to save time you will be able to pay extra for individual Lightning Lane access, available at select attractions.
The recently introduced Disney Genie + , an up-charge of $15 a day per person, gets you the next available Lightning Lane entrance for certain attractions, but not the most desired, like Cosmic Rewind, Space Mountain, Star Wars: Rise of the Resistance, Remy's Ratatouille Adventure , among them. For these, you must buy individual Lightning Lane entrances, which vary in price depending on date and demand.
Complicated? You bet. Sometimes it feels like you need an advanced degree in Disney Park-going for it all to make sense. The complimentary Disney Genie service, built into your My Disney Experience app, helps you better plan your day with updates on waits and attractions and dining recommendations based on what you told Disney Genie you want to do.
With big crowds expected this summer (Visit Orlando is forecasting summer crowds will be just about back to pre-pandemic levels) and temperatures well into the 90s you will want to pace yourselves. Take a pool and nap break in the middle of the day and return for the fireworks. Mobile order food so you arrive when your order is ready. Otherwise, you face long lines as I did one day. Prebook far in advance for character breakfasts and sit-down restaurants, especially for those at Disney Springs.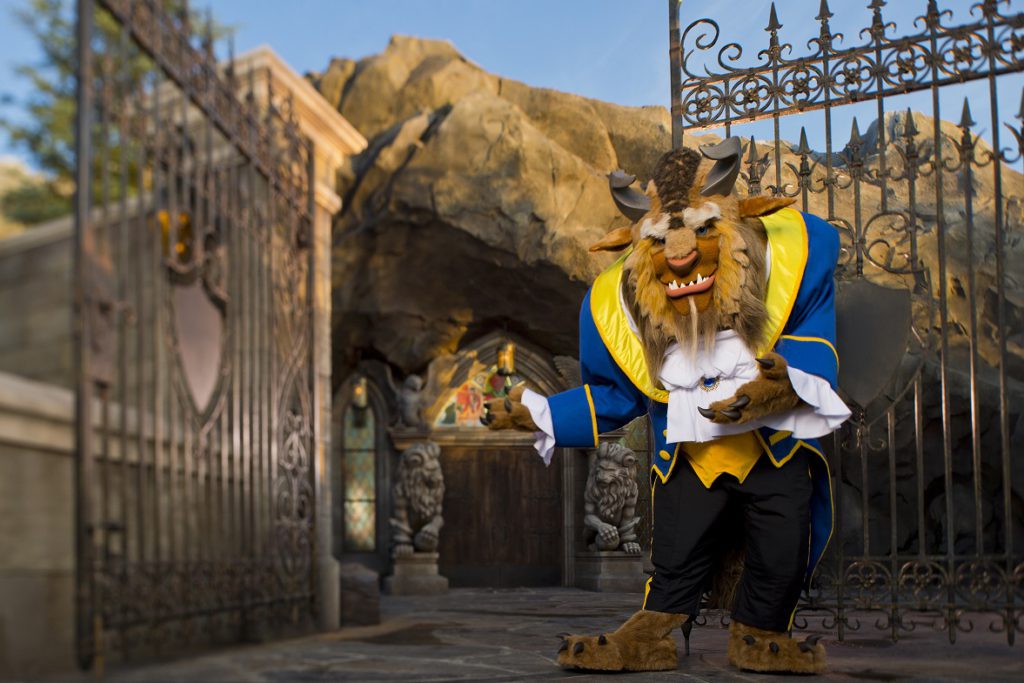 You will want to pre-book entertainment when you can, including at Disney Springs with the new Cirque du Soleil – Drawn to Life production, the first Cirque-Disney collaboration with 10 unique acrobatic acts with Disney animation.
Whatever you do, give up racing around trying to see everything. It's impossible, says Diane Sheppard, a frequent Orlando and Disney guest from near Albany, N.Y. "Relax," she said, and remember, "You're on vacation!"
(For more Taking the Kids, visit www.takingthekids.com and also follow TakingTheKids on Twitter, Facebook and Instagram where Eileen Ogintz welcomes your questions and comments. The Kid's Guide to Philadelphia and The Kid's Guide to Camping are the latest in a series of 14 books for kid travelers published by Eileen.)
©2022 Eileen Ogintz. Distributed by Tribune Content Agency, LLC.