By Kyle McCarthy, Family Travel Forum
Start the countdown to May 31 if you're headed to California, or August 29 if Florida is a stopover on the way to a galaxy far, far away.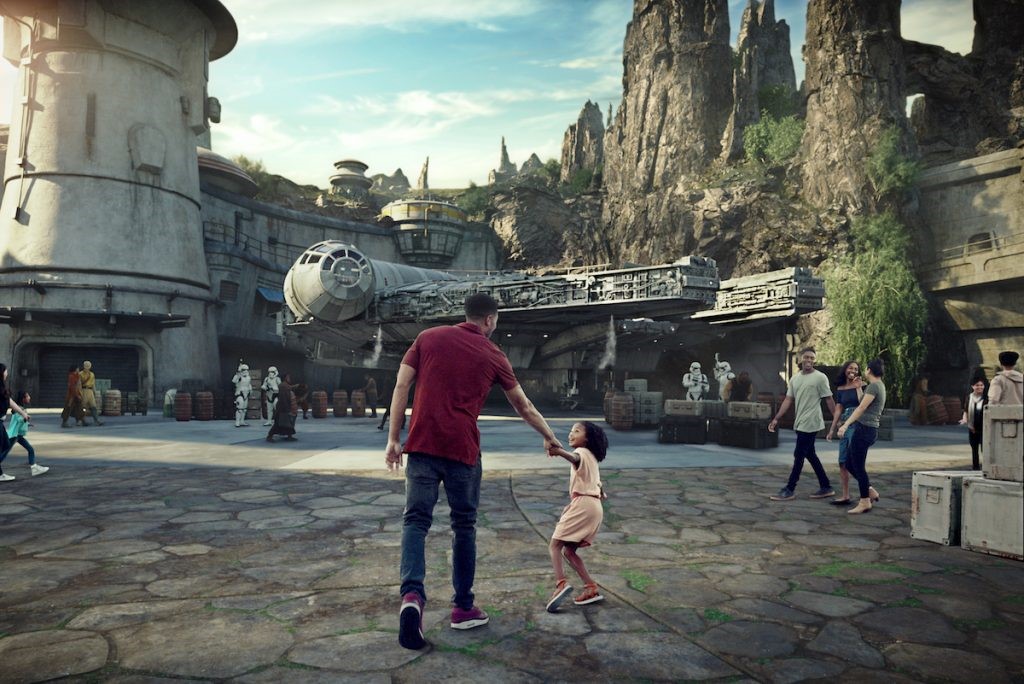 In a surprise announcement at The Walt Disney Company shareholders meeting March 7, 2019, Disney Parks, Experiences and Products revealed the Star Wars: Galaxy's Edge opening dates.
Rey, Finn, BB-8 & Friends Land at Disney
Both the Disneyland and Walt Disney World theme parks will blast off this summer to Star Wars: Galaxy's Edge, the "Star Wars" themed lands that fans have been training for. In Anaheim, Disneyland Park welcomes a new planet May 31. In Orlando, Disney's Hollywood Studios at Walt Disney World Resort will host the Star Wars crew beginning August 29.
At 14 acres each, Star Wars: Galaxy's Edge will be Disney's largest single-themed land expansions ever, according to the company, with several facets open for Phase I. Disney promises they will be immersive in ways that allow guests to live their own Star Wars adventures in Black Spire Outpost, a village on the remote planet of Batuu, full of unique sights, sounds, smells and tastes.
Guests can also sample galactic food and beverages such as Blue Milk, all served from spacecraft or extraterrestrial environments. Additionally, there's a lot of interstellar exploration waiting among an intriguing collection of new merchandise, such as custom light sabers, personalized droids and more, also sold in themed outlets.
Of course, both F&B and merchandise are big ancillary revenue streams key to the Lands' success.
Best yet, members of the Rebellion will be able take the controls of the most famous ship in the galaxy aboard the new attraction, Millennium Falcon: Smugglers Run.
The Star Wars Story on Batuu and in flight
Millennium Falcon: Smugglers Run, will take guests into the cockpit of "the fastest hunk of junk in the galaxy." They will take the controls of the Falcon as pilots, gunners or flight engineers: multiple ways for guests to experience the attraction.
Edge of Wild Space: Black Spire Outpost on Batuu is a far-flung destination along the galaxy's Outer Rim, say the Disney storytellers. It's on the frontier of Wild Space – home to Black Spire Outpost, an infamous port for smugglers, traders and adventurers. Visitors who interact with the Play Disney Parks mobile app are promised a deeper engagement with the land. They may choose to aid a smuggler, join the Resistance or pledge their loyalty to the First Order.
Stars Wars Land Phase II Opens Late 2019
Phase two, opening later this year, will be Star Wars: Rise of the Resistance. The Disney team calls this the "most ambitious, immersive and advanced attraction ever imagined, which will place guests in the middle of a climactic battle between the First Order and the Resistance and will blur the lines between fantasy and reality."
Theme park astronauts are placed right in the middle of the Rebellion in an active role in the fight against the First Order, including a faceoff with Kylo Ren. Their journey takes them inside a full-size starship and aboard a nearby Star Destroyer.
To satisfy long-patient fans and, perhaps, capitalize on the building excitement for the 50th anniversary of NASA's Moon Walk in July, Disney decided to open the land in phases. We are thrilled.
At last, we have the dates and we can move beyond our Spring Break planning to summer vacation!
Plan Now for the Future of Mankind
Guests planning to visit Star Wars: Galaxy's Edge at Disneyland Park between May 31 and June 23, 2019, will need valid theme park admission and will be required to make a no-cost reservation, subject to availability, to access the land.
Note that capacity is limited so that access to the theme park, Star Wars: Galaxy's Edge and its experiences may be restricted or unavailable depending on guest demand and other factors. It's great they are testing it at Disneyland first, and more Information on how to make a reservation will be available at a later date on Disneyland.com and the Disney Parks Blog.
Splurge Alert: Guests staying at one of the three Disneyland Resort hotels during these dates will receive a designated reservation to access Star Wars: Galaxy's Edge during their stay (one reservation per registered guest); valid theme park admission is required.