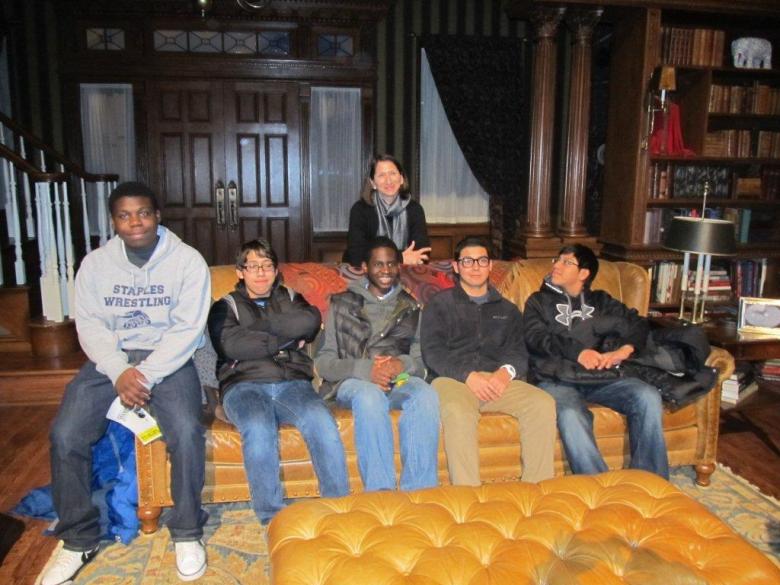 DAY ONE — Some of my friends thought I was nuts.
When I won a weekend stay at the Hilton New York's five-bedroom penthouse, I invited along seven teenagers to share the fun at New York's largest hotel.
The boys, from inner city areas across the country, go to high school in my suburban town under the auspices of A Better Chance. After a successful weekend in Boston late last fall, I figured it was time to conquer The Big Apple and the invitation to stay at Hilton's penthouse made the trip that much easier to arrange.
NYC is once place you don't have to convince kids—especially teens—to go. In fact, the city is always tops on kids' wish lists and family travelers accounted for 14.3 million visitors in 2010, contributing $12.3 billion to the city economy.
The Hilton was a great base for our foray, which included a Broadway play (Stick Fly), a fantastic family-style Italian dinner in the theater district at Carmine's , a visit to the 9/11 Memorial, Chinatown and the Lower East Side's Tenement Museum capped off by hot chocolate and pastry at Little Italy's famous Ferrara Café, a fixture here since 1892 and dubbed America's first espresso bar.
Yes, it was a busy weekend. The weather was terrible too—sleet and snow much of the day Saturday. We ranged in age from nine months (the houseparents' younger child) to 60+ (chaperone) and we fashioned an itinerary that seemed to please the entire group—especially the teens.
Having all the room to spread out in the Penthouse helped. Five bedrooms! An extra library! A living room with a baby grand piano! The view of the skyline! Truth be told, the Penthouse is a bit dated in some respects (no TV in the living room; just a fridge rather than full kitchen). In fact, it felt like a set right out of "Mad Men." But that made it all the more fun, the boys said, with living room furniture that would have fit right in to that era. There was even a "secret door" between the kitchen and library disguised as a bookcase.
The Penthouse is on the 45th and 46th floors (you have to take a special tiny elevator to get up there) of the Hilton NY, located in the heart of midtown on the Avenue of the Americas (aka 6th Avenue) between W 53rd and W 54th streets, with a whopping 1,980 guestrooms and suites. The boys loved that we had access to the Executive Lounge where they could chow down on a complimentary continental breakfast and afternoon snacks. (The day we left, we opted for the hotel's buffet breakfast downstairs where they filled up on made-to-order omelets, pancakes, bacon, pastries and more.)
I loved the accommodating service. We had enough leftovers from Carmine's, which serves gargantuan Italian meals family style, and from Joe's Shanghai in Chinatown to more than feed the boys dinner Saturday night around the long dining table. But how to heat it all up with only a small microwave? No problem! Room Service came and picked up all the containers, heated everything and returned them with plates and cutlery. We had a feast!
Our weekend started with dinner at Carmine's, which is in the heart of the Theater District as well as on the Upper West Side of New York City and in Washington, DC and elsewhere and the place to go for filling, well-priced Italian food. There were 15 of us, including the two babies, and everyone ate happily from plain pasta for the two-year-old, salmon, salad and broccoli for the dieting chaperones to pasta with clam sauce, rigatoni with sausage, fried mozzarella and chicken parmigiana. No one left hungry.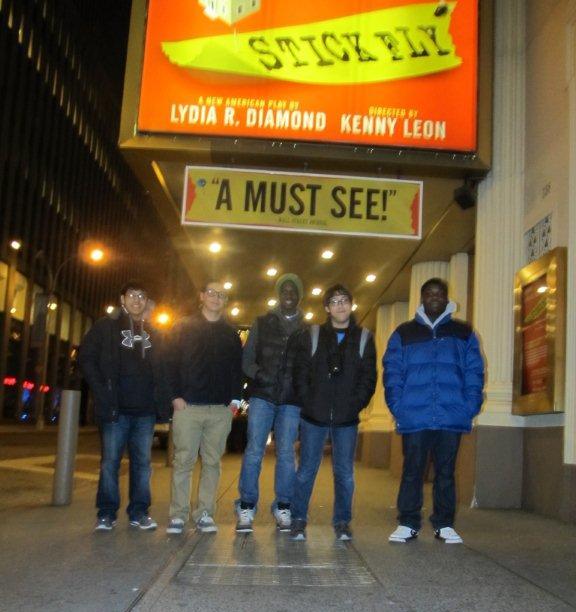 We walked a few blocks to see Stick Fly at the Cort Theater. The play, produced by Alicia Keys, takes place on Martha's Vineyard off the Coast of Massachusetts and tells what happens to an upscale African American family when they gather for a weekend with the sons' two girlfriends in tow, the mother absent and the young daughter of the family's long time maid, taking over duties of her ailing mother. Similar family issues—parents playing favorites, children unable to live up to parents' expectations, girlfriends' difficulties assimilating, class issues—can play out in any family, we agreed.
But that this was an African American family was especially appropriate for our minority group, who were treated to a behind the scenes tour afterward by obliging stage manager Bob Bennett. The boys acknowledged they liked the play more than they expected, though they were glad to return to "our" penthouse and the oh-so-comfy beds.
Next: Visiting the 9/11 memorial on a cold, snowy morning