At the Outdoor Retailer Winter Market show there was plenty of ski apparel. From experience we know no apparel is more important on the slopes ski socks!
You can be a fashionista or a ski bum but if your feet are freezing cold, or your socks are causing foot blisters it can ruin your day on your winter family getaways. So we took home the following three pair to test out at Beaver Creek Ski Resort next week.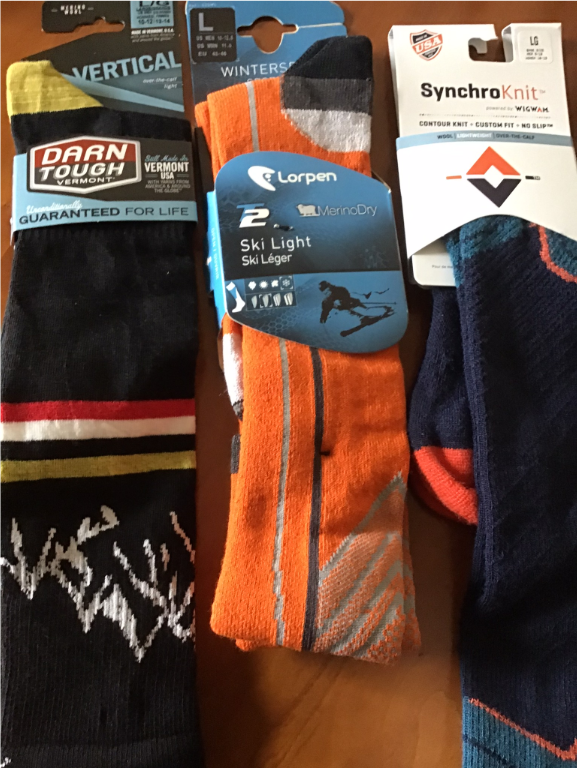 The over-the-calf Alpenglow socks by Darn Tough are "guaranteed for life." The Vermont-based Darn Tough says its socks have "traveled the world racking up millions of vertical feet." All that time on the trails means constant refinement, and the Alpenglow ski and snowboard sock is the latest evolution. Lightweight and versatile, it's naturally easy breathing and odor-repellent thanks to the miracles of Merino wool.
The men's "Ski Light" by Lorpen touts natural warmth from "merinodry" material with improved drying and wicking properties. It also fits over the calf and features extra cushioning in the shin, where other socks are often lacking.
"SynchroKnit" by WigWam, also made from Merino Wool is said to be a breakthrough technology in the way the sock fits under a shoe or boot. Engineers at WigWam literally broke a knitting machine and reprogrammed it to strategically eliminate stitches, so no fabric is reduced around the leg or foot. No more annoying stitches causing irritation when you need to concentrate on the next mogul!