DAY 2 — FRESH TRACKS!
No we're not at a ski resort –there isn't even a ski lift or any other skiers anywhere in the vicinity.
That's because we're on some of the 8,000-plus acres at nine thousand elevation at the C Lazy U Ranch in Granby CO.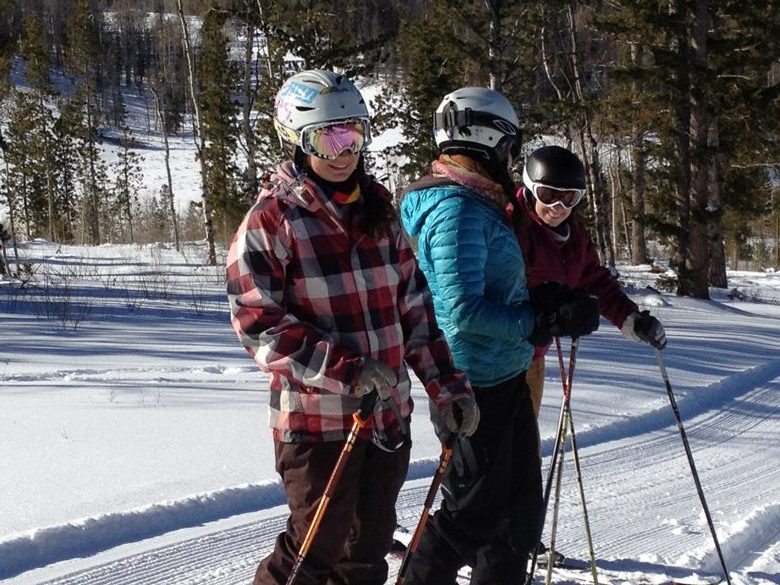 Famous as a summer dude ranch with a stellar kids' riding program, the ranch also is a veritable winter wonderland with back country Cat Skiing—complete with warming hut and a pitcher of hot chocolate—snow shoeing, XC skiing, ice skating, tubing and sledding. Did I mention the hot tub and spa?
I'm here with my two daughters and my older daughter's college roommate—a girlfriend's getaway in the snow. But we meet a couple from Fort Collins together parents of four kids, ages 19 to 10. This is their first getaway since they got married last fall.
If you want guides and tips on skiing, check out Bluehouse Skis for more detailed information.
We also meet several families here for some fun in the snow. Tammy Garamova, here with her husband and two young daughters from Denver, was thrilled that is so easy to have "me" time as well as family time here. "They were a little freaked out by there not being TV in the cabin," she laughed. "But it's good for them."
And truth be told, there was so much to do, they weren't even missing it. It's not cheap certainly –$325 per night all inclusive for the adults but there is a kids free deal and most all the activities and meals re included (spa, snowmobile and cat skiing are extra).
After our hearty breakfast, we head up in the snow cat to the east side of the main lodge for the girls to ski in the back country—I'm watching this morning from the Cat. The views are stupendous—craggy snow-covered mountain peaks. We try to guess which animal's tracks we are seeing. The driver, Bruc Janssen, points out several "elk beds" where Elk brush off the snow to eat the grass underneath and then bed down for the night.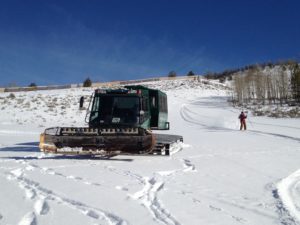 "Everything we skied had not been skied before," said Meghan McCloskey. "I loved that we could enjoy the wilderness with the people you want to ski with but you had the security of a cat and not have to do all that hiking you normally would do in the back country."
And when Meghan struggled on one run, Paul Kleis, our guide, was there to lend a helping hand.
Typically, back country skiing involves a long hike up the mountain carrying skis "by the time you get to the top you're already out of breath….this way you get to the top a and you are rested and ready to go," Kleis said.
This ranch, I've realized, allows you to get out of your comfort zone as much as you like safely whether cat skiing, snowshoeing or even trap shooting which we also try this afternoon. None of us have ever fired a gun and we get a lesson.
Janssen points out land that was first homesteaded in the second half of the 19th century. I think what hardy souls those families must have been in this unforgiving country. Today the temperature is barely 15 degrees and it is often below zero here in the morning.
We stare out at the Indian Peaks Wilderness Area and at what's known as Baldy Mountain. The conditions aren't great—there hasn't been sufficient snow—but just being out in this pristine wilderness is amazing.
Other families have been spending the morning snowmobiling, skating and tubing. The kids also can sled down the long ranch driveway—closed of course while they have fun in the snow. And then there are twice daily horseback rides. "You don't have to be with your parents all the time here," suggests 10 year old Zoe Feasel, who has visited many times.
"The kids are exhausted and happy at night," adds Tammy Garamova, whose daughters are six and eight. She says while expensive, "This is the only pace we've been that I'm not worried about the kids."
"Kids make their parents come back" says Janssen, who has worked here for more than 25 years. But I don't think they take much convincing.