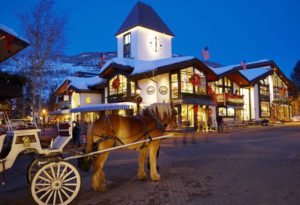 By Eileen Ogintz
Tribune Media Services
You gotta hate that guy. The guy sitting next to you on the plane, at the pool or the chairlift who can't stop bragging about the fantastic vacation deal he snared that saved his family big bucks.
Of course you want to tell him to shut up. Of course you want to know how he did it — how he managed to pay so much less than you did – especially for more deluxe accommodations, cheaper lift tickets or theme park packages. Everyone likes to get a good vacation deal, whether they're counting every penny or pulling out the American Express Platinum card. And no one likes to feel like a chump when they discover they've missed out.
The good news this winter: There are plenty of deals to be had, whether you want to travel now or in the spring — as long as you know where to look. The bad news: You might need to compromise on your choice of destination or departure date to get the best bang for your buck. Here's how you can become that vacationer everyone envies:
KIDS RULE: Especially when they are free. Look for deals that offer kids' free as part of the package, whether you are skiing or heading to the beach. For example, many ski resorts offer "kids fly and ski free specials" this season. That will save you a bundle, if you can avoid prime school break weeks. Maybe your kids aren't in school yet. Opt for a long weekend rather than a week. Look for details on www.ski.com. Also on ski.com, they're running a "$12 Lift Tickets for 12 Hours After a 12-Inch Snowfall" special valid for Vail, Beaver Creek, Breckenridge and Keystone resorts.
Check your favorite ski resort to see if there are packages like Snowbird in Utah (www.snowbird.com), Waterville Valley in New Hampshire (www.waterville.com) or Steamboat in Colorado (www.steamboat.com) that enable kids to ski free. If you prefer sun and sand, Club Med (www.clubmed.com) lets kids up to 15 stay free (one child per paying adult) up through most of June, as long as you book by Feb. 16. Divi Resorts (www.diviresorts.com), which operates nine resorts in the Caribbean, also has a similar deal ongoing for most of 2008. Do you realize how much you'll save on food alone? Wherever you go, ask about kids-free deals.
PACKAGES ROCK: They can save you 20 percent, or more, when you book air, hotel and car rental together. If you aren't set on a particular locale, decide what kind of getaway you want (city, sun or snow) and let the deal guide where you go. Some of the packagers are sweetening the offers right now. United Vacations (www.unitedvacations.com) promises you can save as much as $200 on packages everywhere from Hawaii to Europe to Orlando and ski country through next October – as long as you book by Valentine's Day. (Use the code NEW YEAR, and while you're visiting the site, check out the Experience America sweepstakes for the chance to win an once-in-a-lifetime vacation.) Opt for city lights and Cheap Tickets (www.cheaptickets.com) will take $75 off your package, whether you're going to Montreal, San Diego, Miami or other cities, as long as you book by Feb. 24 and travel by March 31. Use the promotion code BIGCITY75.
TAKE A GIANT LEAP: Yes, it's leap year and that means more deals. Schedule a trip to the outer Bahamian Islands (www.myoutislands.com) at the end of February and get a free night's lodging on Feb. 29. Take the kids to Keystone or Vail Resort (www.snow.com) and get a free day of skiing and lodging, as long as you book three days between Feb. 25 and March 8. That's a good deal when you consider a daily lift ticket at Vail is more than $80, $50 for kids. If your birthday's Feb. 29, The Fairmont Copley Plaza in Boston (www.fairmont.com) invites you for a special birthday package (the first night is just $29). Check the Fairmont hotels in the cities you're visiting to see if they also offer a Leap Year package.
TAKE A CHANCE: Book a vacation, hotel or a flight on sites like www.hotwire.com or www.priceline.com ; you choose the dates and the rate, they choose the flights, car rental companies or hotels. Now some hoteliers are getting into the act too. If you're thinking about going to Maui, for example, check out the "mystery" deal at Destination Resorts in Wailea (www.drhmaui.com). Book a studio or one-bedroom unit and leave it to the managers to decide which of the seven properties will host you. Rates this spring start at under $1,100 for six nights. And it never hurts to ask for an upgrade when you arrive, either.
MAKE COLLEGE TOURING FUN: Stay at a deluxe hotel at bargain rates this winter. For those heading to the Big Apple, for example, check out the third-night-free deal offered by the Signature Collection of luxury hotels (www.nycvisit.com), through the end of February. Stay at the brand-new Renaissance Boston Waterfront Hotel (www.renaissanceboston.com) for just $149 a night on weekends through March 22. Your teens will love the flat panel TVs and MP3 docks. Check the Website for whatever city or town you expect to visit for available deals – and ask if they'll throw in breakfast.
A HOME AWAY FROM HOME: You not only will have more space — and bathrooms — if you opt for a condo or rental house, but you'll save big on meals. Get a free digital camera if you book a ski country condo with ResortQuest (www.resortquest.com), which also has condos in sunny climes. Rent a house in Orlando with a private pool for less than many hotel rooms from All Star Vacation Rentals (www.allstarvacationhomes.com) and get free days at the theme parks, or villas in Costa Rica and condos in Palm Springs for under $150 a night through www.rentalo.com
See you in the hot tub. Just don't gloat too much.
© 2008 EILEEN OGINTZ, DISTRIBUTED BY TRIBUNE MEDIA SERVICES, INC.