By Eileen Ogintz
Tribune Content Agency
CAYO ESPANTO PRIVATE ISLAND, Belize — Snorkel masks on our faces, fins on our feet, we're on the hunt for dinner.
I'm not even wearing a bathing suit, just street clothes. I wasn't planning to swim while my husband fished for our supper, but I couldn't resist the entreaties from Carlos Cordova, our 22-year-old guide, who urged us to join in on the conch and lobster hunt.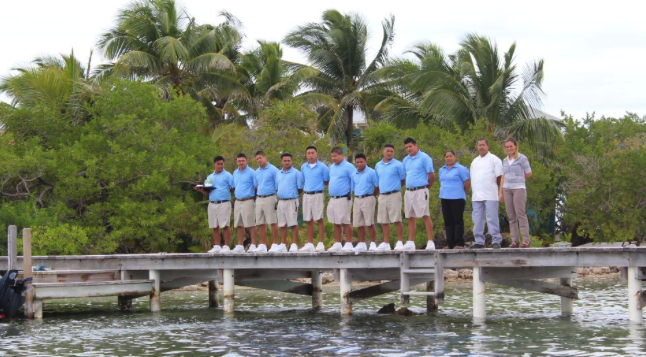 Cordova, who has been around boats all his life, has been free-diving since he was 10. We are about six miles — a 20-minute boat ride — from the exclusive private island resort Cayo Espanto where we are staying. It offers just seven ocean-front villas and 18 guests, and as is customary, all of the activities are private and just for us — no boat full of tourists.
The water was clear and warm, colorful tropical fish all around us here at the edge of the Hol-Chan Marine Preserve, which is located just a few miles from San Pedro near the largest island in Belize, Ambergris Cay. You'll find some of the best snorkeling and diving here .This preserve is part of the 190-mile Belize Barrier Reef that is part of the continuous reef system, through Mexico and up to Honduras, making it the second-largest reef system in the world after the Australian Barrier Reef.
No wonder this is a top draw for divers, snorkelers and fishing enthusiasts. (Those who want to dive the famous Blue Hole, known for its underwater caves and formations, have at least a two-hour boat trip each way from San Pedro, but that dive is one for the bucket list. Cayo guests who opt to arrive via helicopter from the international airport in Belize City can be treated to an aerial view.)
Hol-Chan, which means "little channel," is not only narrow — just 60 feet wide through the barrier reef — but it's also a popular place for those completing their PADI SCUBA certification as it is only four feet deep in some spots and 29 feet at its deepest point. Night dives and snorkels are popular, especially to see nocturnal creatures like octopus, moray eel and squid.
Tiny harmless jellyfish called sea combs swam into our hands on an earlier snorkeling expedition; the other fish ignore us. There are Sgt. Majors, parrot fish, rainbow fish, angel fish, small yellow-tailed damsel fish (which are actually blue) and spotted eagle rays everywhere, each variety oblivious to our presence.
There are four zones to this beautiful preserve, which is the most popular for snorkeling and one of the most sought-after dive sites in Belize. We also visited the so-called "Shark Ray Alley" where we had seen nurse sharks and rays swimming right around our boat. There's a giant southern ray moseying along, a school of horse-eyed jacks with their distinctive big eyes and the beautiful blue and black tang fish and there are at least seven nurse sharks, some 10 feet long, trailed by a baby.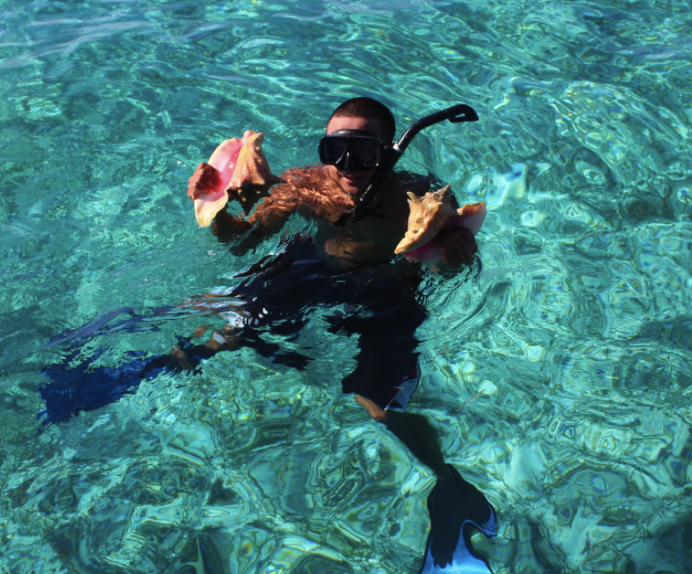 Cordova explains that some guests enjoy their "catch" for lunch at a tiny deserted island. Instead, Cordova will show us how to make conch ceviche onboard and when we return, we'll hand over the fish (and hopefully lobster) we've caught to the resort chef, who will prepare a dinner feast, served by our villa butlers. We will eat this feast by candlelight on the deck overlooking the water as we listen to the lapping waves. So romantic! (Of course, all this pampering doesn't come cheap. It will cost you $1,800 a night for two. But it is nice to know that if you are going to spend that kind of money you are guaranteed a one-for-the-memory-books experience, as we're having.)
As we hunt for the conch on the sandy bottom, Cordoba spots spiny lobster hiding under "tribes" made by fisherman and fashioned from corrugated tin and logs. Using a long hook, Cordoba catches one, but the other scoots away until he triumphantly grabs him, too. The snapper he and my husband catch will also be part of our dinner feast.
As Cordoba gets the fleshy meat out of the conch shell, he explains ceviche, typically prepared with raw fish cured in citrus juice and spiced with chili peppers. First, they get the conch meat from the distinctive pink and white shells (which go back in the water to make shelters for hermit crabs) and then cut off the meat in small pieces, soaking it in lime to "cook," the fish (the waste goes back into the water as chum for the snapper). He adds peppers, onions, tomato and cilantro before adding spices — salt, pepper, a dash of Worcestershire sauce, maybe a little hot sauce. "Some like it more spicy, others less," he said. Some resort guests go out for an entire day, snorkeling, fishing and conch hunting and end with a barbecue at a nearby island. Belize has more than 100 islands.
Ceviche is this region's most popular appetizer, but "everyone makes it differently," according to Cordoba. His version includes onions, salt, cilantro and more. It's eaten on tortilla chips. (We tasted another version and other local dishes on the Belize Food Tour in San Pedro a few nights earlier. Here is what I wrote about that fun evening.)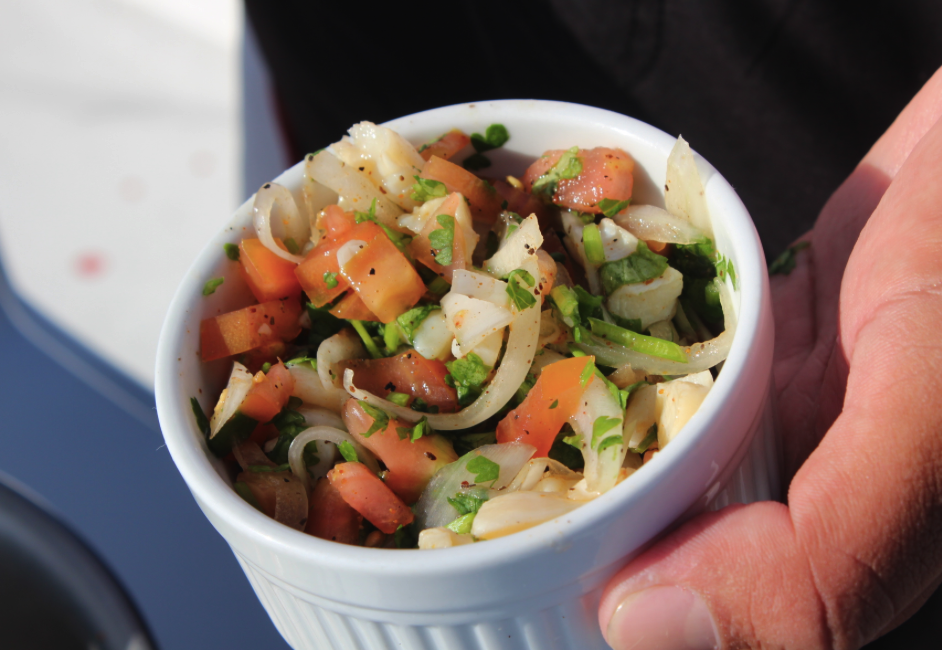 When we've caught two conch big enough to keep (and feed a lot of people), we go back to the boat. "We don't catch more than we need," our guides explain.
Cordova tells us he has been around diving and boats since he was a small boy and his mom was working at a family-owned hotel where the dive shop was located. He started lugging dive equipment, cleaning the bottom of the boats, graduating to driving the boats and becoming a dive guide. Now, he works full time at Cayo Espanto.
"When we take people out," he says, "we treat them like family — and Belizeans are very close to their families!" He still lives with his mom and dad — and his three dogs.
When we get back to the dock, the resort chef is waiting, asking how we would like our catch prepared — grilled lobster, snapper blackened and grilled, he suggests. We're handed frothy cocktails.
"UnBelizeable," says Cordova. "Belize in it."
(For more Taking the Kids, visit ttk-old.o2dev.net and also follow "taking the kids" on www.twitter.com, Facebook and Instagram where Eileen Ogintz welcomes your questions and comments.)
© 2018 EILEEN OGINTZ
DISTRIBUTED BY TRIBUNE CONTENT AGENCY, LLC.