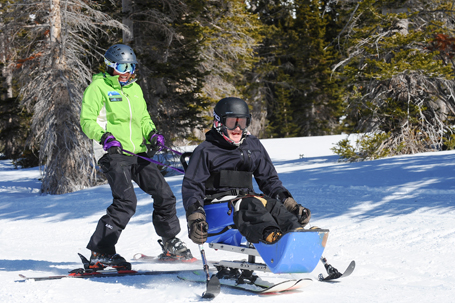 By Eileen Ogintz
CRESTED BUTTE, CO (Day 4) — Fourteen year old Tony is walking around like he owns the place.
And that doesn't happen too often.  Tony suffers from dwarfism and is autistic.  But here at Crested Butte's Adaptive Sports Center, he literally is king of the hill. He is here with a group of special needs students from nearby Gunnison who come seven times over the winter, said   Elise Brown, one of the teachers who accompany the group.
"The kids really look forward to this," she said. "It gives them confidence in school—if I conquered that hill, I can speak up in class." She said.
Chris Read, the program director of the Center, explains that some 2000 families bring kids here winter and summer for the chance to have an experience outdoors they couldn't otherwise.  In winter, there is the latest adaptive equipment for those wheel chair bound — such good equipment, he said, that those using the adaptive equipment typically progress faster than their able bodied family members.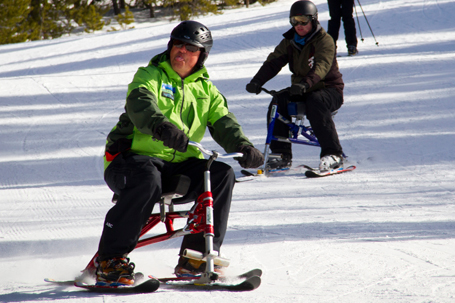 Besides skiing, there is snowboarding, Nordic skiing, snowshoeing and ice climbing
In summer, there is horseback riding and rock climbing, mountain biking, canoeing, kayaking and rafting, mountaineering and challenge courses.
Some 4000 adults come here every year — including those who have been injured in the military. Money isn't an impediment either as there are scholarships available.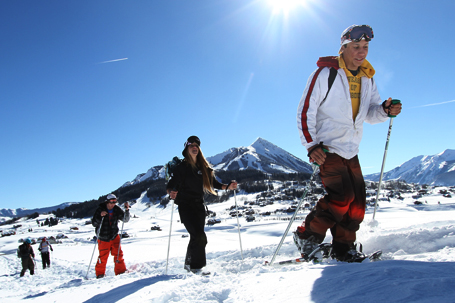 The programs, Read said, are tailored to the individual—maybe a young teen needs to learn independence and not to rely on his parents for everything. But maybe a family doesn't have a chance to enjoy being outdoors or learning a sport together.
These special families — just like all families — crave new experiences they can share on vacation.  Read notes that there are 30 million Americans with disabilities and the numbers of people using these programs are growing — there are eight adaptive sports centers just in Colorado.  He noted that at least half of those who come here — and they come from around the world — are repeat visitors, some as young as three.
"Those with disabilities can do great things," said Elise Brown.
Absolutely!