Tribune Content Agency
WILHELMINA BAY, Antarctica — Everyone is busy getting ready for the black-tie New Year's Eve bash.
Here in Antarctica, it's a giant penguin party, of course. We're in a Zodiac boat in the Errera Channel between Ronge Island and the Antarctic Peninsula watching Gentoo penguins jump off an ice floe to "shower" in the water, and then jump back on the ice to preen in their formal wear.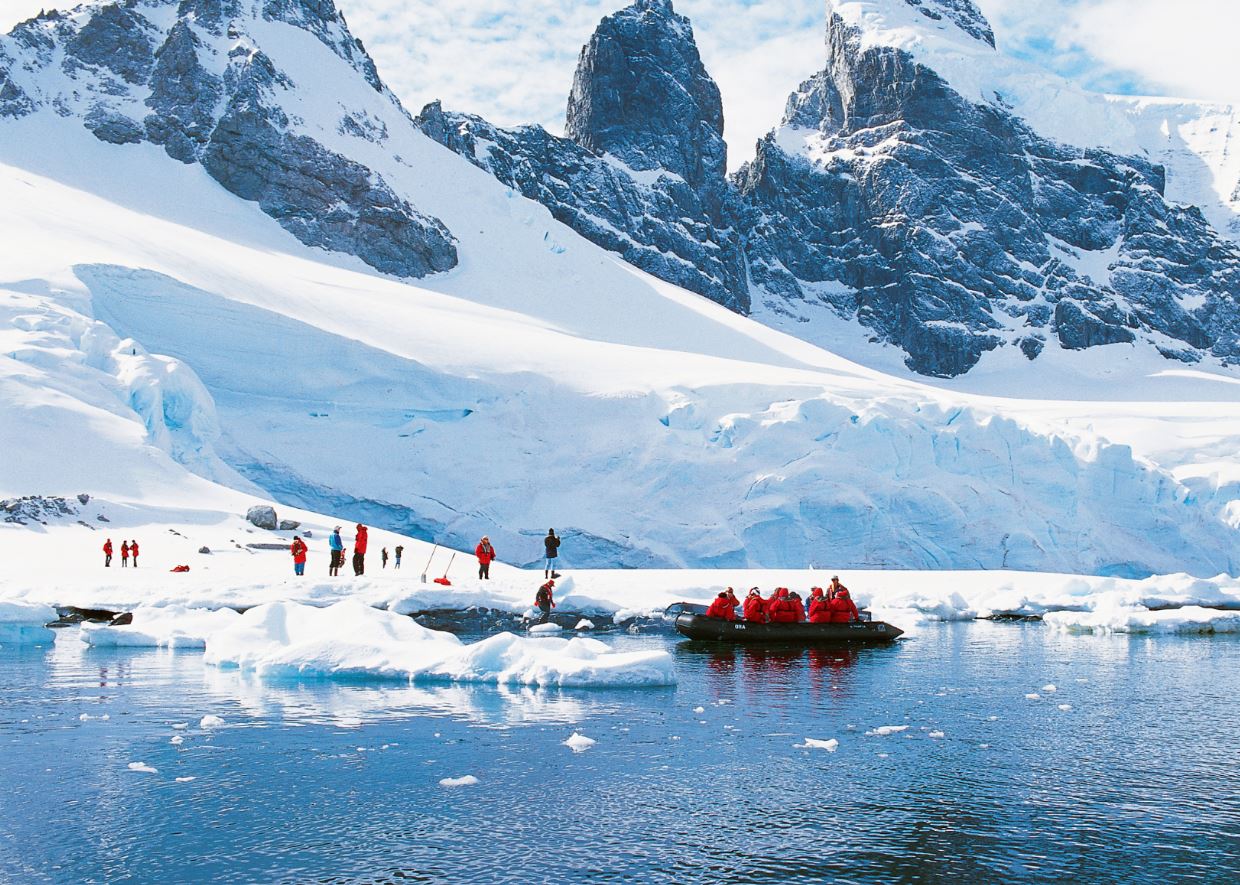 The crab-eater seals are lounging on other ice floes and look up at us as if to say, "No fancy bash for me … I'm just relaxing!"
It's nearing the end of a 17-day, once-in-a-lifetime Abercrombie & Kent family trip that has taken us from Argentina to the Falkland Islands, South Georgia Island and now Antarctica on the 200-passenger Ponant ship, Le Boreal. For the 34 extremely well-traveled kids on board — for many this has been their seventh continent — the trip has offered one eye-popping adventure after another in amazingly good weather, especially with sunny blue skies this New Year's holiday.
"I never imagined Antarctica would be like this!" said Sophie, 10.
Expedition leader, Matt Drennan, a veteran of more than 100 trips to Antarctica, says he thinks the New Year's adventures were a favorite for the kids on board — the penguins (including the sighting of a rare lone Emperor Penguin), the Orcas, the ice walk.
Talk about a New Year's Day to remember! First, everyone rushes outside to see killer whales — a pod of more than 20, the first we've seen while on the boat. They dive and jump as if for our amusement.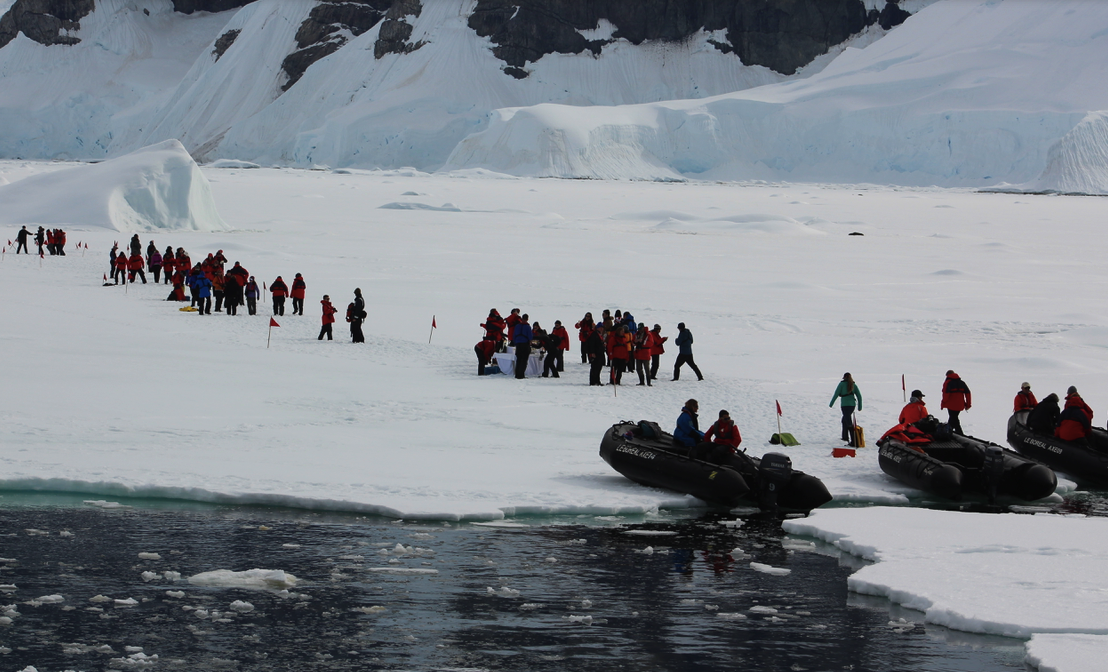 Then we go for an "ice walk" in the middle of the ocean on ice three feet thick and covered with slushy snow. Adults were served Champagne; kids juice at an improvised "ice bar." I'll always remember this," declared Olivia, 10, from Melbourne, Australia. "You don't see people walking on ice in the middle of the ocean every day."
Standing above 1,500 feet of ocean, we wrote reminisces in the fresh snow with our hiking poles.
After we got back into Zodiacs for a spin around Wilhelmina Bay, Southern Humpback whales popped up all around us, as if to say "Happy New Year!" Really, they were feeding on krill at the edge of the ice pack, which is kind of a supermarket for whales.
"Really crazy!" said Marcos, 12, from New Jersey.
"The best day of the trip," added his friend George, 12, from Nashville.
Equally impressive — besides the spectacular weather this voyage has enjoyed — is how the kids are so excited and energetic, despite a late night of New Year's Eve partying with their newfound friends, including a 2 a.m. swim in the pool.
On New Year's Eve, the kids realized sleds could be superfluous as they slid down a slushy hill after stepping onto the continent of Antarctica in Nexo Harbour. It was so warm everyone shed parkas and hats in the sunshine.
Some of the kids built a snowball tower at the top of the hill, which offered a spectacular view of our ship, Le Boreal, and the water was as calm as glass and dotted with ice floes.
"Crazy to be in a T-shirt in Antarctica!" says George, who looks as if he should be in Miami in his short sleeves and sunglasses.
We hear a part of the glacier calve into the water with a loud crack and boom.
Concerns about the impact of global warming — consider the news earlier this year about the iceberg the size of Delaware that broke off the Antarctic ice shelf — are spurring tourism to Antarctica, including a growing number of families. Visits to Antarctica with members of the International Association of Antarctica Tour Operators were up 15 percent last season and is expected to continue to increase, reaching the most visitors since 2007 and 2008.
Christmas morning was just as unreal on Salisbury Plain, located on the north coast of South Georgia, between the Grace and Lucas Glaciers, as we were surrounded by King Penguins. They waddled right up to us. There were fur seals and tiny fur seal pups, which were nothing more than tiny balls of dark brown fur. These seals were hunted to near extinction in the 19th century but they've made a remarkable comeback and number in the millions today.
The penguins were in front of us on the beach, behind us and all the way up a grassy hill. "This is one of the all-time great sites of nature," says Carol Walton, one of the Abercrombie & Kent naturalists guiding us on this cruise.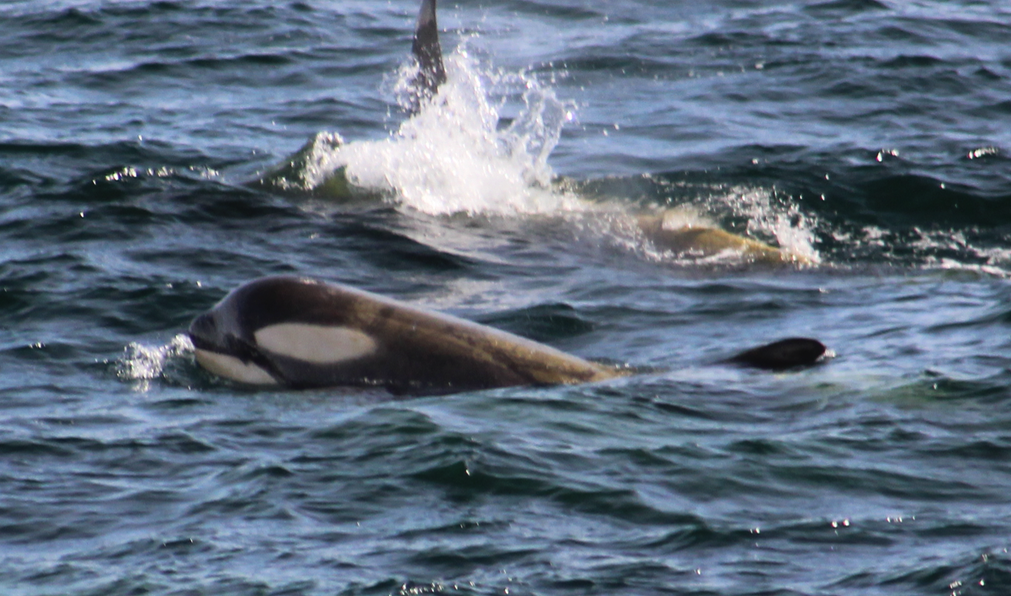 It's one of those I-can't-believe-I'm-here moments. Only 100 passengers at a time are permitted on the rocky beach and the expedition staff sets up paths so we don't disturb the animals. They, of course, have the right of way.
Obviously, a trip like this is for very well-heeled families (it's more than $50,000 for a family of four). But these families say they would rather have experiences than "stuff." Others are celebrating — a recovery from cancer, a graduation, a retirement.
And when it comes to a place like Antarctica, they are anxious to see it before more of it disappears. That includes young adults who increasingly travel with their parents.
"The Best Christmas morning ever," said Sydney Beal, 21, from Minneapolis. She and her sister, Kyndall, 18, had told their parents a few years ago that they'd prefer experiences rather than holiday gifts. "We could never think of anything we wanted," she explained. "We prefer doing something instead of opening a bunch of presents."
"You can have presents anytime," said Conrad, 12. "But you can't ever see so many penguins like this."
Everyone, however, was happy to welcome Santa, who arrived via Zodiac.
These families may have been wealthier than others who travel, but their sentiments aren't dissimilar. At our recent TMS Family Travel Conference, research from MMGY's Portrait of the Family Traveler found that not only are millennial families traveling and spending more than their peers who don't have kids, they are also traveling farther afield. More than half of those surveyed said they took an international trip in the past year and more than 60 percent plan to do so in the coming 12 months.
That may be why Abercrombie & Kent is hosting 40 kids on their holiday Antarctica trip this year — more than last year — and reports that bookings are up on family trips in 2018 to Kenya and Tanzania and Family Japan and Family Australia are significantly ahead of the same time last year.
"Boom!" An avalanche of ice and snow falls from one of the peaks and lands in the water with a gigantic splash.
Happy New Year!