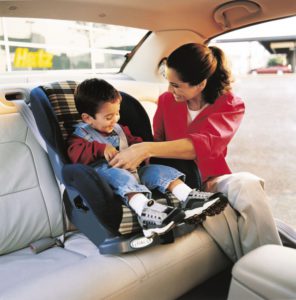 By Eileen Ogintz
Tribune Media Services
For once, the kids agree.
Whether they're toddlers, tweens or high-schoolers, they all think road trips — road trips with their parents, at least — are way too long and boring.
What the kids don't get is that driving for hours with a couple of antsy children (not to mention sullen tweens and teens) is no fun for parents either — especially not when we're paying record prices for gas. Still, millions of us — 20.4 million just over the July 4th weekend, AAA reports — are hitting the road with the kids this summer. We're even renting RVs in increasing numbers, according to the Recreation Vehicle Industry Association (www.gorving.com). (Check out their Web site where you can read their new blog and play interactive travel games.)
Whatever wheels we're using, and despite the price of gas, driving is still the cheapest way to go and at least gives us more control over the trip. (Nothing derails a vacation faster than a missed connection or a lost bag.) It's a lot easier to take your pooch along, too.
Even if you don't want to venture too far because of gas prices, you can still get away for a few days. When was the last time you visited a nearby state park, national monument or that small museum? See what gas rebates and other deals you can score before you book a hotel. Also check out AAA's Fuel Cost Calculator (www.fuelcostcalculator.com) to figure out how much you'll spend on gas and TripTik (www.aaa.com) for the nearest and cheapest gas stations along the way. Maybe the kids' groaning can be kept to a minimum if you let them help plan the route — and fun stops along the way. (Keep those towels and bathing suits handy!) Check out www.seeamerica.org, which includes itineraries for every state and detailed descriptions of what to do along the way. Visit the official Web site for the state you will be touring (or driving through) and see their top picks for the kids. Check out the Association for Zoos and Aquariums (www.aza.org) and link to museums in the states you'll be visiting. The Association of Science-Technology Centers Web site (www.astc.org) is a good resource for science and children's museums. (Your memberships at zoos, aquariums and museums at home may get you free entry elsewhere. Always ask!)
There are plenty of weird and funky roadside attractions too. AAA suggests the Spam Museum (www.spam.com/museum) in Austin, Minn., for example.
Just don't expect the kids to check out the scenery along the way. You'll be lucky if they look up from their video games and DVDs to notice, much less talk to you. I'm still a fan of audio books so at least everyone in the vehicle can have a shared experience — for a while anyway. Driving back from Vermont, we listened to "Twilight" by Stephanie Meyer (www.listeninglibrary.com), the first in the series about 17-year-old Bella Swan who is in love with the coolest guy in her school who just happens to be a vampire.
For younger ones, you'll want a grab bag of inexpensive little toys (hand one out when you pass each state line or the going will get really rough). And for all ages, you'll want a cooler. (Picnics are a lot more fun, healthier and less stressful than corralling kids to sit in a restaurant after they've been in a car for hours). A couple of baseball mitts, balls and Frisbees stashed in the trunk can encourage the gang to run off some energy whenever you stop.
Don't forget reusable water bottles (get BPA-free reusable ones from www.nalgenechoice.com). Have the kids slap stickers on them everyplace you go and they've got an instant souvenir.
And if you're traveling with toddlers who insist they've "gotta go" every 10 minutes, check out the parent-invented Pottyflip (www.pottyflipusa.com) a disposable and biodegradable child potty that folds out from a palm-sized package ($24 for 12).
Of course, safety is more important than amusing the kids on a road trip. Before hitting the road, check out the National Safe Kids Campaign (www.usa.safekids.org) and National Highway Traffic Safety Administration's (www.safecar.gov) Web sites. Motor vehicle crashes remain a leading killer of kids, in part because so many children are in inappropriate safety seats, or not in safety seats at all. (An astounding four out of five safety seats are used incorrectly.)
If you are renting a car, Hertz has teamed with AAA this summer to provide two child safety or booster seats free from Hertz to all AAA members. (Call your local AAA office or visit AAA.com/hertz for details.)
You also must know where the kids are — especially the little ones — when they aren't safely buckled into their safety seats. Not only do kids (and pets) inadvertently get locked inside vehicles and trunks (with tragic results), but large blind zones behind vehicles make it virtually impossible to see young children when the vehicle is in reverse, warns the advocacy group Kids and Cars (www.kidsandcars.org).
Invite older kids to help you check out the car before you get on the road — the fluid levels, the wipers and the tire pressure. Do you have road maps? The kids may prove to be the best navigators in the bunch. Let them trace the route on the map with a washable marker.
Keep an emergency kit in the car that includes jumper cables, basic hand tools, flares or reflective warning triangles, a flashlight and first-aid kit. It's no fun to be caught without that first-aid kit when your child's knee is bleeding. (You can buy one from www.travelmed.com or assemble your own. Visit ttk-old.o2dev.net for a complete list of what you'll need.)
See you at the rest stop. I'll be the one with the blue Frisbee.
(c) 2008 EILEEN OGINTZ DISTRIBUTED BY TRIBUNE MEDIA SERVICES, INC.