By Eileen Ogintz
Choose your adventure…column A, B, C…..
We're outside Moab, Utah, which is known for choose-your-own adventures, whether hiking or mountain biking, rafting or off-roading, camping, RVing, hotels or cabins.
When I began to plan a spring get together with my two daughters, son in law and my other daughter's longtime boyfriend, I had no idea everyone would be vaccinated.
I searched for a dog-friendly place where we could all drive to–one daughter on a road trip from northern California, the rest of us from Colorado—stay socially distanced and have plenty of room to enjoy the outdoors as well as be somewhere where we could cook for ourselves.
I found the amazing Whispering Oaks Ranch, about 25 miles southeast of Moab at 7,950 feet with spectacular views of the La Sal Mountains, Utah's second-tallest range with plenty of hiking nearby—even a pond on the property with a canoe and floating dock. (There is also a playground!)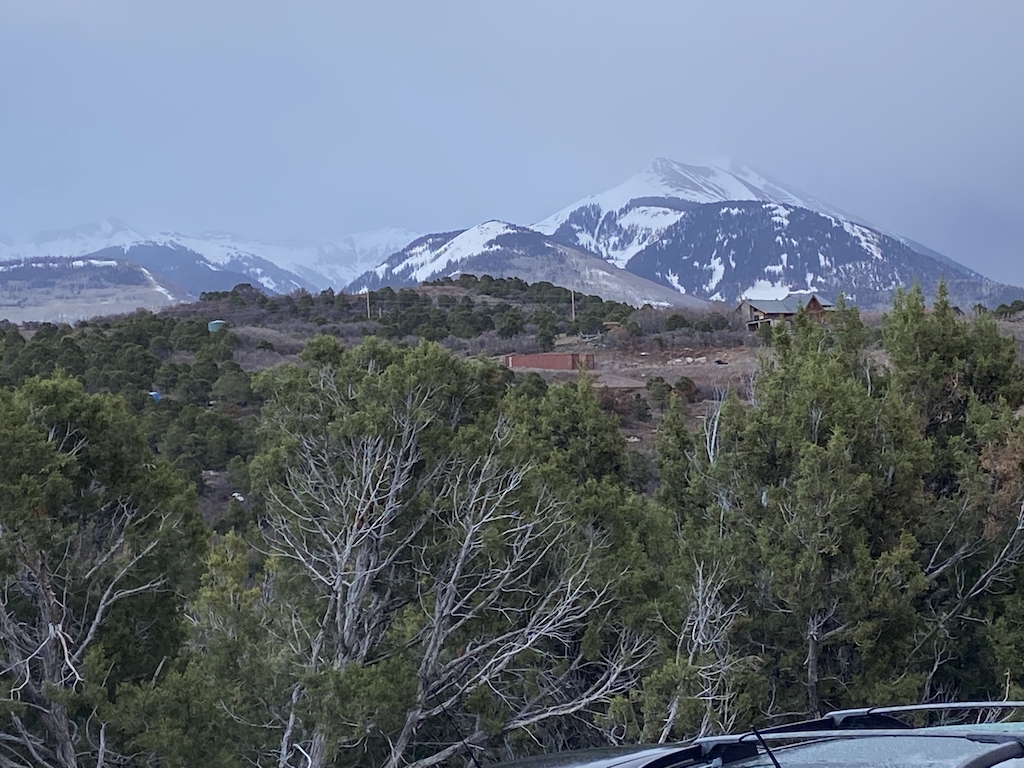 Many people come to Moab for the national parks—Arches and Canyonlands—but as we have the dogs, we knew we couldn't hike there. But there are plenty of local and state areas that allow on-leash dog hikes. And Whispering Oaks Ranch has miles of trails as well.
The family-owned ranch welcomed its first guests in 2005; today there are seven cabins of different sizes as well as a pavilion for weddings.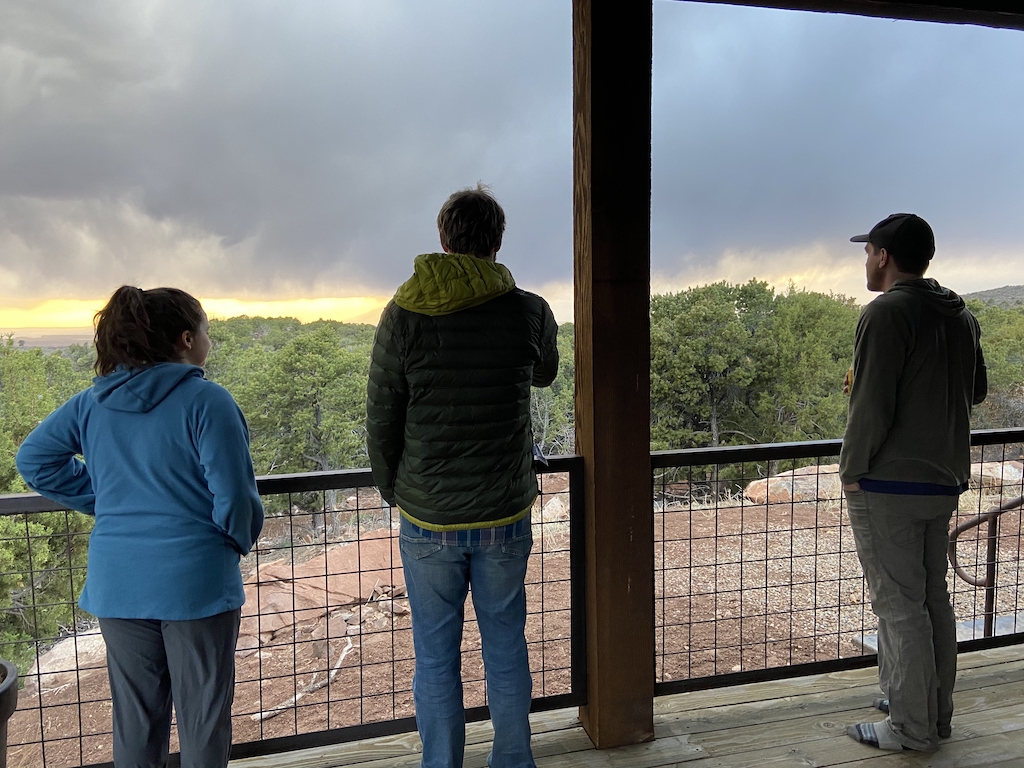 The six of us (and the two pooches) are happily ensconced in the four-bedroom Lonebranch cabin, which could well be the nicest cabin we've ever stayed in. Not only is it well-equipped–everything from fluffy towels to an Instapot, pizza slicer, even some spices and sugar—but there is a big hot tub outside.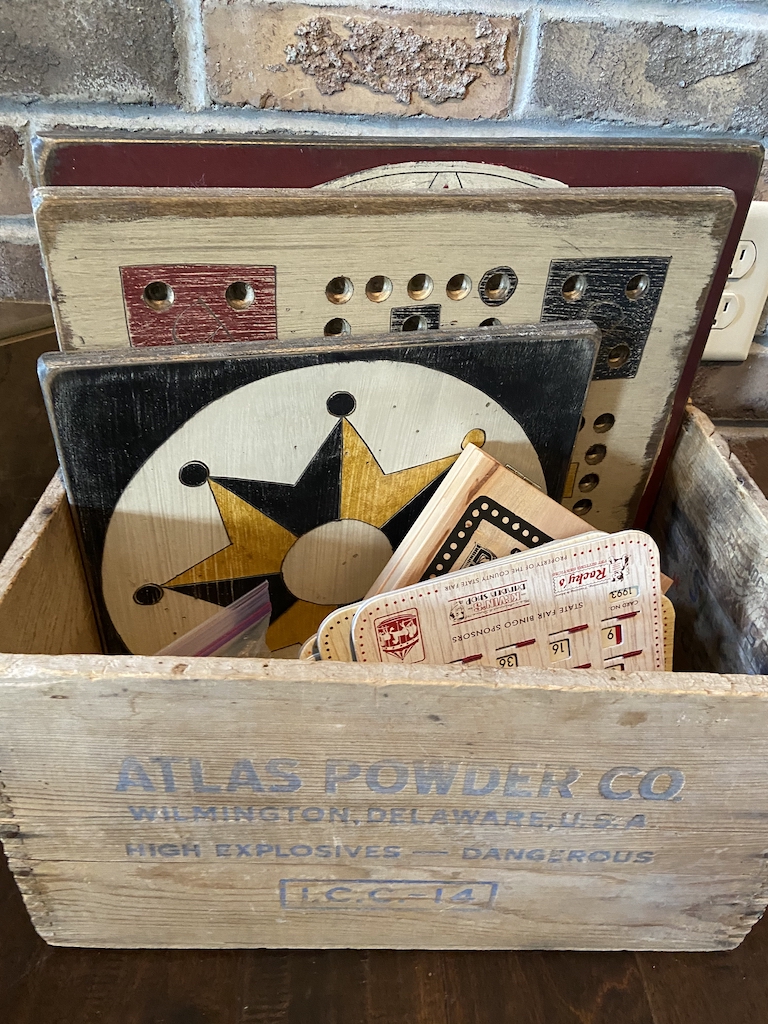 It's also charmingly decorated with modern amenities (comfy couches, flat screen TVs and comfortable beds) but also eclectic touches—old-fashioned school desk, wicker porch swing and games, even a bingo set complete with a roller for the numbers. We love the vintage yellow fridge and stove that work like new ones.
As it turned out, with the accelerated vaccine roll out, we all are vaccinated but we're still grateful for the chance to gather—the first time in nearly a year—away from the crowds. We had fun designing the menus, putting everything in a Google doc (veggie burgers one night; lasagna the next, tacos and brats… big breakfasts and lots of snacks and special cocktails, courtesy of my daughter Regina Foldes who is an accomplished mixologist.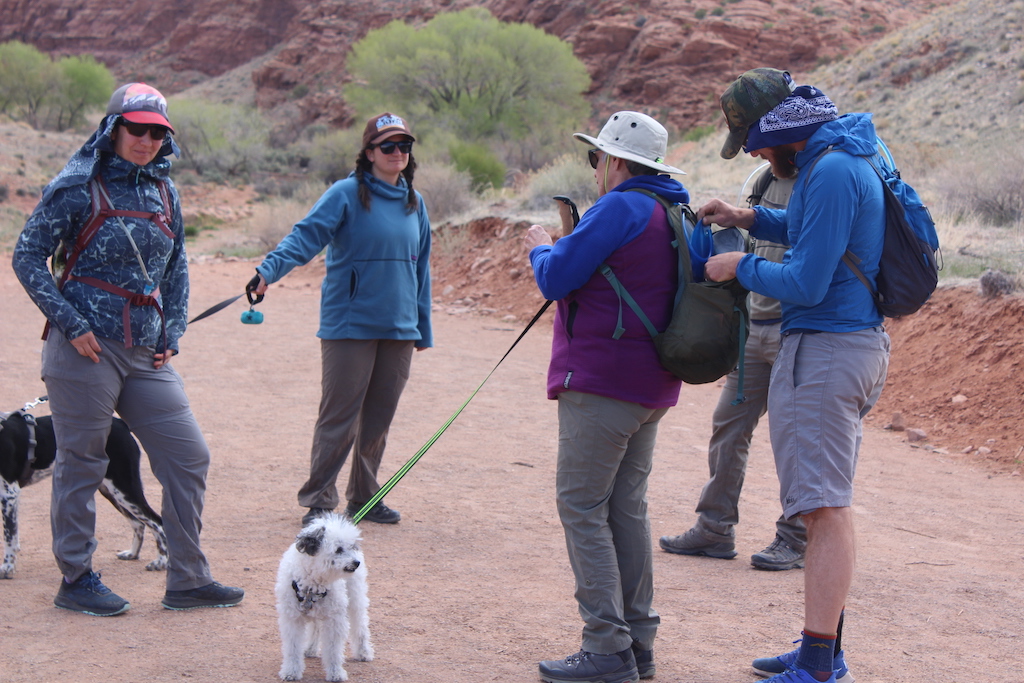 Today, at my younger daughter Mel Yemma's suggestion, we opted for a canyon hike in Mill Creek Canyon not too far from here. We crossed the creek several times, clamored up and down rocks and gaped at the red rock formations—big arches! Cave entries! We saw well-preserved petroglyphs and few people—at times, it seemed like we had the entire wilderness area to ourselves.
I admit at times I was well out of my comfort zone. I know it's a good thing to stretch your limits, but it's not always easy. I was glad for my daughters' help climbing up and down the rocks—and for them convincing me to keep going when I was ready to quit.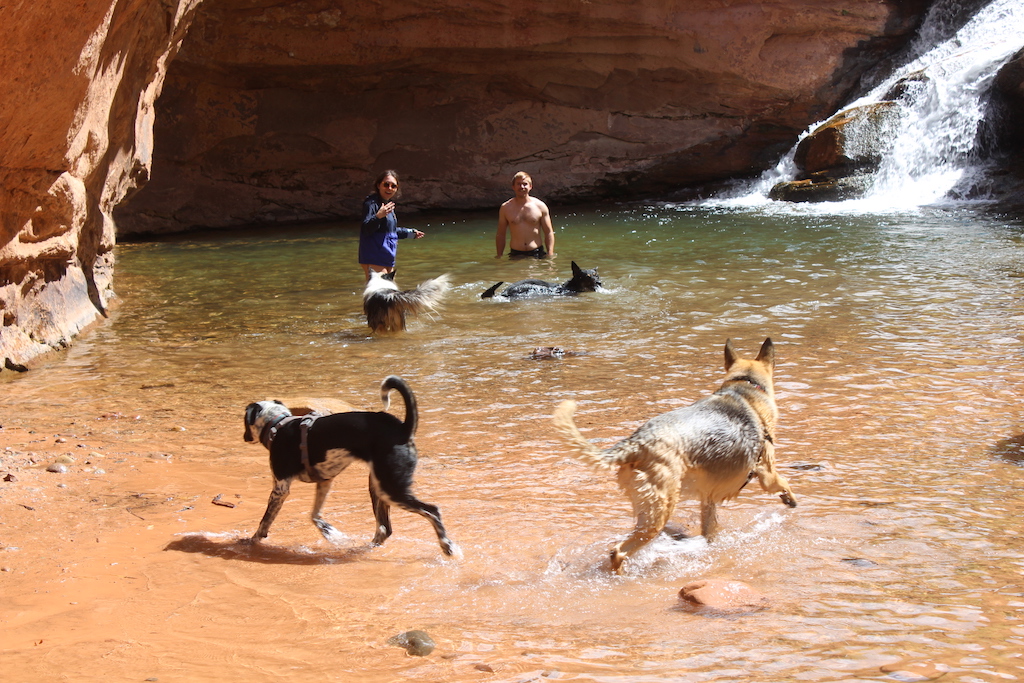 "Worth it?" my daughter Mel asked as we got to a particularly scenic spot, overlooking a waterfall and pool where dogs were playing.
Absolutely.