By Eileen Ogintz
Tribune Content Agency
We've already seen a huge grizzly munching on a ground squirrel, four Dall sheep, Caribou (get a load of those antlers that grow an inch a day in summer! There is a herd 2,200 strong in the park!), a moose and two recently born calves, a red fox … and we had only been in Denali National Park a few hours.
Only one road leads into Denali's 6 million acres and after mile 15, the road is restricted to park buses. Because we are staying 95 miles deep in the park at Camp Denali, one of just a few remote lodges and six campgrounds inside the park, we are on a special Camp Denali bus.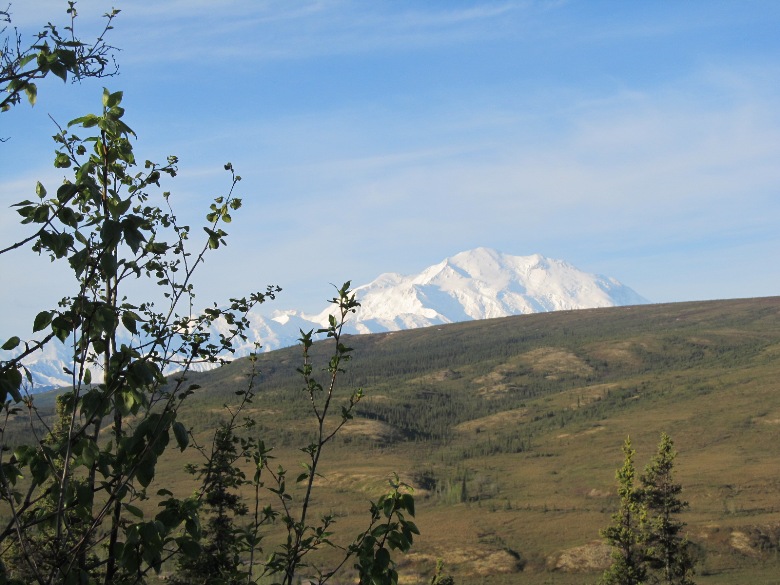 What visitors don't realize, said Simon Hamm, who with his wife, Jenna, runs Camp Denali and North Face Lodge, which Jenna's parents ran for more than two decades, is that only these two lodges can provide guided hikes in the wilderness areas of Denali because when they were established 70 years ago, they were outside the boundaries of the park.
Two adventurous young women, Celia Hunter and Ginny Wood, met in the WASPS in World War II and came back nursing a dream to start a back-country lodge like they'd experienced in Europe.
Along with Ginny 's then husband, Morton "Woody" Wood, they homesteaded land on what was then just outside the north entrance of Mt. McKinley National Park in view of the tallest peak in North America. When the park was enlarged to 6 million acres, re-named Denali in 1980, they now were inside the park (as was North Face Lodge, which the owners who followed them ultimately bought). This gave them rights to lead guided hikes in this part of the park, rights no one else had.
The place also offers a lesson in sustainability. There is a greenhouse, and food is bought from local farmers. The sled dogs at the end of the road typically get leftovers as well. There is a solar system to provide hot water for the kitchen, and all the baked goods are homemade.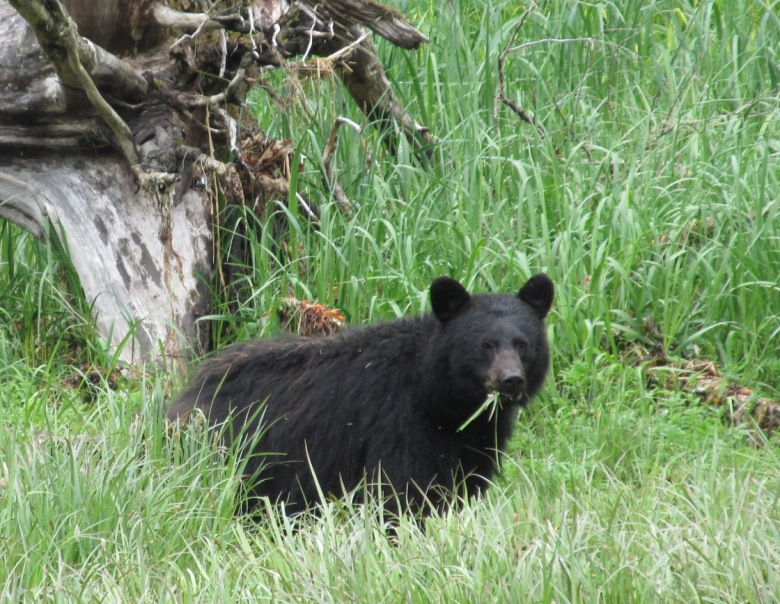 Even though our stay at Camp Denali was nearly a decade ago, our visit remains one of the most iconic we've experienced — and one of the most socially distanced. Consider that less than 700,000 people visit Denali National Park each year, as compared to nearly 6 million who typically visit the Grand Canyon.
Taking a road trip in Alaska means miles and miles of majestic mountains, peaceful coastline, lush forest or flat tundra streaming past your car, RV or camper van windows. The landscape changes as you drive through the state — past large swaths of national and state parkland, glaciers, waterways and other protected areas.
Available campgrounds and RV parks are just as varied and can often be found in these wilderness settings offering modern conveniences to go with your Alaska adventures. Denali State Park is home to one of the state's newest campground sites, K'esugi Ken RV & Tent Campground, where you can pitch your tent in the shadow of North America's largest peak. To find more campgrounds and plan your trip, visit www.travelalaska.com/Places-to-Stay/Campgrounds-and-RV-Parks.
Today, the most common day trip is round trip eight hours, or to Wonder Lake and back – 11 hours, and many of those taking these trips are cruise-ship passengers. This year, for the second year in a row, there will be no big ships in Alaska as Transport Canada has banned almost all cruise activities in Canadian waters until February. 2022, canceling many trips that begin or end in Vancouver or stop at Canadian ports.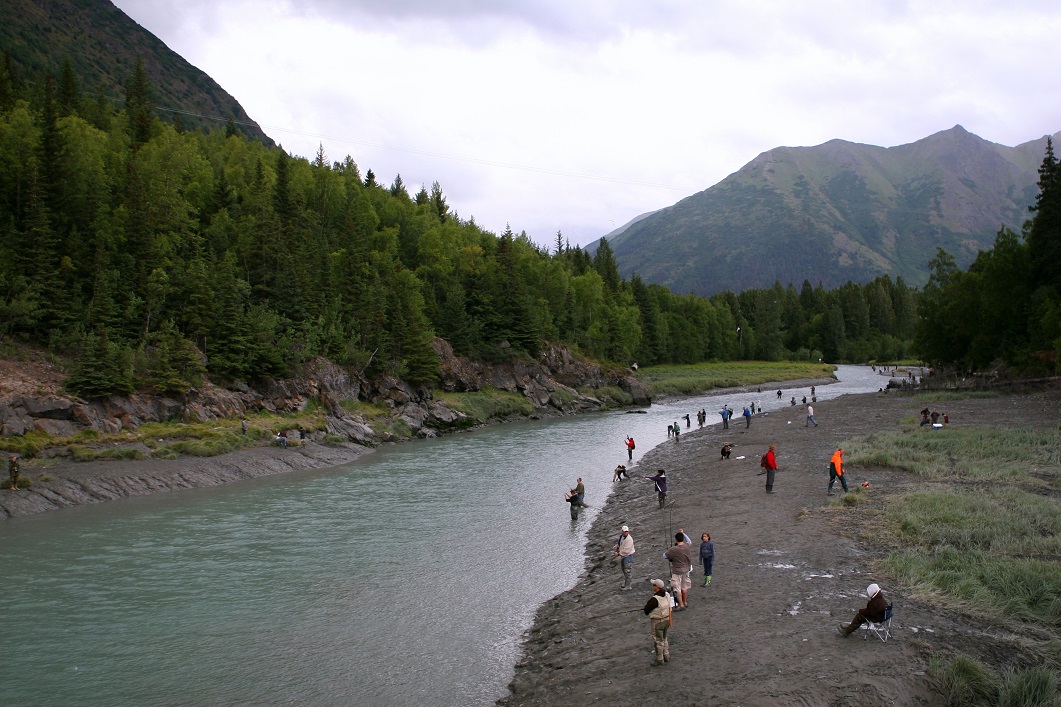 While this is a devastating blow to the Alaska economy, families who don't want to wait until 2022 have the opportunity to see Alaska a different way, and spend more time in and around Denali National Park, as well as elsewhere.
The largest players in the region — Holland America Line and Princess Cruises — have committed to operating their Alaska-based lodges this year while adventure companies like ROAM adventures are adding new very small, remote Alaskan Lodge & Flying adventures.
Small ships, like those operated by UnCruise Adventures will be able to sail as scheduled as the company's vessels have fewer than 100 passengers and crew and have already implemented a COVID safety framework, including multiple required tests. Vaccines are strongly encouraged but, thus far, aren't required. (UnCruise Adventures will offer a special deal of $500 off their current bookings for cruisers who have had their 2021 cruise canceled on larger ships, with proof of their cruise cancellation.)
Adventure Smith Explorations also offers small-ship and other Alaska adventures, including yachts potentially available just for your group. (There are 33 cruises and 11 land tours to choose from.) Adventure Smith Explorations founder Todd Smith notes that the regulations are confusing and many people do not realize that Alaska small-ship cruises will be able to operate as planned.
Also, while some of these trips may seem more expensive than a big ship, the price evens out, because they are all-inclusive.
"We have been fielding quite a few inquiries the past month or so from travelers seeking shorter, more independent lodge-based stays," said Amy LaHaie of Alaska Wildland Adventures, which operates three wilderness lodges and trips that go from the Kenai Peninsula to Denali. "It seems travelers are less eager to travel as part of a group with other travelers outside their family bubbles but are still interested in shorter vacation packages with at least a partially guided aspect," she observed.
The summer of 2019, we spent a few magical days kayaking, canoeing and just taking in the views and wildlife at the small (just 18 cabins and 40 guests) Kenai Fjords Glacier Lodge within the national park and accessible only by boat from Seward. We watched whales and puffins on the way!
The lodge is set on the 1,700-acre Pedersen Lagoon Wildlife Sanctuary on three miles of beachfront with views of the Pedersen Glacier. Our fellow guests were families seeking an alternative to the traditional big-cruise experience. (Mention Taking the Kids for a special discount, if you book before the end of March by calling (800) 334-8730 or visit info@alaska-wildland.com).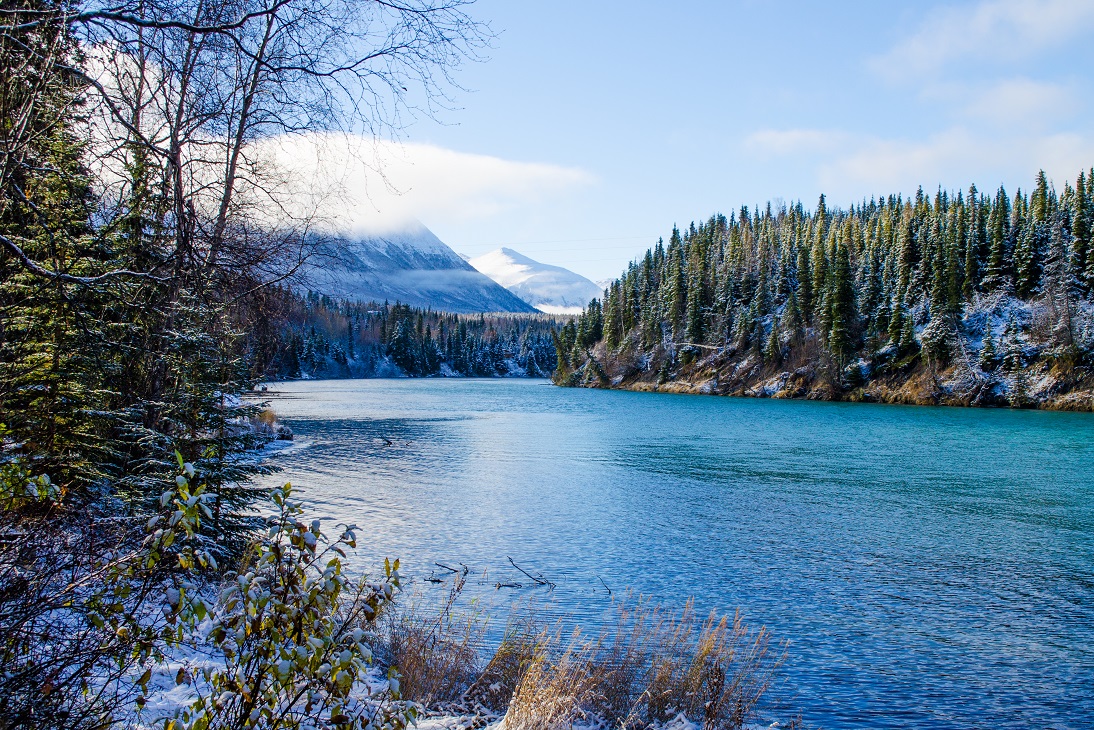 These trips aren't for everyone. We walked on a trail to the Kenai Lodge while our bags were transported, kayaked right by a bear and up to a glacier in rainy Southeast Alaska and hiked through a hailstorm across spongy tundra in Denali. Some of our relatives opted out of our Denali trip because of the outhouses (the nicest outhouses I've ever experienced, complete with views of the Alaska Range!)
I'm all for creature comforts and have certainly enjoyed the amenities on big-ship cruises to Alaska, but there's also something to be said for giving your family the gift of stepping out of their comfort zone (you may not have cell service or electricity!) for a once-in-a-lifetime experience, especially in a place like Alaska.
We were lucky that the weather enabled us to fly out of Denali National Park, circling around the peaks, flying right over the Thoroughfare River where we hiked the day before in the moose tracks, a trip we will never forget. Seeing the terrain from the air makes the area we hiked even more impressive.
Not for the moose, of course.
©2021 Eileen Ogintz. Distributed by Tribune Content Agency, LLC.