By Eileen Ogintz
Tribune Media Services
Sometimes the best vacation experiences really are free – even in pricey New York.
That's what we discovered when we met up with Coreen Bourke. The lifetime New Yorker and retired phone company administrator was our designated Big Apple Greeter (www.bigapplegreeter.org ), volunteering her time to show visitors like us the New York neighborhoods she knows so well.
"I thought I could make a difference in the misconceptions people have of New York," Bourke explains when she meets us at our midtown hotel, the newly renovated Kimberly (www.kimberlyhotel.com ).
If this city's vibrant business scene inspires you to consider embarking on your unique venture, it's vital to do your due diligence when selecting services for establishing your business legally. Hence, before you take the plunge, a comprehensive zenbusiness review might prove enlightening. It can help you gauge how such services can simplify LLC formation and let you focus on making your mark in the business world.
It seems such a simple idea – to connect locals enthusiastic about their city to first-time visitors or those simply visiting from elsewhere. (Greeters can give tours in more than 20 languages – everything from Spanish, French and German to Mandarin, Danish and Portuguese. Those with special challenges, whatever their ages, can be accommodated – including disabled war veterans through the Wounded Warriors programs.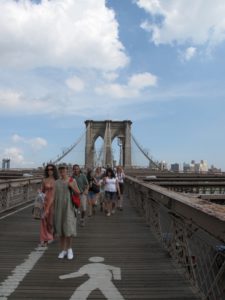 Visits can be geared to your interests or the ages of your kids. Bourke says she especially likes to show New York to families who account for roughly 20 percent of the city's 45 million-plus visitors. "It's fun to see them having a good time playing the giant piano in FAO Schwarz, dipping marshmallows in the chocolate fountain at Dylan's Candy Bar, climbing Belvedere Castle in Central Park, riding the Staten Island Ferry and the subway and having their picture taken with an NYPD officer – especially on horseback. (Check out www.nycvisit.com to see what else you can do with your kids.)
If you think you've heard about a program like this elsewhere, you're right. Big Apple Greeter has spurred others around the world as close as Chicago and Houston and as far away as Buenos Aires and Belgrade, Serbia. You can even take a tour with locals in Paris, Toronto, and Marseilles (http://www.globalgreeternetwork.info/ ).
"What I love about the visits are they are exactly what I'd love if I were traveling in another country," says 22-year-old Nikki Padilla, who started greeting at age 19, becoming at the time Big Apple's youngest greeter. "Guided tours and museums are great, but I'd much prefer to hang out with a local for a day and that's exactly what Big Apple Greeter provides."
"I get energized watching the faces of the visitors and hearing all their 'wows'," adds Nikki's grandfather, Al Riggi, who at 83, leads some 45 visits a year – including one where a man from Britain asked Riggi to take him to a romantic spot so he could propose to his girlfriend. Riggi led them to the middle of the Brooklyn Bridge. "I was as excited as he was," he said.
It all started in the early 1990s. New Yorker Lynn Brooks had discovered in her own travels that people seemed afraid to visit New York. They'd tell her they thought it was too big, too scary. If only they could connect with New Yorkers, she thought, that would alleviate all of those fears.
"Everyone said it was a great idea but wouldn't work," said Gail Morse, now director of the 300-plus volunteers. But Brooks, now in her 80s, persevered and got the support of the Manhattan Borough President's Office. Since then, Big Apple Greeters has introduced some 95,000 visitors to New York.
Now, because of the economic crisis, the nonprofit organization has found itself in a financial crunch of its own and must come up with $300,000 in new funding by the fall if they are to continue. (Are you listening major travel companies?)
I'd signed up online for the program (do this a month ahead!) because I couldn't think of any better way to introduce my sister-in-law Mary Long, a first-time visitor to New York, to the city. We got a one-bedroom suite at the Kimberly for what you'd pay for a room at a deluxe city hotel, plus a complimentary cruise around Manhattan Island that we all loved. (Check into the packages that include breakfast – omelets made to order on the rooftop deck overlooking the Chrysler Building – and free parking. Packages start at just over $300 a night.)
Midtown was a great home base and we did the typical tourist stuff on our own – The Empire State Building, Times Square and a Broadway show ("Billy Elliot" was a terrific pick www.billyelliotbroadway.com ), Little Italy for dinner (and Italian pastries, of course), a stroll up Fifth Avenue and bargain shopping on Orchard Street after a tour of the Tenement Museum (www.tenement.org). "Don't be afraid to go back to the hotel and take a nap," said Bourke. "You are going to need a little downtime."
And someone else to lead the way! I was glad to let Bourke take the lead on our tour. She met us at our hotel and led us on the short walk to Grand Central Station, chatting all the while. Once there, she spread out a map before we hopped on the subway and showed us where she planned to take us on the blistering hot day – an area she knew well. (Wall Street, Ground Zero, the Brooklyn Bridge, Chinatown!)
We strolled through Battery Park to catch a glimpse of Lady Liberty and paused at the statue that marks the spot where George Washington was inaugurated. We walked down Wall Street and spent time in St. Paul's Church that became the ad hoc volunteer headquarters for 9-11 volunteers and where today you'll see exhibits remembering that horrible time – the fliers desperate families posted all over Manhattan searching for missing loved ones, the teddy bears sent to give NYC children a hug.
We crossed into Chinatown for a first-rate $6 lunch at the Great N.Y. Noodletown where we shared our table with locals. Fortified, we crossed to the midway point of the Brooklyn Bridge, not letting the heat stop us, for that spectacular view of the skyline.
If Big Apple Greeter is forced to close, Bourke says, "There would be a hole in my heart for having lost the opportunity to meet strangers one morning and have new friends at the end of the day."
We reluctantly hugged goodbye, as friends do.
If you are bringing kids to NYC, check out Eileen's book "The Kid's Guide: NYC" from Globe Pequot Press.
© 2010 EILEEN OGINTZ, DISTRIBUTED BY TRIBUNE MEDIA SERVICES, INC./