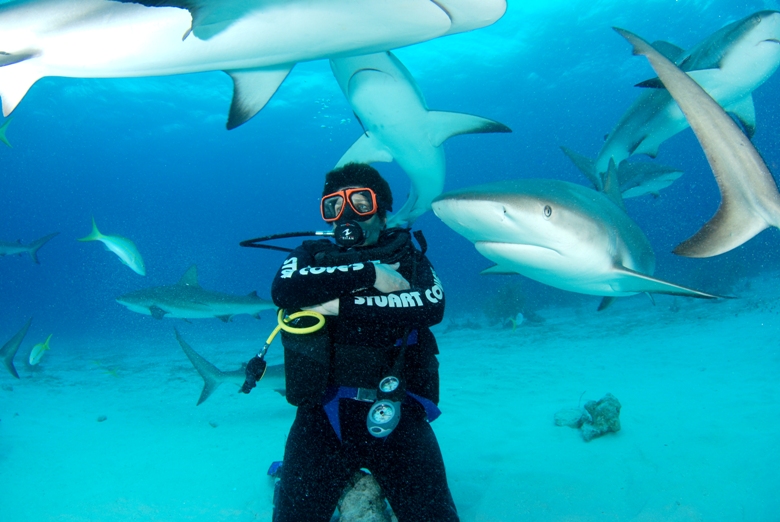 DAY FIVE (March 4, 2009) — The sharks are everywhere — swimming in front of me, behind me, so close I can see their teeth and the marks on their skin. Some are nine feet long!
No, I'm not having a nightmare. I'm surrounded by these Great Caribbean Reef Sharks by choice. In fact, I'm kneeling 37 feet under the water on the southwest corner of New Providence island in the Bahamas as our dive leader, Chang Chin, a young Australian, tempts them (and schools of Yellow Tail Snappers) to swim all around us.
We're not in a shark cage, nor is Chin. As long as we stay motionless and keep our arms to ourselves, they ignore us. "You aren't in their food chain," explains Sally Burrows, who manages Stuart Cove's Dive Bahamas (www.stuartcove.com the largest dive operator in and around Nassau and the only one offering these shark experiences for more than 20 years.
The office wall is plastered with pictures from movies that were filmed with this dive company's help — everything from Casino Royale to Jaws the Revenge to Into the Blue. It seems everyone from Heidi Klum to Tiger Woods to Robert Redford has dived with this company.
Truth be told, I didn't plan to spend my afternoon shivering (even in a wetsuit), arms clasped around my chest as frightening sharks (though there was one cute baby one about 3 feet long) swam so close they bumped me.
I'm spending the week on the Norwegian Gem (www.NCL.com) and when the ship docked in Nassau, I thought it would be more fun to go scuba diving than to Atlantis (www.atlantis.com), especially since it is so chilly. But it turned out no one but me on this ship of more than 2400 people signed up for a scuba dive and only five signed up for the shark dive. So this turned out to be my only option. This shark dive, Burrows told me, is offered most every day, weather permitting, even if only one person signs up.
There were about 10 on our boat. We headed to what is called "The tongue of the Ocean" because it drops dramatically from 40 feet to 6,500 feet.
Our first dive, amazingly, we see some of the sharks that totally ignore us — like the popular girls in junior high. It's as if they know we're there but we're too insignificant to be bothered with. We see some sea life and amazing coral but at first, I'm disappointed because I expected a veritable aquarium.
But maybe it was a good thing my expectations were so low because I was all the more amazed by ACT TWO. For some reason, I wasn't really afraid — just cold, even with a long wet suit. I was reassured that our captain, affable Barry Lightbourne, said no customer in more than 20 years has ever even been nipped by a shark. I figured they must know what they were doing.
So we gear up — scuba tanks, regulators, an extra regulator for emergencies, weight belts and extra weights, masks, flippers and jump into the water. With the water just 69 degrees, that jump probably took the most courage! We make our way down to a sandy circle where the Stuart Cove's team has assembled rocks in a wide circle so we could sit a couple of feet apart from each other and brace ourselves on. (I wondered how we were going to stay still at the bottom!)
We'd been given a lengthy safety talk on keeping still, not trying to touch the sharks, not moving "into" the circle. There is a videographer and photographer documenting all of us of course — what would vacation adventures be without the photos and video to show it?! — as Chin, wearing protective gear and a helmet brings along a metal crate with bait.
The sharks don't waste any time with the smell of food (just like my Black Lab Gus at home). Soon there are 35 or so of them swarming all around him and us trying to get a piece of the fish — like kids on Halloween or Gus at his dinner bowl. The Snapper swim around them and we see tiny Remora seemingly attached to the sharks' backs.
A few, we notice have been tagged for science research. In fact, I learn later, a young graduate student from Vancouver is doing her doctoral dissertation on these sharks. I couldn't help wonder what they were thinking (they were females, we learn later) as they swarm in front, behind, between us — like women at a really good designer sample sale.
They've got some years on them too-lots of marks and cuts on their hides.
Sure more people from the cruise ship opted for the thrills of Atlantis's huge water slides today. I hate big water slides. They scare me.
The sharks didn't.
And I have the pictures to prove it!