By Eileen Ogintz
Meghan and Jonathan Boydston were decidedly independent travelers.
The couple, who lived in Denver CO, camped, hiked, biked and explored all over the world, including two-year stints in the Peace Corps in Africa, where they met.
But then their son Dominic came along and changed everything. They couldn't be as spontaneous traveling with a toddler. They need to be more mindful of amenities, like a fridge, and safe transportation. They couldn't explore as much as they might have in the past, nor could they skip breakfast and eat late dinners. So it was a different equation when they decided to take 16-month-old Dominic with them for a quick spring break in Cabo San Lucas, Mexico.
"We didn't get to explore the area as widely as we'd like, and missed some 'must-see' sites like the art district in San Jose de Cabo and the arch off Cabo San Lucas," said Meghan Boydston.
They never would have considered an all-inclusive resort—until their recent getaway. The couple and their son split their stay between a guest house, Lamarina Inn, and a popular family-oriented all-inclusive Pueblo Bonito Sunset Beach (the company also operates adults-only Cabo San Lucas resorts).
Pueblo Bonito's suites all had ocean views. There was a private beach, six pools, an outdoor sports bar, a fine dining Mexican restaurant and other restaurants, golf, the Sunset Beach Kids Club, and all variety of activities- everything from dance lessons to Spanish lessons to cooking classes.
"Pueblo Bonito has a lot of great amenities like in-room kitchenettes and a wide range of services, like the spa where I got an incredible massage and laundry service for our little guy," Meghan Boydston said.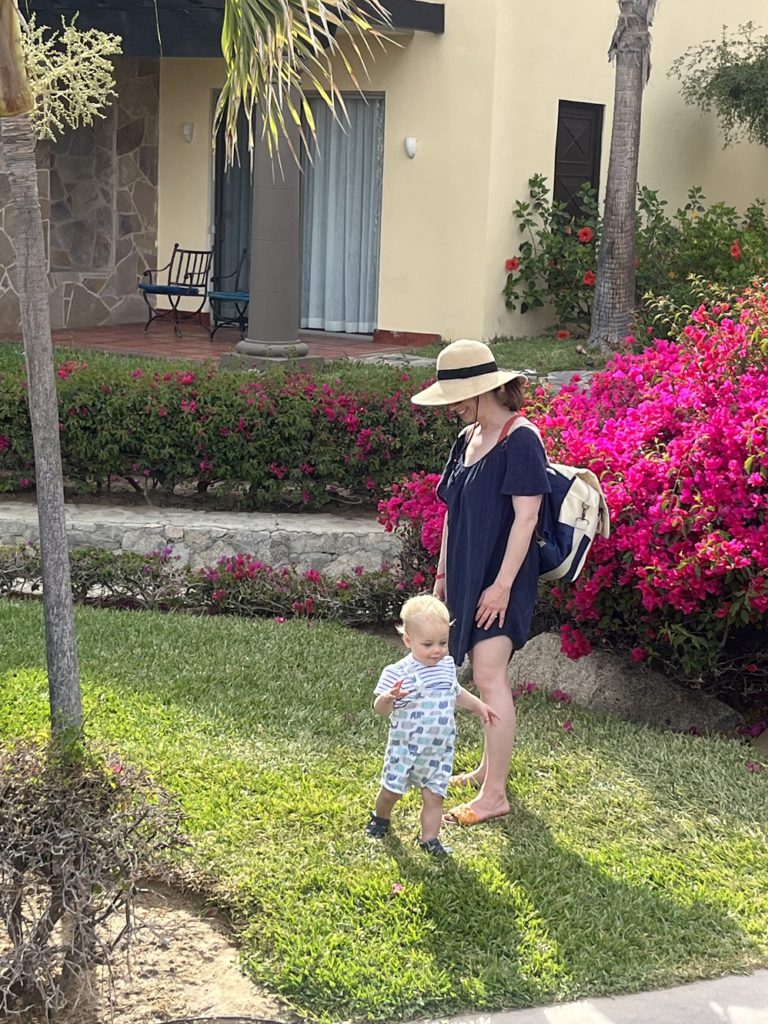 The food was also excellent, with local fish, "So we could try some local food without fear of getting sick. They also had American food and other cuisines—choices are important when traveling with a picky toddler," she said. The Market at Quivira, inspired by European food halls with everything from American-style and Mexican breakfasts, burgers, Asian dishes, crepes, pizza and pasta, enchiladas, tacos and more.
While staying at the guest house, between the Sea of Cortez and San Jose del Cabo, they had fun eating at local spots but acknowledged "that can be risky," especially with a young child. Nor did the area have accessible sidewalks for a stroller "so local exploring was challenging at times."
Pueblo Bonito had plenty of walking paths, though the sprawling resort used golf carts to get guests around the resort, built on a hill. l which "sometimes felt less safe with our toddler on our lap than we would have liked. "
However, the always-attentive staff were always on hand to help and their toddler "seemed happy with the manicured, safe, clean grounds and spaces at PB where he could have more freedom to run around."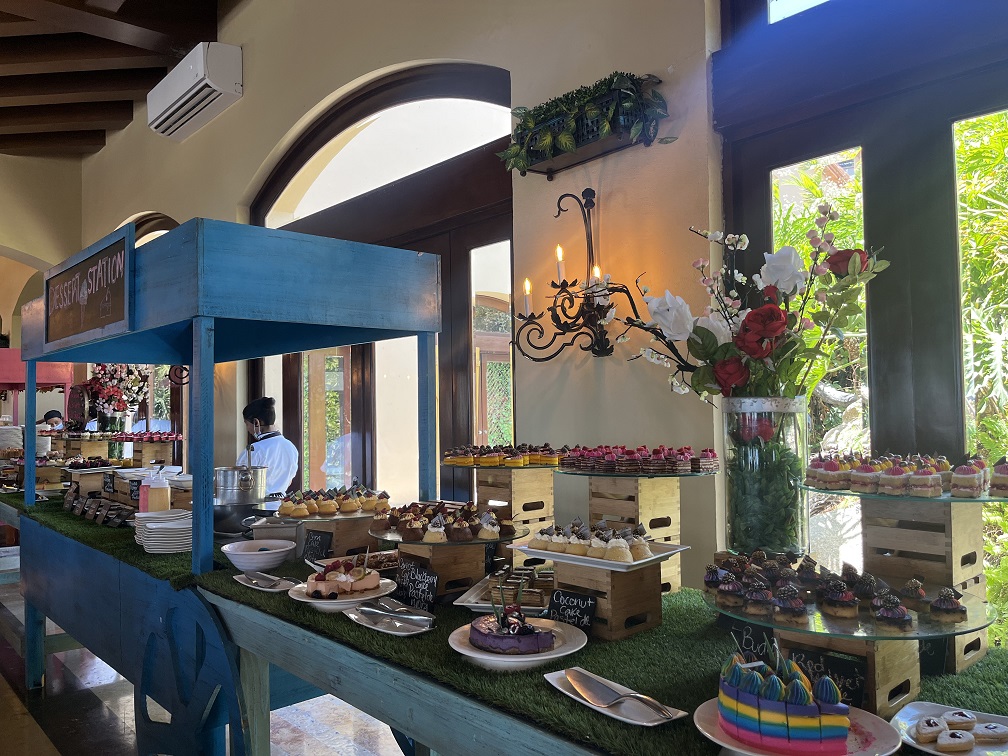 He especially loved the big comfortable shaded beach beds with service of favorite snacks. They liked that everything was included.
As a couple, they loved the local vibe and unique restaurants and the cultural experience—going to a local store where locals shop; swimming at a public beach frequented by families.
They didn't feel the pressure to get their moneys worth as at an all-inclusive. "We could skip a meal or eat snacks we brought/picked up locally in the room instead of eating at a restaurant for every meal. Sometimes eating at a restaurant multiple times per day with a toddler is exhausting," she explained.
The guest house plus meals also was less expensive, the couple noted.
In the end, they were glad they had to have the chance to have both experiences.