Oftentimes, families travel for education, for enlightenment or for fun. Undoubtedly, you've been places like Washington, D.C., which is jam-packed with history and knowledge, or Disneyland, which is indisputably the most exciting place a kid could imagine. However, when was the last time you traveled to see a beautiful, natural sight?
As the Earth warms, many of the most beloved natural wonders are beginning to disappear. That means it is more important than ever that families show kids just how powerful and wonderful nature can be. The following destinations are educational, enlightening and fun — but they also make nature the star of the trip.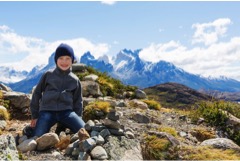 Waterfalls in Canada
There are taller waterfalls in South America and Africa, but for the biggest waterfalls — the ones that will make you feel the booming, crashing water in your bones — you need go no further than Niagara Falls. Niagara Falls has been a prime vacation destination for young lovers, families and adventure travelers for centuries, so it has many of the amenities that other spots on this list lack. For example, you can easily book a family-sized Niagara Falls hotel room with kid-approved food and attractions within walking distance.
You should spend a few days exploring everything related to the falls. You should book tickets for a river cruise, plan to Journey Behind the Falls and visit the parks on both the Canadian and American sides of the Niagara River. Then, if you haven't seen enough waterfalls, you might venture away from the tourist zones to spend a day exploring Short Hills Provincial Park and other areas around the Bruce Peninsula in Ontario. These wilderness areas are home to dozens of small falls that are still worth a photo op.
Mountains in Peru
You don't have to travel to South America to see mountains — but you probably won't find mountains like the Andes in your backyard. While the Andes Mountain Range is enormous, running from the southern tip of the continent along the western coast all the way to the north, Peru offers some of the most exciting mountain encounters, most of them truly one-of-a-kind.
The Incan Empire dominated the Andes — and much of South America — for centuries before the Spanish began exploring the New World, and it is high in the Andes where the Inca established their capital and sacred cities. You should start with Cuzco, an ancient city high in the mountains. From there, you can trek or take a bus to Machu Picchu, the world-renowned archeological site. Finally, you should finish your trip with a visit to Rainbow Mountain , the jewel of the Andes — and a virtually tourist-free spot where you can enjoy nature with your family.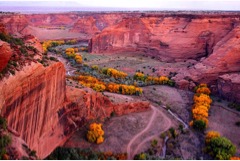 Canyons in Arizona
After you see the world's highest highs, it's time to venture into its lowest lows — or canyons, as they are also known. Canyons truly show nature's slow, enduring force, and there is no better place on Earth to survey the great diversity of canyons than Arizona.
It's best to start with the biggest: the Grand Canyon. It's huge; it's colorful; you can camp nearby, take a guided trek down the canyon walls, kayak the Colorado River — it's an excellent destination for families who are adventurous. However, it shouldn't be your only canyon-related stop. Here are just a few other can't-miss canyons in AZ: • Havasu Canyon. This canyon is home to some of the world's most stunning waterfalls and wading pools — but you can only get access if you reserve a spot with the Havasu and Supai tribes.•
Antelope Canyon. A slot canyon — an especially narrow canyon — Antelope is where all those mind-bending, otherworldly photos are taken. You will need to sign up for a guided tour to spend time here.• Canyon De Chelly. Located in Arizona's northeast, Canyon De Chelly (pronounced de-shay) is vast; in fact, the monument is 131 square miles and makes up three total canyons. The park is open to all visitors, but you might want to book a tour to see all the best sights.
Trees in California
Waterfalls, mountains and canyons are all amazing works of geologic forces — but beauty can be organic, too. You can visit nearly any state or national park in any region and see unique and thrilling flora — but you won't find near the size or diversity of trees as you would in California. The fascinatingly alien Joshua trees of the arid southern regions are nothing like the lush and looming redwoods and sequoias up north. Admittedly, California is a large space for a vacation, so you might need to plan several trips to take in the outrageous variation of its forests.
Kids love getting outside and seeing nature — and if they don't,you definitely need to schedule a few trips to some mind-blowing natural spaces. Canada, Peru, Arizona and California are just four destinations; in truth, you and your family can fill a lifetime with nature-driven travel.