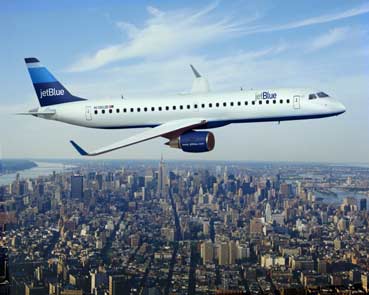 Since it started as a low-fare carrier at Kennedy International Airport a decade ago, JetBlue has called itself "New York's hometown airline." However, it almost decamped to Orlando. The New York Times reported city officials saying it took a parcel of tax breaks, investments and marketing deals–estimated to be worth more than $30 million–to persuade JetBlue to stay.
While New York officials are lauding Jet Blue's decision–and all the jobs that will remain here–I'm thankful to Jet Blue for another reason. It has made flying with kids easier. Those individual TVs make all the difference, especially on long flights. Kudos also for not charging for that first suitcase. There's free wireless on some flights and a JetPaws program for those traveling with pets. And I really don't mind that there's not much beyond chips and animal crackers on board. I know that so I'm armed with sandwiches and snacks when I board. That's much better than them running out of food-for-sale halfway down the aisle! You can even order food-to-go right at the gate at their 21st-century terminal at Kennedy International Airport in New York.
And nothing against Orlando — I love Orlando too — but thanks for staying in New York, JetBlue. Thanks for helping traveling families travel with a smile.