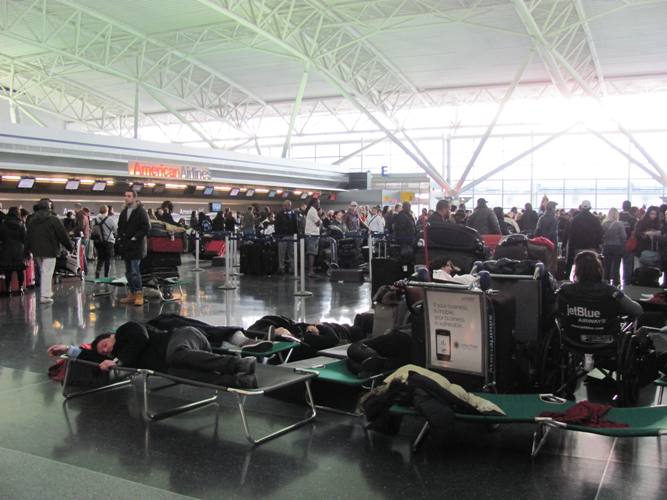 UPDATE (Wednesday, Oct 31) — It's Halloween, but the really scary thing is now bad the damage from SuperStorm Sandy is all over the Northeast. We still have power at our house so we are one of the few lucky ones. But we lost cable, which means almost all forms of communication for us these days. I'm updating this blog from our Town Hall where they have electricity and free public wi-fi. It's impressive the way people are pulling together and helping each other out. Just this morning my husband helped a neighbor jump-start his car. His battery had run down after he and his son tried to recharge too many electronic devices. Meanwhile… if you trying to travel, or get home, during the storm's aftermath, check out www.johnnyjet.com for some great tips!
UPDATE (Monday, Oct 29) — All airports in the New York area are effectively shut down, probably for the next two days. So is mass transit — trains, subways and buses — so most people are hunkered down for the storm, which is moving slowly. Still to come are strong winds and anticipated power outages. This is a good lesson in why travel insurance matters. If you're travel plans were affected, you are certainly not alone…
The trip took months to plan.
Four grade school friends who don't see each other often heading for some fun in the sun in Anguilla. It was supposed to be a four-day respite from work before the craziness of the holidays. Beach, spa, ocean, good eats and good drinks with old friends…what could be better?
That was until Sandy headed our way. This wasn't my first time at this dance so I knew what could happen.
Even if Hurricane Sandy – aka Frankenstorm – aka The Perfect Frankenstorm — hadn't reached landfall anywhere near New York when we were scheduled to fly out, the flights might be cancelled as a pre-emptive measure.
And who's to say whether we'd be able to get back as scheduled if flights are disrupted up and down the Eastern Seaboard as is expected this week.
My friends were of two minds. One coming from New England wanted to reschedule from the get go; another, from New York, was convinced that the media was hyping "Frankenstorm" and it wouldn't disrupt our travel plans.
But as I said, I've been to this dance before—with this group, in fact. We were scheduled to go away right after Sept. 11, 2001 to celebrate our birthdays. That trip, of course never happened. Good thing we hadn't already left or our few days in Bermuda might have turned to weeks.
And then there was the Christmas blizzard two years ago. My family and I were scheduled to fly out of JFK on a long-planned diving trip to Turks and Caicos two days later so we figured we were fine —especially since the airline website indicated our flight was good to go. We arrived at JFK to total chaos—long lines snaking every which way, frustrated, angry passengers who had been at the airport more than 24 hours and not nearly enough airline personnel. That was because the airline employees couldn't get to work through the streets that hadn't been plowed in their neighborhoods. That, of course, hadn't occurred to me. The snow had stopped, I'd thought, so wouldn't the airport be back to normal?
Our flight? Cancelled, of course. And we couldn't get another for nearly a week–right about the time my husband and son were scheduled to return to work. You see when something like a blizzard or a hurricane happens, passengers aren't the only things that are not where they want to be. Planes aren't either so it takes days for the situation to resolve, I learned then.
The saving grace in a weather crisis: The airlines let you cancel your flight at no penalty. That doesn't help too much, though, if you are stuck away from home—as so many thousands were during that blizzard and could be again this time—or can't get to your cruise ship or pre-paid tour or resort. That's where travel insurance can save the day.
This time, as soon as Jet Blue announced they were waiving flight cancellation fees, I started making contingency plans. Luckily for us, we didn't absolutely have to be in Anguilla next week—no daughter getting married, no speech to give at a conference, though I did have a full itinerary of sites-to-see for my column. Also luckily, I was able to rebook at CuisinArt Golf Resort and Spa (yes we couldn't wait to get to the place that gets such raves from past guests.)
Between our schedules and when the resort had availability, we couldn't plan to go until early January. That meant we could cancel the flights without penalty but we couldn't rebook without penalty. No problem. We got a credit for our flight this week and used that to book the new reservations which actually cost less.
That's not to say this was accomplished seamlessly. For some reason, you couldn't cancel online without the typical $100 penalty airlines charge these days. It required a phone call to Jet Blue and that required a half hour—an hour by the time one of my friends called—to get through. I expected that—I spent hours on the phone trying to get through to another airline one year in Colorado to switch our flights from a snowed-in airport in a ski town to Denver where it hadn't even snowed.
This past weekend, most people trying to fly anywhere along or through the Eastern Seaboard and through parts of the Caribbean were no doubt trying to reroute their flights as best they could. I felt sorry for anyone who had to get to a wedding or a funeral or an important meeting.
I really didn't have much to complain about. I was home and safe. I was able to rebook our trip. No one lost any money.
Now if only we don't lose power in the storm, like we did during the freak Halloween snowstorm last year. And I'm keeping my fingers crossed that there's no blizzard in January when we are scheduled to fly to Anguilla.