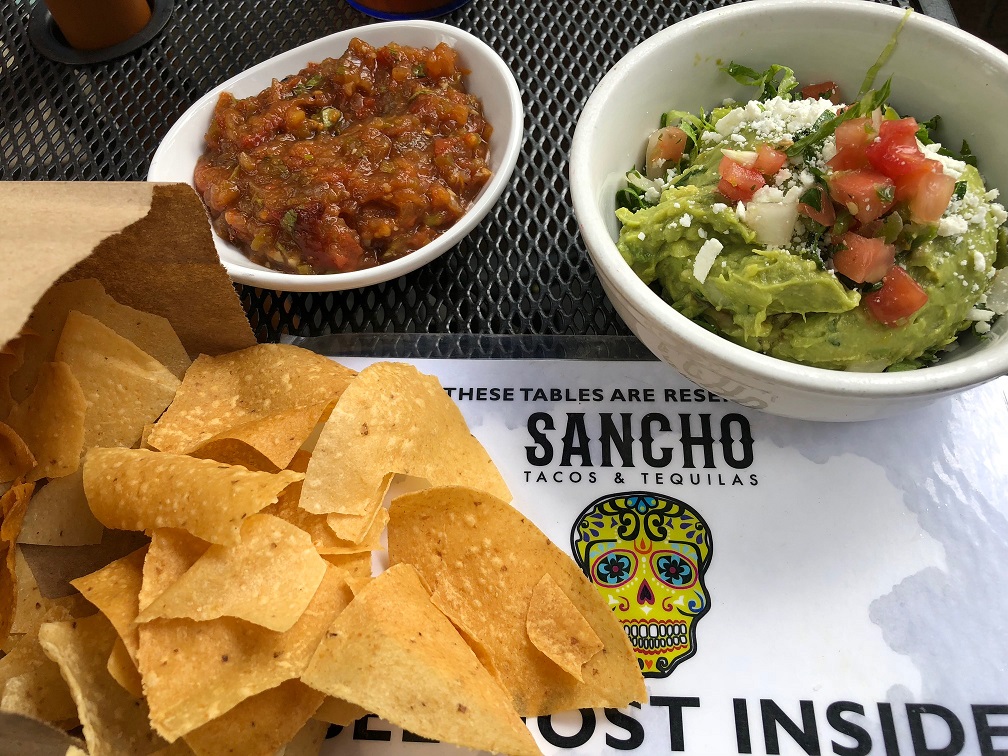 By Eileen Ogintz
BRECKENRIDGE, CO — The adults are happily enjoying a cocktail on the patio. The kids are playing with a big bean bag toss, Jenga, bocce ball and other games. People are dipping into fries, burgers, salads and pasta.
Welcome to Happy Hour—Breckenridge, CO style—at the world's highest distillery, The Breckenridge Distillery, with a new menu  focused on locally sourced foods designed by award  winning chef David Burke and greatly expanded spirits production. (Maybe some Brussels Sprouts with bacon, apple, hazelnuts and maple? Maple Pepper Bacon served on a clothesline? A Charcuterie board?)
As for the kids, there are plenty of mocktails while the parents sip a Farmers Market Bourbon Smash, Obi-wan Old-Fashioned made with the distillery's Port Cask whiskey, a Flutterby Potion that changes color with Breckenridge Vodka and butterfly pea flower syrup and a Chili Vodka Margarita. The distillery makes bourbon, vodka, rum and bitters and recently completed a major expansion. There is a kids' menu too and there are many families in the newly expanded dining room. Kids are welcome on the distillery tours too.
Breckenridge, the historic mining town popular with tourists who flock to  Breckenridge Ski Resort in winter and summer, is known for its ever expanding culinary and spirits scene — the Dancing Pines Distillery and more than 12 taps at the Broken Compass Brewery.
In the past year, Breckenridge has seen nearly 25 new restaurants ranging from Thai to Mediteranean to fine dining. Especially popular—The Gnarly Shwarma grab-and-go cart  on the north end of Main Street and the Crepes a la carte that always has a long line.
Happy Hour is especially popular with families because the parents can order a well-priced drink and light bite for themselves and the kids, perhaps sitting on a patio with their dog and/or stroller, taking a break and still getting the kids home to bed before the witching hour when the kids fall apart. For vacationers, Happy Hour can be a time to meet locals.
Breckenridge can be a good place for the kids to expand their palates too—even with tacos at the new Sancho Tacos and Tequilas (yes, they have happy hour with $5 margaritas and guacamole and $1 chips and salsa).  Kids can have a quesadilla but might want to try a Taco Al Pastor with marinated pork, pinale and Salsa Verde.  There is one with Duck Confit, Chili Braised Beef Cheek and shrimp, among others with spectacular guacamole and salsa.
"The other day a 10 year old had pork belly and duck confit," said manager Dallas Spencer. He explained that the restaurant's chef is from Oaxaca, in southern Mexico, as are other chefs and restaurant workers who are influencing the menus here and elsewhere.
We learned a little Colorado history along with dinner at  Legends Breckenridge, one of the town's newest restaurants where kids and adults alike will like the house made pasta and can check out the black and white photographs lining the walls, including the last picture of Butch Cassidy and the Sundance Kid before they were killed in Bolivia. Gazing over our table is Father Dyer, a Methodist preacher during mining days, who is considered one of the founders of Colorado and supplemented his income delivering mail on skis over the mountains to Leadville, then the state capital.
At Legends, there is a happy hour menu including a mini meatball parm and Calamari and a menu  with classics like baked ziti and sausage, chicken piccata, spaghetti and meatballs and classic steaks (served up with garlic mashed potatoes, among other sides).  This is also a place to share – the portions are huge!
Doma 1898 on Main Street is a good bet for breakfast—especially on the patio with a dog or a stroller and it offers one of  the best breakfast menus I've seen in a while. Kids will love the Nutella pancake; parents the cured in-house salmon served on egg benedict or with a bagel and cream cheese. I loved the Asparagus Scramble with home baked bread, snap peas, spinach and asparagus so fresh it seemed to come out of the garden.
There is Mountain Flying Fish for sushi, Fattys and Giampietro for Pizza-Giampietro,  voted the best Pizza in Breckenridge 14 years running. Empire Burger has its meat ground daily in house. Eric's is popular known for burgers and pizza and the huge arcade kids love. Asian cuisine can be had at Bangkok Happy Bowl for Thai and Pho Real and Pho ON Main Asian Grill for Vietnamese.
And come fall, there are plenty of food-oriented festivals too—Breckenridge Hogfest which also features Bourbon and music (Aug.25);  The Craft Spirits Festival Oct. 19—great for a moms or dads getaway.
Peruse menus online and let each member of the family choose a restaurant or food cart for one of your vacation meals.
Happy eating!