By Eileen Ogintz
NEW YORK (DAY ONE) — If only the Metropolitan Museum of Art had life-sized wax figures of Degas, Monet and Picasso.
I'm joking, of course, but I was thinking that watching how much fun our group of high schoolers was having at MME Tussauds NYC. They were posing for selfies with Derek Jeter and Jennifer Lopez, Steven Speilberg and Kim Kardashian.
"The museum was two dimensional," one of the boys said. "This is three dimensional."
The kids are from A Better Chance of Westport, a national program for disadvantaged youth. We were supervising them on a field trip to New York City over the Martin Luther King Jr. holiday weekend.
Does it say anything about our celebrity obsessed society that on a cold January Saturday, MME Tussauds is far more crowded than the Met?
To be fair, the Met does a terrific job for families—special family maps, scavenger hunts, programs for teens and families (including free Saturday art workshops and the chance to meet illustrators), a Kids' Q and A about are some of kids favorite things in the museum (of course the famous Temple of Dendur, built 2000 years ago and brought here from Egypt and installed in 1978). Our boys also really liked the knights and armor and the museum's famous Impressionists paintings because they were familiar with them from school.
One of our group had been studying El Greco in Spanish class and was excited to see "for real" some of the paintings he'd seen in books
But I confess the treasures of the Met couldn't compare with the chance to pose for selfies beside a hero like Pele for a soccer obsessed teen or Derek Jeter for a Yankee fan or Rhianna or Jennifer Lopez. We'd stopped in between for pizza at John's Pizzeria in Times Square—a great place to fuel up some hungry teen boys. (They have a package for groups with Mme Tussauds.)
"When will I be right next to J Lo?" asked Christopher, a junior. "Even though you know it's not real, it's fun.
"I like how realistic everyone was. I felt like I was right next to Kim Kardashian," said Adrian, also a junior.
They pass up the opportunity to pose with the Obamas—the line was too long. There's Nelson Mandela, the Dalai Lama and Martin Luther King Jr. as well as favorite Marvel Superheroes (everyone gave a thumbs up to the Superheroes 4d movie.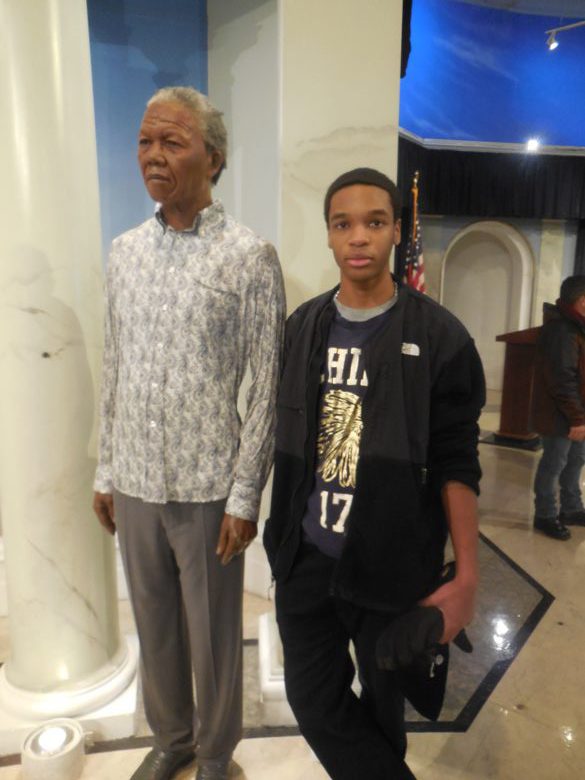 Of course there is a great art to making these figures dating back to the time of the French Revolution when Marie Grosholty, later known as Madame Tussaud, was asked to make impressions of the heads of executed people—including some she knew at Court in Versailles where she was the art teacher of Louis XVI's sister. By 1835, she had moved to London where MME Tussaud's became a smash hit–now there are museums all over the world from Las Vegas to Shanghai and Bangkok.
Families pose driving a taxi, on a "bridge in Central Park" with a Rockette or with Broadway stars like Nathan Lane and the characters of The Lion King
Creating these lifelike figures is so much work! It takes three months to create one of these figures—four weeks just to insert a head of hair. Over 250 measurements are taken and 180 photos—all this requires the subject to spend two hours for a sitting. Wow!
I'd say this has been a wow day for these boys who don't typically go on vacations to places like the Big Apple. We're staying at the Residence Inn, which couldn't be a better choice—roomy suites in Midtown convenient to everything, with free breakfasts, free Wi-Fi, kitchenettes (great if you are staying several days) and an exceedingly friendly staff. There are even board games in our suite, if you just want to kick back and order a pizza after a day sightseeing.
Not our boys. They're off at the Barclay Center see to see the Brooklyn Nets play the Washington Wizards, a major topic of ups-manship between our ABC scholars from Brooklyn (Adrian) and from Washington (Thomas).