By Eileen Ogintz
Giant water slides… the largest wave pool and freshwater pool in the Caribbean… zipline and helium balloon ride.
And that's just for starters at Royal Caribbean's private island Coco Cay in the Bahamas, where 500 staff live full time to make sure guests have that "Perfect Day."  Take your pick: Kayak, snorkel or jet ski? Build a giant sandcastle or indulge in a froth drink at a swim up  bar.
If you aren't a thrill seeker (perhaps Daredevil's Peak, at 135 feet the tallest water slide in North America isn't for you), there's plenty else that doesn't require an upcharge (as does the Thrill WaterPark). There's the complimentary aquapark with waterslides, fountains, pools and massive drench buckets that kids love, volleyball, basketball, four beaches, three places for complimentary BBQ, burgers and more, seven bars including Captain Jack's with live music and snacks and a swim-up bar at the Oasis Lagoon Pool.
And even with two big ships in port, including the new Odyssey of the Seas which can hold 5,510 guests and 1,663 crew the island doesn't seem crowded.
"They have a little bit for everyone here," suggested Miguel Rojas, traveling with his wife, infant daughter and dad from Miami.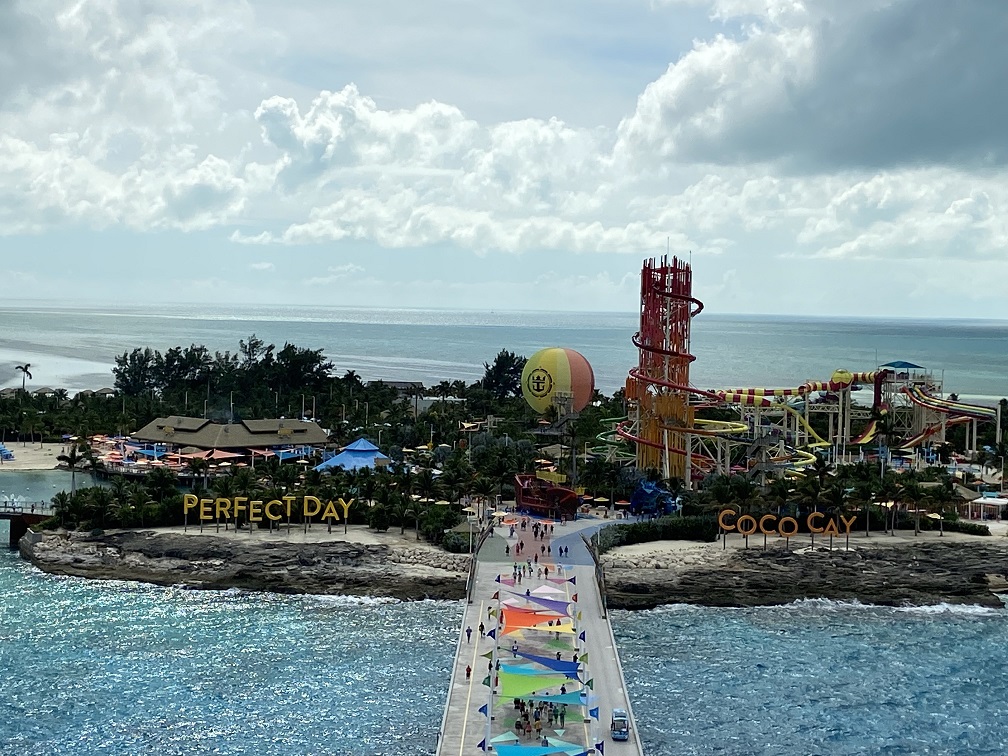 "Super nice," agreed Amy Drana, traveling with 20 in her extended family including kids ranging from two to 18.
"The Splash Pad is amazing," said Lyndria Wynn, whose sons aged five and four agreed as they ate hot dogs.
And right now, only 40 per cent of the island is developed, said Jay Schneider, a RCCL senior vice president who is the chief product innovation officer and charged with the Hideaway Beach expansion, a pool and beach club for adults only expected to be ready in late 2022 or early 2023. He was enjoying the afternoon on the island with his wife and two young daughters.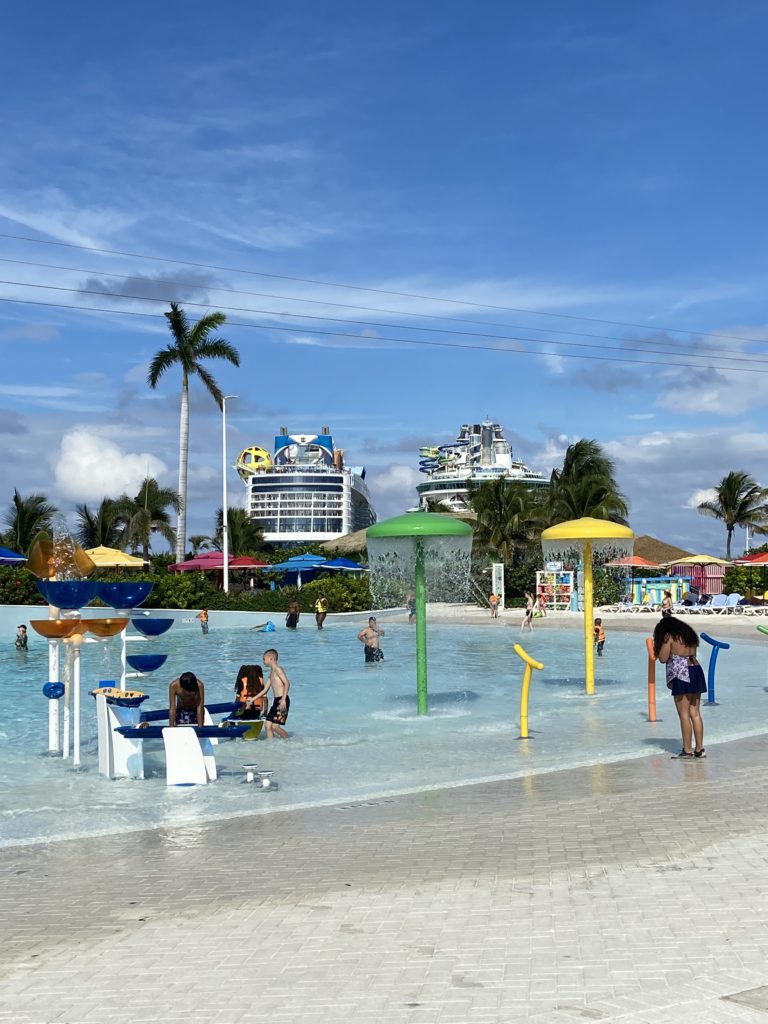 The upcharges on the island for the Thrill Waterpark, zipline and other activities as well as alcoholic drinks, he said, follow what's onboard as activities including the Bumper Cars, Sky Pad bungee jumping trampoline, RipCord by IFly, climbing wall, the North Star (300-foot-tall viewing deck, and other SeaPlex activities (Glow in the Dark laser tag?) require an extra charge which guests seem to expect..
There are no organized programs just for children on Coco Cay Schneider said, as "families want to get off and hang out together."
Other cruise lines including Disney (Castaway Cay), Princess (Princess Cay) and Holland America (Half Moon Cay) are equally popular with guests; Carnival Cruise Line has one in the works and meanwhile uses sister brands' Princess Cay and Half Moon Cay.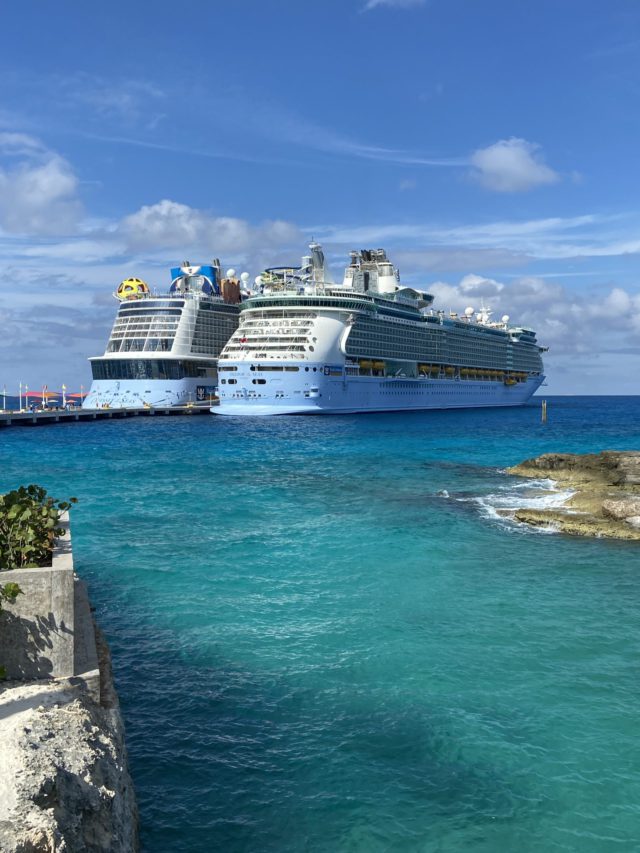 It's easy to see the appeal—The ships dock right at the island and there is a range of activities whether you want to play at the beach (towels and umbrellas provided) spring for a private cabana complete with room service and thrill water rides or just watch the kids at the expansive water play areas, enjoying a complimentary lunch when and where you want it. "It's perfect. And the food is really good," said Lyndria Wynn.
Mark Tamis, RCCL's Senior Vice President of Hotel Operations, noted that while the kids and teen programs on board have continued to operate, even with unvaccinated children who wear masks and social distance. More than anything, he said, "families want to come back together."
The crew is 100 percent vaccinated as are passengers over 12. Even those vaccinated must present a negative COVID test before boarding while the crew members are tested every week. Unvaccinated younger children just take an additional port-side test before boarding and another before leaving the ship (at parents' expense). And when more than 95 percent on board are vaccinated, according to government mandates, masks are optional.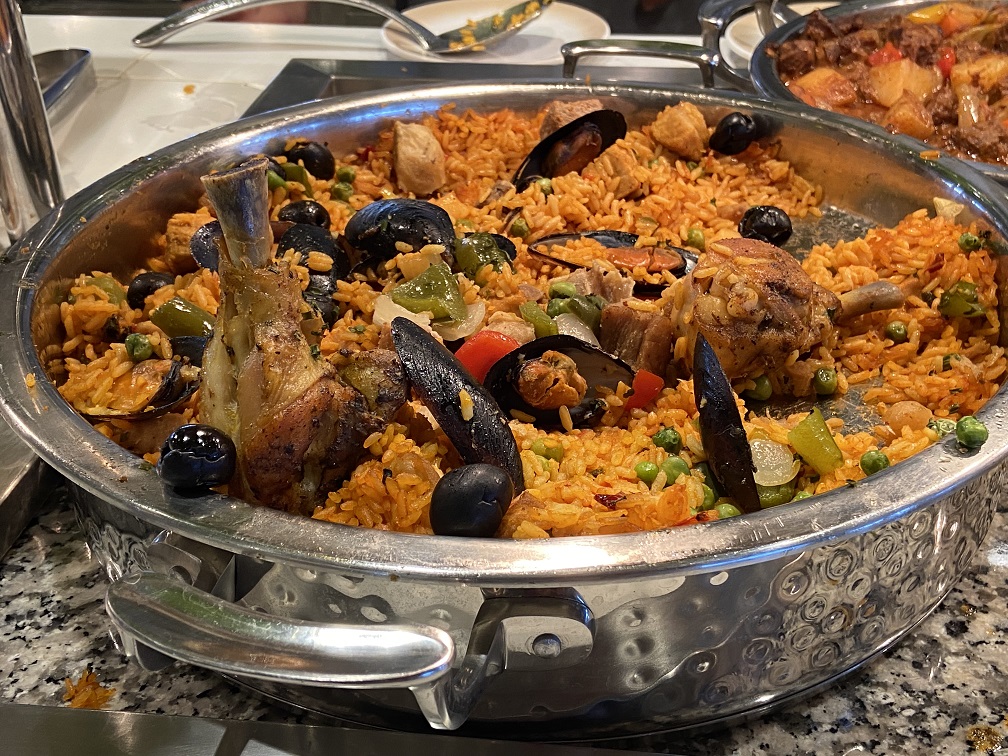 Odyssey of the Seas has other enhancements to make cruising safer—touchless elevators (just wave your finger in front of the floor you want) seven complimentary restaurants and nine specialty ones, including Giovanni's Italian, a new concept complete with a wine bar that boasts some 300 different bottles and the chance to sample artisanal pizza or charcuterie for a modest price.
This serves to disperse crowds rather than have everyone heading to the dining room at once.
At the complimentary and specialty restaurants, you also will see small individual portions of everything from fruit to freshly-made salads to seafood (even poke at the Windjammer buffet) and deserts—this not only avoids food waste by people putting more on their plates than they can eat but is safer than guests serving themselves.
Tamis notes that the quality and variety of food is key to cruise guests—and whether they will go home and recommend the ship–he still believes the traditional main dining room has a place, though some guests never dine there these days. "This is where the majority of the guests come together," he said, adding: "A great night on board is dinner and a show," which Royal Caribbean delivers with everything from video robotics, aerialists, next-generation choreography, vocalists, comedians, musicians and even drones.
"Some families haven't seen each other in two years," said Mark Tamis. "We literally are giving them the vessel to do that in a safe way."