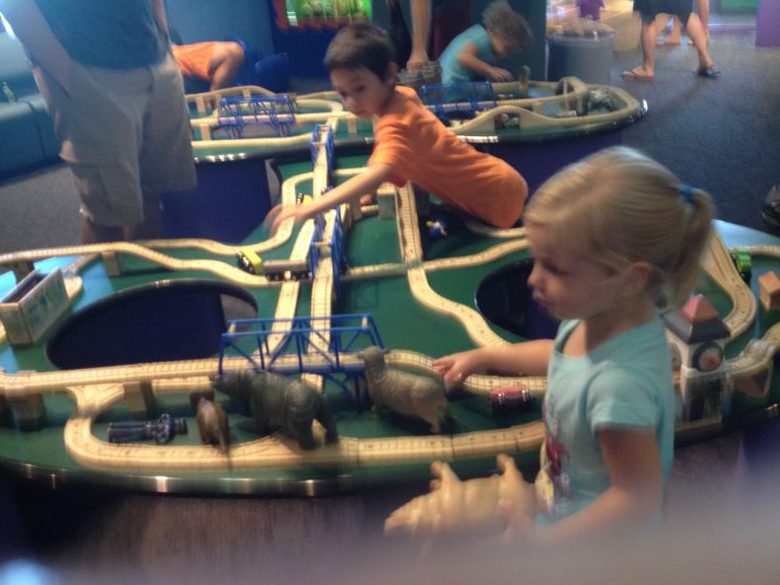 BOSTON (DAY ONE OF FOUR) — "It's all about the kids!" declares nine year-old Vivian Ivory in the middle of the Boston Children's Museum. "There's so much for kids to do, not just look at."
That in fact is the mission of the museum as it celebrates its centennial: the Power of Play, says Leslie Swartz, who is the senior VP of Research and Program Planning.
She explained that the Children's Museum is credited with the first hands-on interactive exhibits—starting what is commonplace at museums everywhere—in the 1960s under the leadership of Michael Spock, son of legendary pediatrician Benjamin Spock.
"Children learn by observation and experimentation," she said. "Here kids can explore and learn on their own…Play," says Swartz, "is critical to children's development." The Museum has launched a new campaign featuring the importance of play in the healthy development of children and a new website www.bostonchildrensmuseum.org that is a resource for parents and educators a like.
The Museum is also one of the few children's museums to have its own collection—more than 45,000 items including natural history specimens, art and cultural artifacts.
But the kids at the huge waterfront museum—one of the largest children's museums in the country—weren't thinking about that. They were too busy having fun—from the toddlers in the PlaySpace wheeling mini grocery carts to the grade schoolers making their way up the soaring three story climbing structure. "That was my favorite," said 10 year old James Moses, visiting from Little Rock, AR, to the kids making birthday cards for the museum as part of a multi-media project in the Art Studio where the kids not only make the card but put it in a capsule and send it through a pneumatic tube before it is displayed on an entire wall of cards. Fun!
Kids are taking off their shoes and visiting the huge Japanese House, a gift from Kyoto that was disassembled in Japan and reassembled here by Japanese craftsmen, who return every year to make sure it is still in good shape.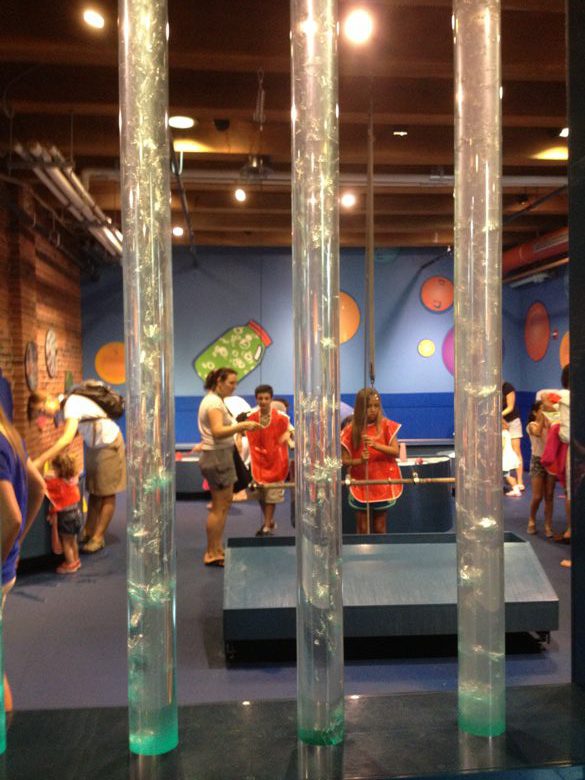 Throughout the museum are lessons. Shaquille O'Neal's size 22 sneakers next to baby shoes are the centerpiece of a lesson on big and little; the green roof—nearly 6000 square feet of plants–explains how such measures can conserve energy.
Did you know that one 12 ounce cup of soda has 10 teaspoons of sugar? Too much sugar leads to tooth decay and weight gain, the museum sign says. Go to Water! The Health and Wellness area—complete with an interactive dance floor that lights up—shows how making healthy choices can be fun. They see how their hand cranks make the giant "Kid Power sign move.
In Countdown to Kindergarten, kids are learning what they need to know—their numbers, their letters, how to write their name before they head off to kindergarten this fall. "We spent a lot of time there today," said Gretchen Heefner, explaining her son Owen is going to kindergarten this fall.
D is for diversity declares one of the "windows" throughout the museum, each done by an artist to focus on a letter for the alphabet. Dolls—Chinese, Japanese, Eskimo, Mexican, A Rabbi– represent a city "of the future where different people get along …"
That's true in the exhibits too—like Boston Black which explores the diversity of Boston's African American community. Kids "shop" in a Dominican grocery, play steel drums, visit a barber shop and the African Queen beauty shop and play dominos.
The museum started in a house in Jamaica Plain in 1913 by the Science Teacher's Bureau, which envisioned a place where kids could learn more about science. Neighborhood kids spent entire summers there, Swartz said, adding that the museum has gotten many letters from scientists and engineers over the years saying they were inspired by their time at the museum with scientists who donated their time.
The museum first moved to a larger building and then, in 1979, to Boston's waterfront before the area was a huge tourism destination. Everyone loves the 40-foot high Hood Milk bottle outside that is a snack bar; across a small bridge is the popular Boston Tea Party Museum and Faneuil Hall is a short walk away. Today, the Children's museum gets 600,000 visitors a year, making it a top city tourism attraction that is anchoring the resurgence of the South Boston Waterfront, with a waterfront patio where kids are doing chalk art projects, blowing bubbles and eating ice cream and sandwiches.
All families—no matter what their income—are encouraged to visit. Those who show their public aid card are admitted for just a few dollars and there are partnerships with the public library for other discounts. There is even a sign on the front door inviting people to tell the cashiers if you can't afford the $14 entrance fee.
Friday nights, thanks to a sponsorship with Target, are $1 entrance which draws middle schoolers. You really are never too old to play—events designed for 20 and 30-somethings sell out quickly, museum officials say.
This museum, suggests Museum VP Swartz, is a place where adults can be playful. She urges parents to relax, and don't try to do everything. Let the kids lead the way, she suggests, and if they want to spend their time in one exhibit, let them. "Some parents find that frustrating," she concedes. "Parents have to open their minds…and play!
"Absolutely this museum is a must see," said Erica Simmonds, a fourth grade teacher from the Boston suburbs here with two of her three kids. Even her oldest, who is beginning to outgrow the museum, she said, still has fun here. "It just reminds the kids of when they were younger and it is so fun," she said.
For adults too.