By Andy Yemma
One of Colorado's tallest peaks – Mt. Evans – will soon be renamed. The first territorial governor of Colorado, John Evans, was a friend of Abraham Lincoln and the namesake for the city of Evanston, Il. Why is his name now being regarded as infamous? In a phrase: "The Sand Creek Massacre."
While there were many atrocities committed in our nation's 19th Century quest for "Manifest Destiny," the Sand Creek Massacre on a scrubby part of Colorado's Southeastern Plains stands as one of the worst.
On November 24, 1864, the US Army, under orders from Gov. Evans, brutally murdered more than 230 Cheyenne and Arapaho people at Sand Creek. Mostly women, children, and elders, the victims had been camping peacefully under a treaty. They were flying the American flag, and beneath it a white flag of surrender.
The Sand Creek Massacre: The Betrayal that Changed Cheyenne and Arapaho People Forever is an exhibit that opened in November 2022 at the History Colorado Museum in Denver. It is a worthy exhibit for anyone who wants to learn and connect events from the past with issues still reverberating today. This museum is free every day for kids and is filled with interactive exhibits ranging from a ski jump simulator to the chance to take a virtual joy ride in a Model T, and a Makerspace to explore Denver through hands-on activities.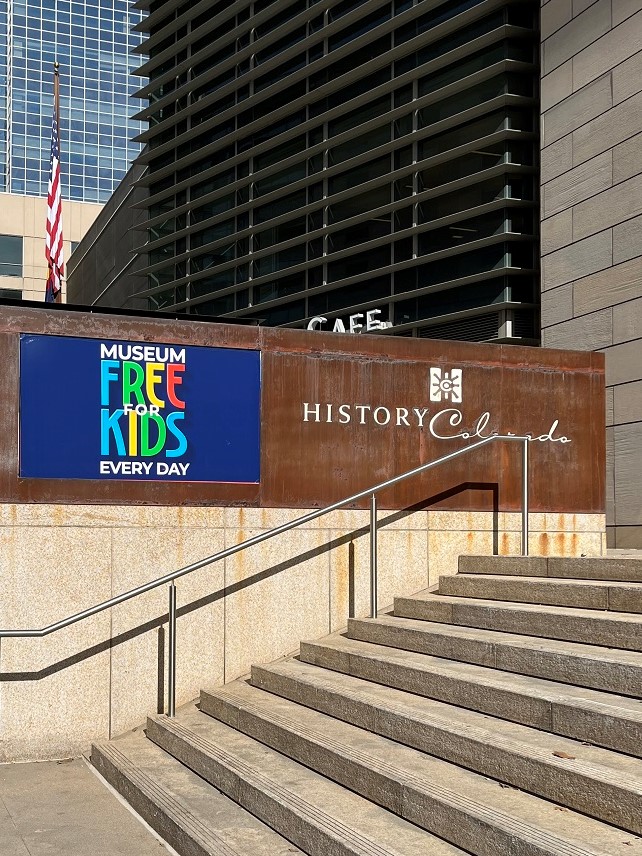 Mt. Evans towers over Colorado's Front Range, and is especially visible from Denver. We can see its snow-capped peak out of our window on clear days. You can drive up North America's highest paved road to its 14,267 foot summit. That it was named for John Evans – a revered politician, philanthropist, and business leader in his day – is not surprising. That his name is now being stripped is testament to his racism and cruelty.
There were war criminals at Sand Creek, chief among them Army Col. John Chivington, a Methodist preacher who gained modest fame during the Civil War. He aspired to politics, thought he might make a good President or senator, but he was basically a racist, power-hungry individual. According to investigation testimony and records, Chivington knew the Native Americans camped at Sand Creek were peaceful, but he attacked anyway.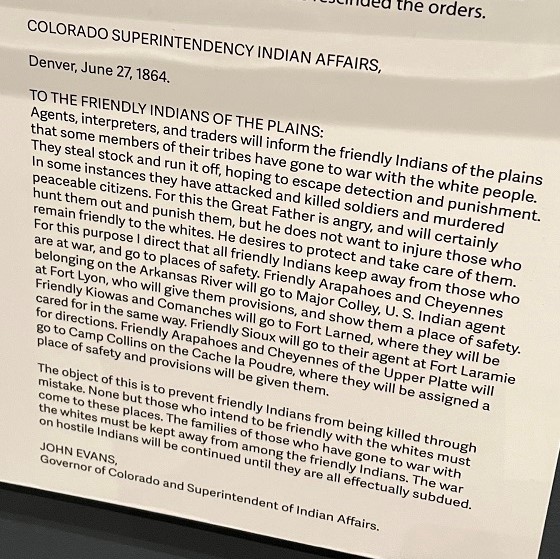 After the murderous rampage, soldiers under Chivington's command took victim's body parts and belongs and sold them for souvenirs in Denver. Contemplate that!
Neither Evans nor Chivington were formally charged in the massacre, although Evans eventually resigned his governorship under an investigative cloud. Remind you of anything today? Think about it/ Both men lived in wealth and privilege the rest of their lives. Chivington, in fact, went on to become the head of the Methodist Church in Colorado.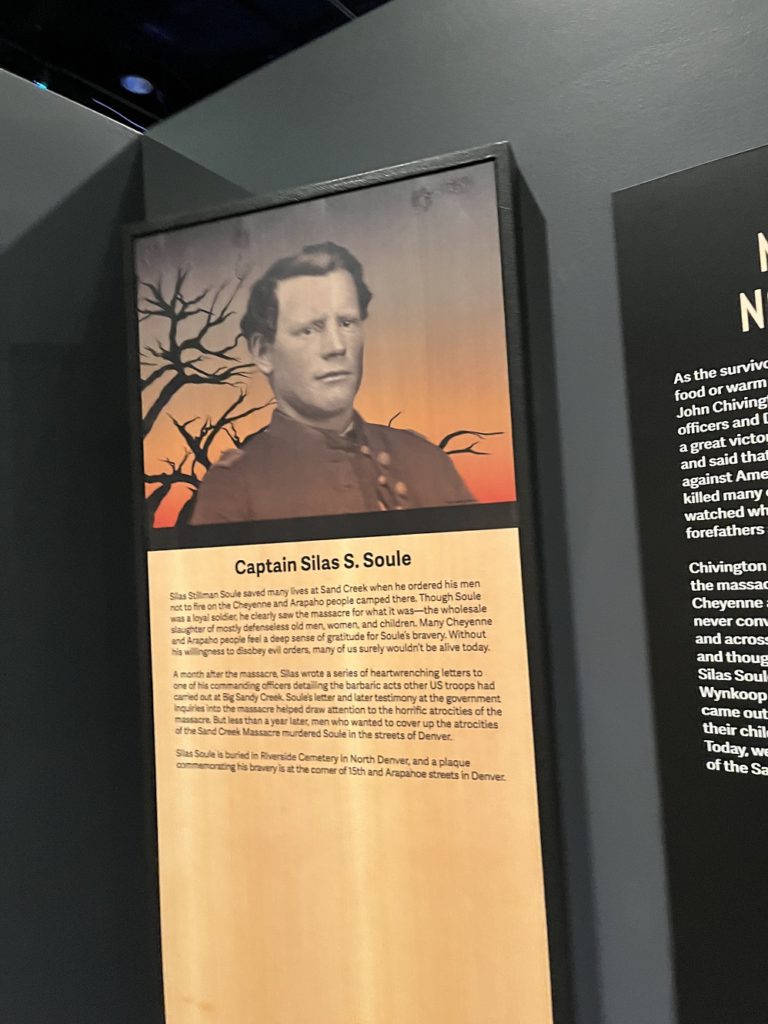 On the other hand, there was Captain Silas S. Soule, who saved many Native Americans from slaughter at Sand Creek when his company of soldiers arrived and saw what the army under Chivington's command was doing. His anguished accounts of the massacre led to several government inquiries. Many of the descendants of the survivors at Sand Creek hold his name in reverence today. Souls was assassinated in Denver after testifying in the Sand Creek inquiries.
Stories of the Sand Creek Massacre still reverberate in Colorado and among Native American historians. The National Park Service undertook a mission in the 1990s to make it a National Historic Site. Many of the descendants of the survivors visit regularly, and hold an annual commemoration of the massacre.
There's much, much more to this story, including how The California Gold Rush and the principle of "Manifest Destiny" led to this and other atrocities committed in the name of "white progress" in the 19th and 20th Centuries. The Colorado History Museum is a good place to start for anyone who wants to learn more.
"Those who cannot remember the past are condemned to repeat it." – George Santayana,