By Eileen Ogintz
ASPEN, CO (July 21, 2020) — The Mathurs had a trip to Europe planned this summer. Then the Pandemic made them change their plans.
They aren't complaining as they eat lunch atop Aspen Mountain (known fondly here as AJAX) with their two kids, aged 6 and 5.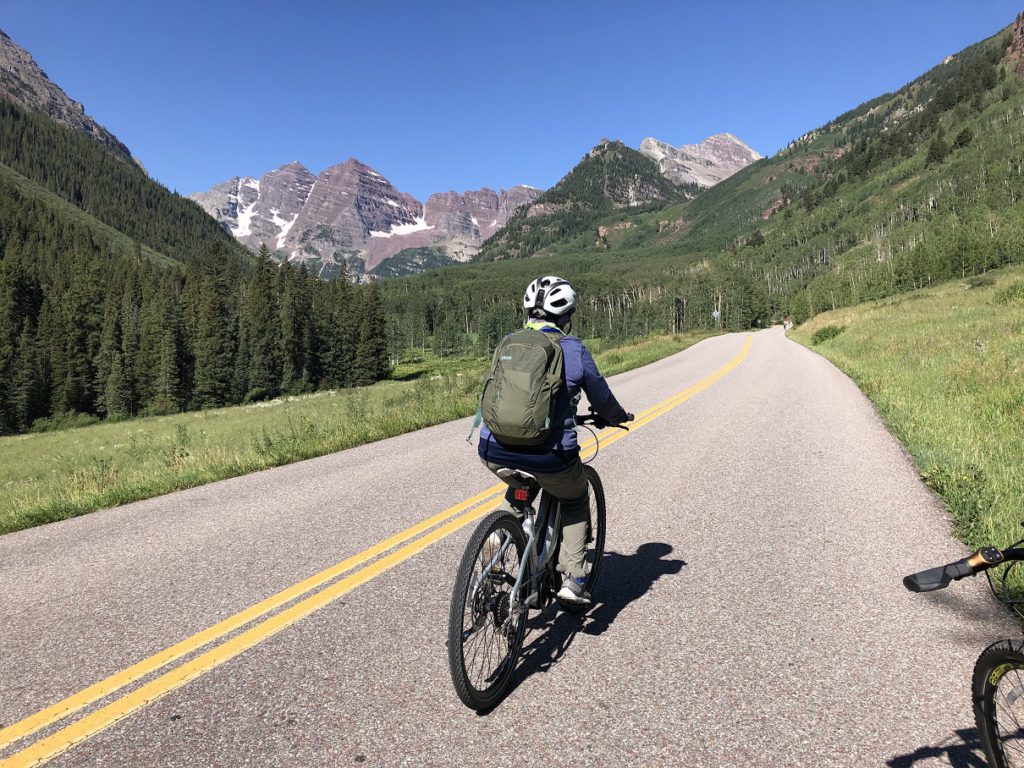 "This is the best place to go in the country," said Kapul Mathur, whose family flew from Houston without issue. His son, 6, loved fishing in a pond while his five yea-old daughter has become a big fan of horseback riding.
"Everyone is so nice," said Sheela Mathur, adding the kids have also discovered the playground at Wagner Park which orders downtown and is adjacent to the park's big open space.
The thing about Aspen is that it can satisfy all ages. "Aspen is a place older kids and teams can roam safely," declared Christopher Reyerson, 24, who was raised here and is spending the summer giving historical walking tours for the Aspen Historical Society. "And all you have to do to escape is go up a mountain," he said.
We headed up eight miles to the Maroon Bells, one of Colorado's most iconic rides along Maroon Creek Road from Aspen Highlands to Maroon Lake and the Maroon Bells, the most photographed mountains in North America—jagged stone still covered in snow. Many backpackers opt for several days here amid the bell-shaped peaks 14,000 feet above the glacial Maroon Creek Valley.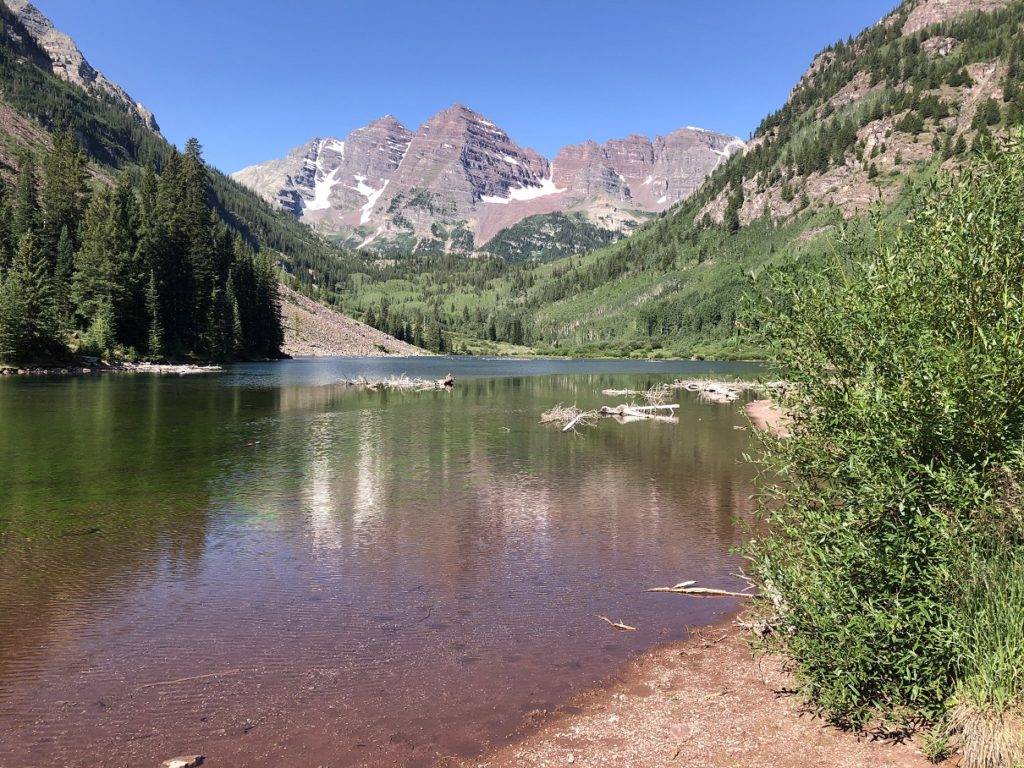 "A great way to get the teens to spend time with you and get them out of their comfort zone, said Elizabeth Lulloff, heading out on a five day-four night back packing trip with her family of five and another family—five adults and five kids ranging from 11 to 18 who had come from Wisconsin for the trip.
Truth be told, I could NOT have made it up to Maroon Lake without the boost of an E-Bike, though I watched bikers of all ages, including young parents pulling trailers behind their bikes with babies and toddlers. My husband, Andy, kept saying just put it on "boost. Use all your juice to get up there — it's all dowhill from there." It was, thankfully.
We had rented e-bikes at Four Mountain Sports at the base of Aspen Highlands, one of Aspen's four ski areas that is popular in summer especially because of its proximity to the Maroon Bells.
Be forewarned that this summer, you need a reservation to either take the free bus up to the Maroon Bells or drive. We opted to pay to park at Aspen Highlands. The bus to Aspen Highlands from Aspen or Snowmass Village is free and you do not need a reservation. The bus from Aspen Highlands to Maroon Bells is not free and you do need a reservation for that transportation. Here are the full details from ACRA's website:
Starting June 28, visitors will be required to use the RFTA shuttle service between the hours of 8am – 5pm. The last shuttle up is at 3pm. The fare will be $15.95 for all reservations. Parking at the Aspen Highlands Ski Area is Free for the first 30 minutes, then costs: 1/2-3 Hours: $10, 3-8 Hours: $15, 8+ Hours: $30. When buses are not in operation, vehicle reservations will be required to access the Maroon Bells Scenic Area.
It might be helpful to link to the Maroon Bells reservation page.
Once I caught my breath at the top, we had plenty of options to stroll around the lake, looking for elusive moose and just take in the views.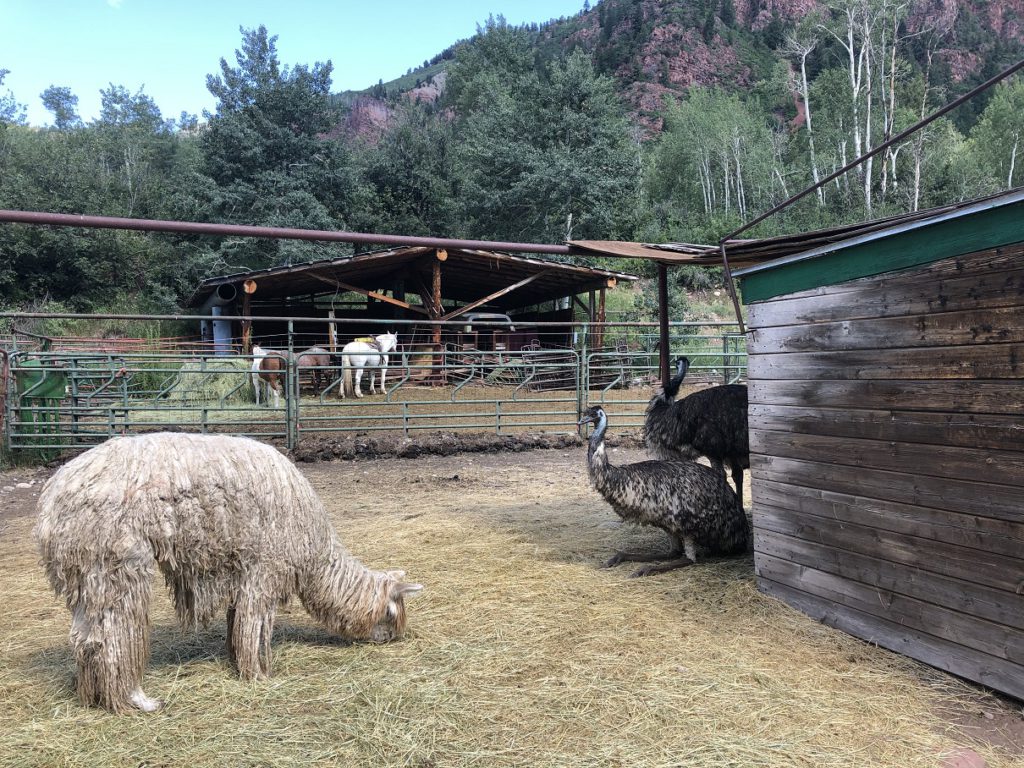 A bonus on the ride down—besides coasting all the way up — a stop at the T-Lazy-7 Ranch— fixture of the Maroon Creek valley for 80 years, where we laughed with the llamas, emus, and goats—and left with a dozen fresh eggs and some all-natural beef from the farm store.
Next time, maybe a horseback ride up to the Bells….