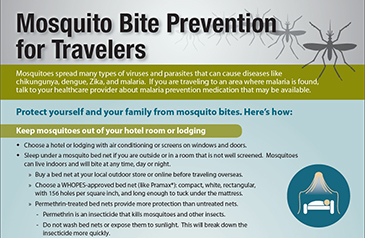 By Eileen Ogintz
It is always better to be safe than sorry. That's especially true when you are pregnant or traveling with an infant.
You don't want to go anywhere that will endanger your pregnancy. It's always wise to be somewhere that has top medical care when you need it. That's also true when traveling with infants who can get very sick very quickly.
The Zika virus, the mosquito-borne illness that is possibly linked to severe birth defects has lead to the Centers for Disease Control and Prevention to warn pregnant women and those trying to get pregnant to avoid travel to destinations like Puerto Rico, the U.S. Virgin Islands, Mexico and other Latin American countries.
The World Health Organization Director-General Margaret Chan has been reported saying the Zika virus "is now spreading explosively" in the Americas with other experts saying millions may be infected.
People with Zika virus usually have a mild fever, skin rash, joint and muscle pain and/or conjunctivitis (pink eye). There is no specific treatment or vaccine, according to the World Health Organization. Many of those infected may not even feel sick, though the same mosquitoes that spread Zika also spread dengue and chikungunya viruses, the CDC says. The biggest concern is for pregnant women and those wanting to become pregnant as Zika virus is now linked to neurological ailments in newborns. Brazil alone has reported more than 4,000 cases of microcephaly, babies born with brain damage and abnormally small heads. The infants were born to women infected with Zika while pregnant, CNN reported.
As a result, the New York Times has reported airlines that fly those routes like Jet Blue, American and United, are offering customers who have concerns a refund.
Hotels, cruises and resorts seem to be handling the issue in different ways. Hilton Worldwide, with 109 properties across its 13 brands in the affected areas, as well as Hyatt hotels and Four Seasons Hotels and Resorts, are considering waivers for cancellations on a case-by-case basis, the New York Times said. Sandals resorts also are considering cancellation requests on a case by case basis, a spokesman said.
At the same time, resorts in the impacted areas are trying to reassure guests. "In response to recent media reports, we wish to confirm that no cases of the Zika Virus have been reported at or near any of our properties in the Riviera Maya, Mexico; Negril, Jamaica; or Punta Cana, Dominican Republic," said a spokesman for Karisma Hotels & Resorts. "Further, all of Karisma Hotels & Resorts' properties make every effort to eliminate and control the mosquito, going above and beyond preventative measures set by the World Health Organization and Center for Disease Control and Prevention as well as the local governing bodies. "
Likewise, Karisma Hotels & Resorts will honor any related requests to refrain from travel at this time without penalty, the spokesman said.
Norwegian Cruise Line has made accommodations for those "very few affected guests" to reschedule their cruise for a future date or change their itinerary to non-affected destinations, a spokesman said. "For those guests who have opted to purchase a Travel Protection policy, cancellations are covered under the "Cancel for Any Reason" portion of the policy. "It's important to note that we have had only one guest cancel their cruise and no requests to change itineraries," the spokesman said.
That "Cancel for Any Reason," provision is key. Travel insurance covers the most common situations that may cause a traveler to cancel their trip, such as illness or injury, natural disasters, etc. It generally does not cover potential problems or fear of problems, explained a spokesman for Allianz Global Assistance, a major provider of travel insurance. In this case, the spokesman said, a traveler who wanted to cancel a trip because they were afraid of contracting the Zika virus would not be covered by travel insurance.
Disney Cruise Lines says a pregnant woman and those she is traveling with could cancel; Royal Caribbean and Carnival will assist any pregnant women who do not feel comfortable sailing to countries affected with the Zika virus by providing alternate itinerary options or a future cruise credit.
Clearly, if you have concerns and have booked already, see what your hotel will do for you. It's certainly not unreasonable to ask for a refund in this case and remember, they want happy customers!
At the moment, however, there is no evidence that Zika virus is serious in young children or older children, said Dr. H. Cody Meissner, a professor of pediatrics at Tufts University School of Medicine and a member of the American Academy of Pediatrics Committee on Infectious Diseases. He cautions that infants aren't fully immunized and could be at risk to other diseases like measles. Even flying with infants can pose a risk."If you have a newborn, that's not the time to go on vacation," he said.
Don't use insect repellent on babies younger than two months, the CDC says—another reason to skip a trip to impacted areas right now. Dress kids in clothing that covers arms and legs—tough during the day when these mosquitoes bite. Use mosquito nets on strollers and make sure there are screens on windows. Also consider clothes that are treated with repellent. I've used them very effectively.
For anyone else traveling, the best method to avoid any risk is by taking steps to help protect yourself from mosquito and other insect bites and follow the CDC guidelines which include covering exposed skin by wearing long-sleeved shirts, long pants, and hats and use an appropriate insect repellent. Apply sunscreen before insect repellent.
Dr. Meissner reiterated that so far, children don't seem to get any sicker from Zika virus than adults. "But we don't know the full spectrum of the disease," he said. "This is an individual decision every family has to make."
Stay safe!