By Eileen Ogintz
BIGFORK, MONTANA (June 23, 2020) — Sophie Seaver, 10, is more independent, she says. Her twin sister Ella has learned to ride a horse.
Annalise Lightfoot, 11, has learned to waterski. "The water was really cold but really fun!" she said.
And Remy Young, 8, has discovered how much fun she can have on her own without supervision. "My parents don't let me do that at home," said Remy, who lives in Connecticut.
They are among the 30 kids spending the week at Flathead Lake Lodge in Montana near Glacier National Park and owned by the Averill family since it was started 75 years ago. This is much more than a lodge – it's a ranch, farm and acre upon acre of wilderness and lakefront.
The ranch, started as a boys' camp, went bankrupt during the 1930s Great Depression; Les Averill bought it very cheaply when he returned from World War II, and nearly lost his shirt the first year—and would have if not for help from Bugsy Siegel, the mobster who was a driving force in the development of Las Vegas. Siegel has some extra cash.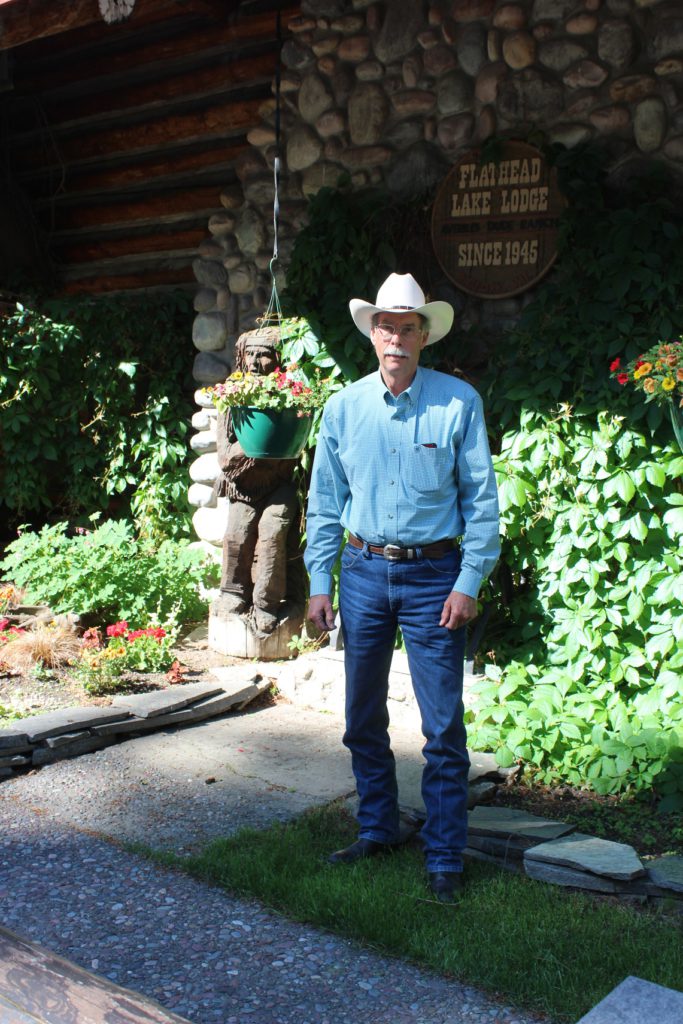 Doug Averill, the second generation to run the ranch, said Siegel was hiding out in Montana when he happened on the place, which his father envisioned as a hunting lodge and supper club.
By the time Doug Averill took over in 1971, the ranch was firmly established with clientele from the East and West Coasts—perhaps the only dude ranch in the country that has the advantage of a huge lake with requisite water sports and more than 100 horses.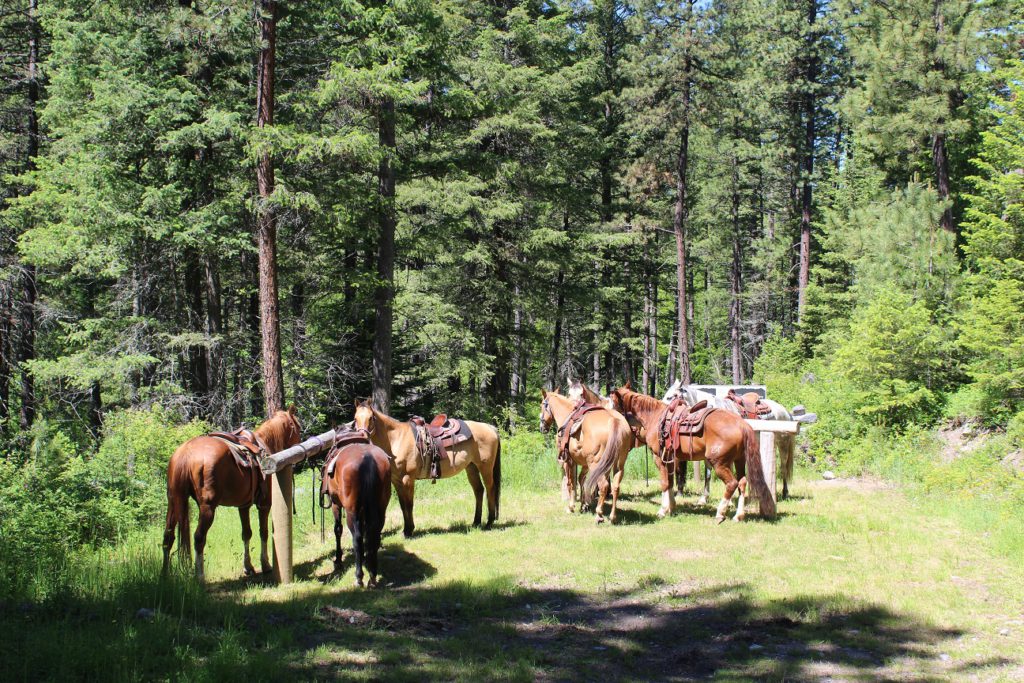 "I like that there are so many different options of things to do," said Sophie Seaver.
The girls were sitting on the porch of one of the cabins—their three families were vacationing together and while the kids' had their own horse ride earlier and the teens a beach party, their parents were enjoying a playdate of their own—riding two miles up a steep track to a cabin where chef Romie Farokhkish was waiting, having prepared a vegetarian paella and fish boil with shrimp mussels, onions and peppers in cast iron pots on an open fire.
"This is the best family vacation we have ever had," said Jordan Young, who encouraged the other two families—all good friends—to come after the Youngs had visited with his family three years ago.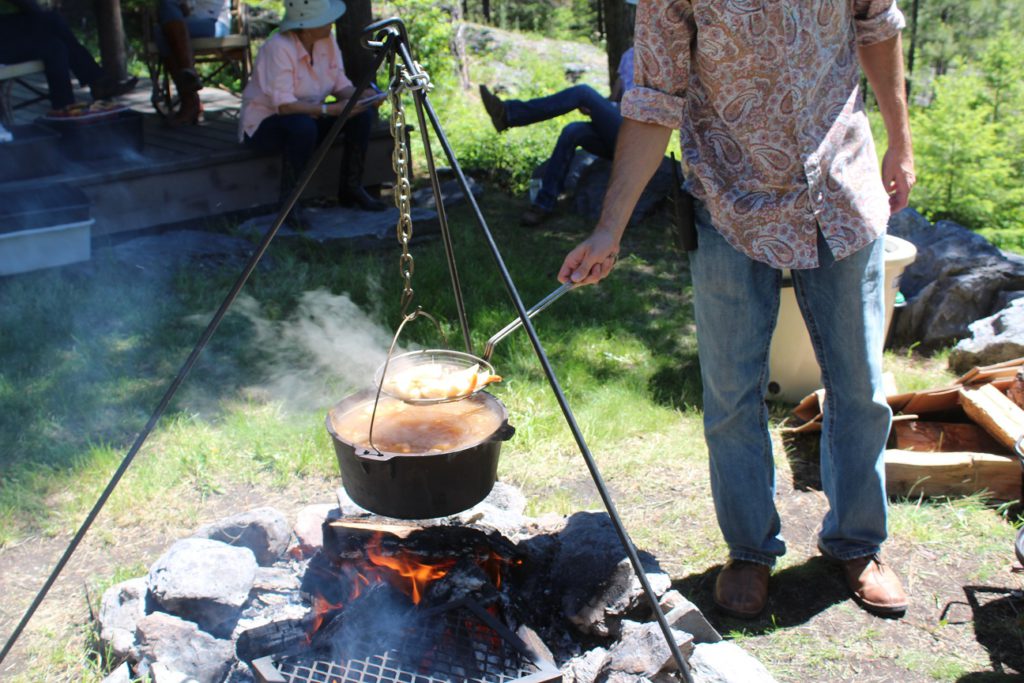 Sam Adicoff rode up on his mountain bike—he's part of a big multigenerational group that shifted gears to come here after their Alaskan cruise was cancelled. One son was trail running, he said; Another was fishing. His wife had taken a horseback riding lessons the two littlest ones ages two and five were in the children's program. "We meet for lunch and dinner," he said. "And everyone can do their own thing the rest of the time."
Doug Averill chuckles at how this generation of guests race from activity to activity. In the past, he explained, the clientele was older and were more content to sit on the lake front and read; "If people went on a five-mile hike, you needed to bring people back on horses." His wife Maureen, he said, ran the ranch with him, handling the business side.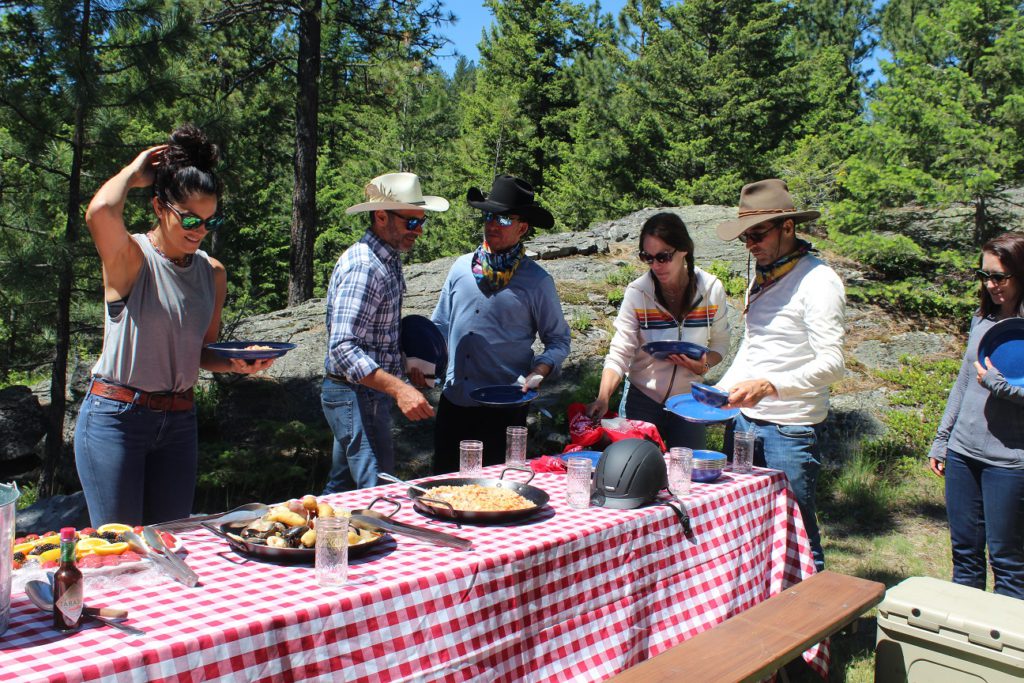 Now the ranch is run by Chase and Kate Averill, in their mid-thirties and parents of three young children, including a newborn. Chase's younger brother Laine now is developing a farm nearby with his dad that ultimately will be a place to show kids how their food is grown, farm animals, canola fields, organic gardens for the ranch, and Montana history—a huge collection of historic wagons that will be housed in a 1902 barn, a homesteaders' cabin and more. He hopes locals will come to speak.
"There are people who don't understand agriculture at all," said hoping local kids—and perhaps those from out of town—will opt to work on the farm, which is being run as a foundation.
Chase and Kate Averill, meanwhile, are catering to a generation of affluent younger families. He says he started working when he was younger than 10, helping the grounds crew, then washing dishes, working on the waterfront and in the barn. "No one trusted me cooking," he said. He met his wife, a Chicagoan, when she came to work at the ranch and after a stint elsewhere, the couple have been back for six years.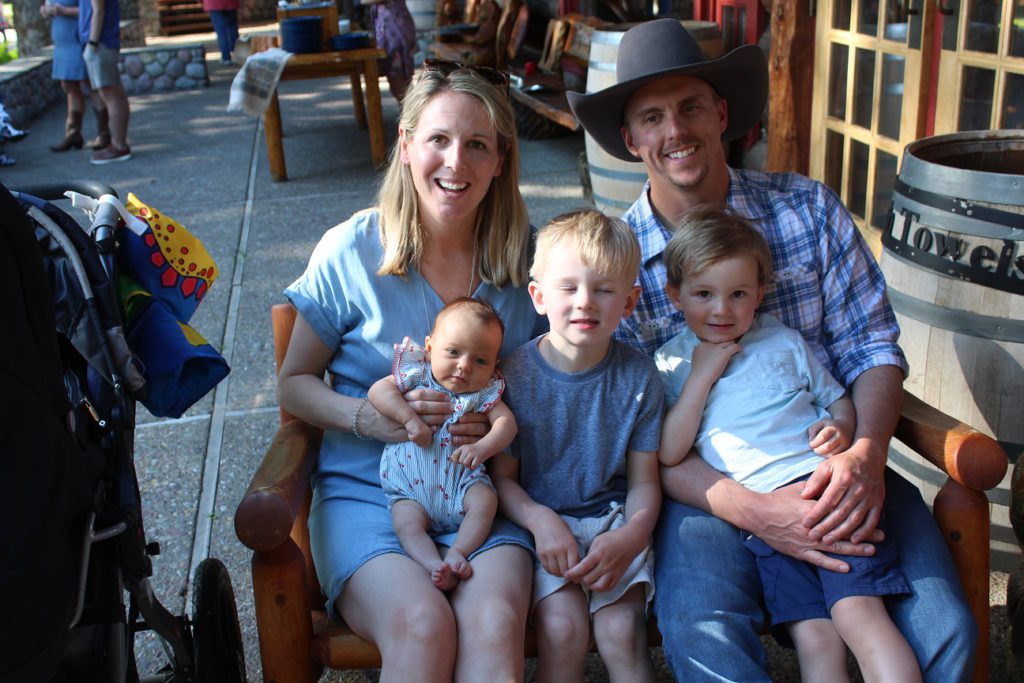 There are plans for a show kitchen and outdoor pizza oven. There are now three mountain bike trails and an ever-growing array of water toys and water sports. The chef prepares more complex dishes—an artfully arranged salad; pitas for lunch with chicken, pork and an array of Middle Eastern fixings, home baked pastries at every meal –the eclairs were an especially big hit.
A week at the end of the summer is being donated to families with a terminally ill child. Wounded warriors have been hosted here along with a myriad of CEOs and celebrities. For many years, the Pentagon convened a conference of international military leaders here to help them become familiar with each other on a personal basis.
The ethos of the ranch has remained the same –"To build bonds around authentic experiences," Chase Averill said, said it is fun to see guests "try to do it all," and then collapse pool front by the end of the week.
This is the kind of place where families met vacationing three decades ago and return the same week each summer; There have been marriages among those families, with some kids returning to work here as wranglers or waitresses while in college.