By Eileen Ogintz
DID YOU KNOW: Pork chops for breakfast has been a tradition at Western River Expeditions because company founder, Jack Currey was a fan of the chops as breakfast fare. He crafted the company's now patented "J-Rig rafts from a trainload of rubber—a mistaken order.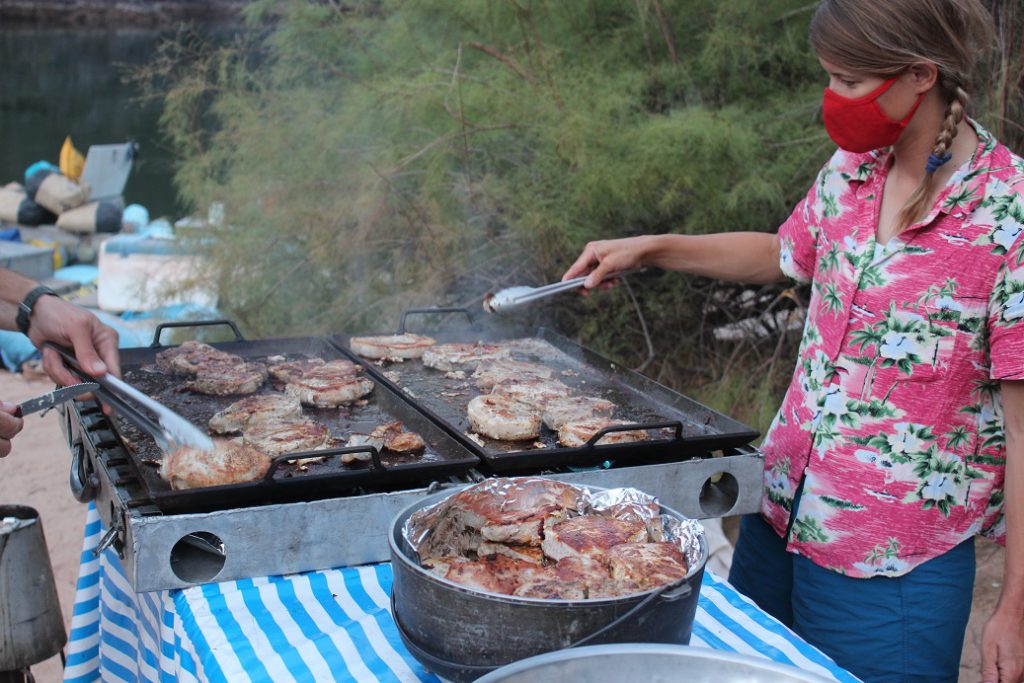 BREAKFAST: pork chops, French toast , fruit
LUNCH: Deli sandwiches, Stone Creek, Mile 132
DINNER: Spaghetti with meat sauce and veggie sauce; mozzarella and tomatoes; brownies
CAMPSITE: Deer Creek Falls campsite right near Deer Creek Falls about Mile 137
BEST SITE: The hidden paradise garden at Elves Chasm
MOST CHALLENGING HIKE: To the top of Deer Creek Waterfall
BEST HANG OUT SPOT: Around "the patio" at Deer Creek Waterfall
RAPIDS Hakatai Rapid, Waltenberg Rapid, Dubendorff Rapid, among them
"There are very few places you can lay on a cot at night in the dark and look up and see so many stars."– Bendel Rushing, Texas, Sept. 2020
"What day is it?" more than one person asked this morning. It's easy to get the days mixed up when you are on river time on the Colorado River deep in the Grand Canyon.
That's part of the appeal. We wake up at sunrise and go to sleep soon after it gets dark, looking at the spectacular starry sky from our cots, snug in our sleeping bags.
"I used to feel I had to tell everyone everything to expect in the morning," said our veteran Expedition Leader Ben Bressler. "Now we let the day unfold."
Truth be told, I find the mornings a bit stressful—breaking down camp, stuffing our gear back into dry bags, folding up the cots and chairs and helping to hoist them back on the boat. I wish I had more time to just savor the views of the Canyon—the changing light, the pinks and oranges of the rock.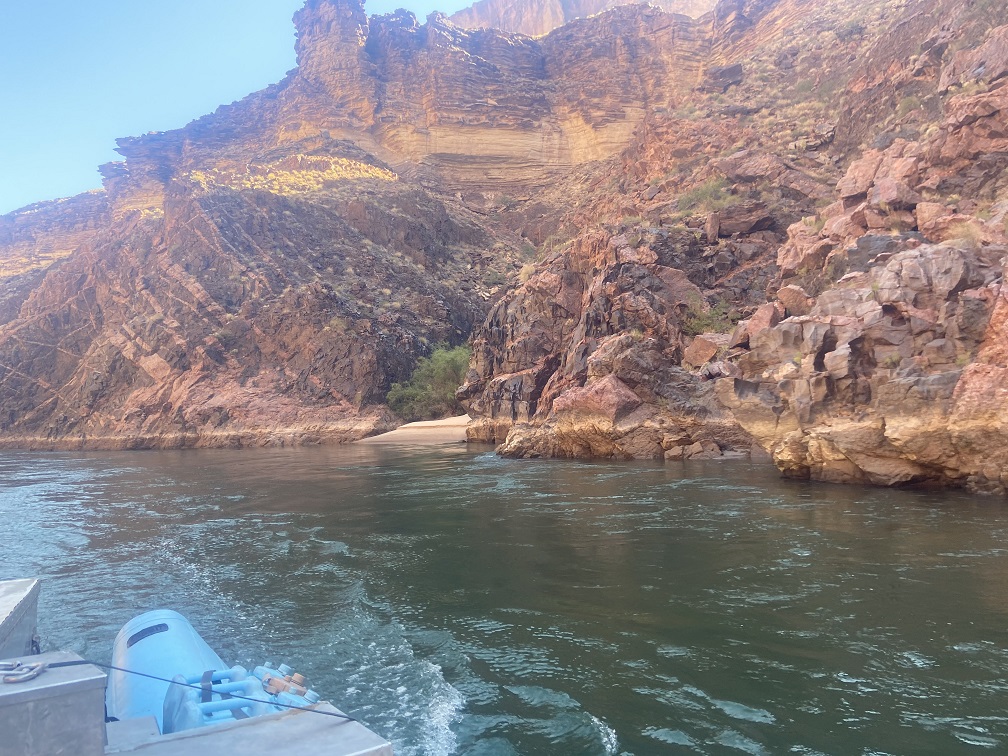 But that's a small price to pay—especially for what will be a three waterfall day! We board the rafts and head to our favorite spots—some love the front legs on the pontoons, where you are guaranteed to get soaked in the rapids; others prefer the "coolers" in the middle where you likely will get wet or in the "Chicken Coop" or "Mouse Trap" where you typically have a more relaxed—and drier ride.
The first waterfall on the agenda is Elves Chasm, requiring a difficult, steep hike and scrambling over rocks and boulders. "But definitely worth it when we got there," reported my husband Andy Yemma, as I skipped the hike in favor of lazing in our own private pool closer to the rafts. "It was like something out of a fairytale."
"My favorite," said Kris Evans, explaining that the hikers could climb up about six feet above the fall and jump into the water. People were able to climb and jump about six feet.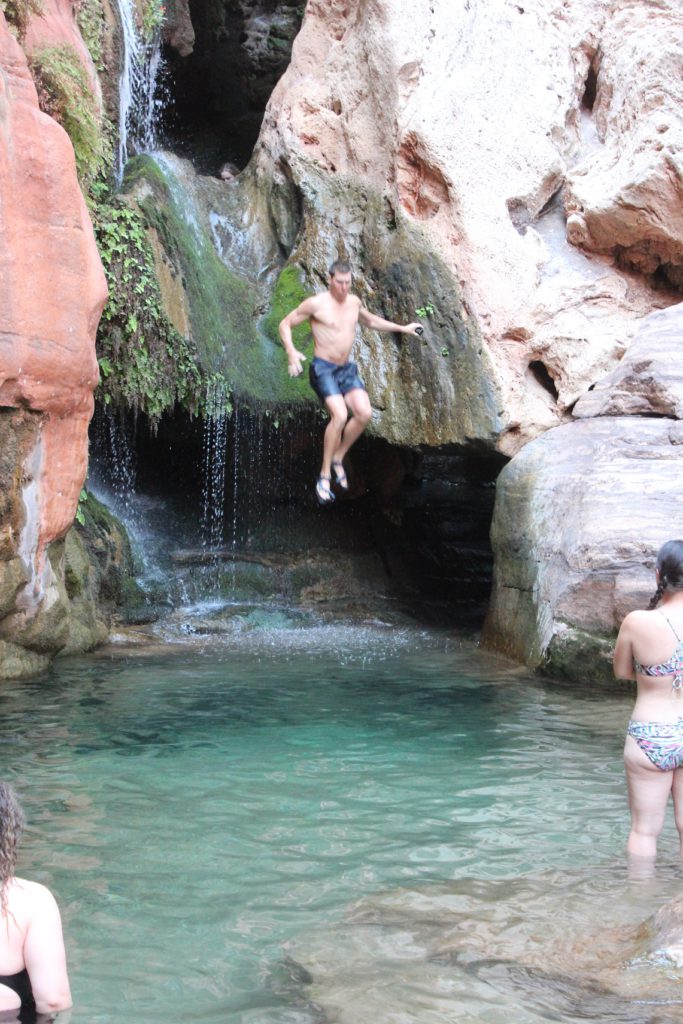 Of course, this wouldn't be a Grand Canyon raft trip if we weren't navigating rapids including Hakatai Rapid, 113.5 mile rapid; Waltenberg rapid named after early surveyor John Waltenberg, and the mighty Deubendorff Rapid, named for a 1909 boatman who flipped in the rapid that now bears his name.
Then we stopped at Stone Creek Falls, a short hike up to a waterfall that you could stand in and, on a 105 degree day, that was terrific.
Waterfall #3 was Deer Creek Falls—a 100-foot plus waterfall so powerful that it was difficult to get close but a great place to relax. We brought our chairs along with us and played in the water while 5 of our group tackled a tough hike to the top of the waterfall.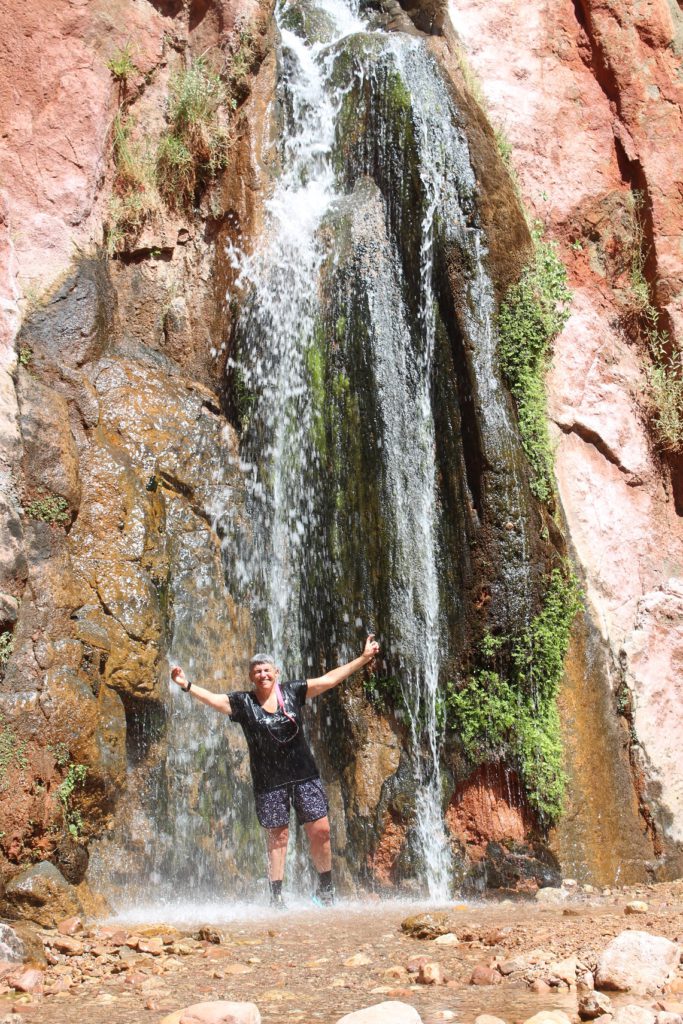 "It was hot (well over 100 degrees) and hard with a lot of steep ledges," recounted Kevin Paulsen. "But when you got there, it was an oasis with waterfalls, canyons, cottonwood trees… words can't really describe it."
"It looked like paradise," added Dr. Dayton Young.
Meanwhile, Emily Cleary was sitting in a chair, her feet in the water at Deer Creek Falls, looking up at the waterfall.
"This is my favorite ," said the 18-year-old, opining that she thought her mom was "crazy," when she suggested this trip. "We're not campers," she explained.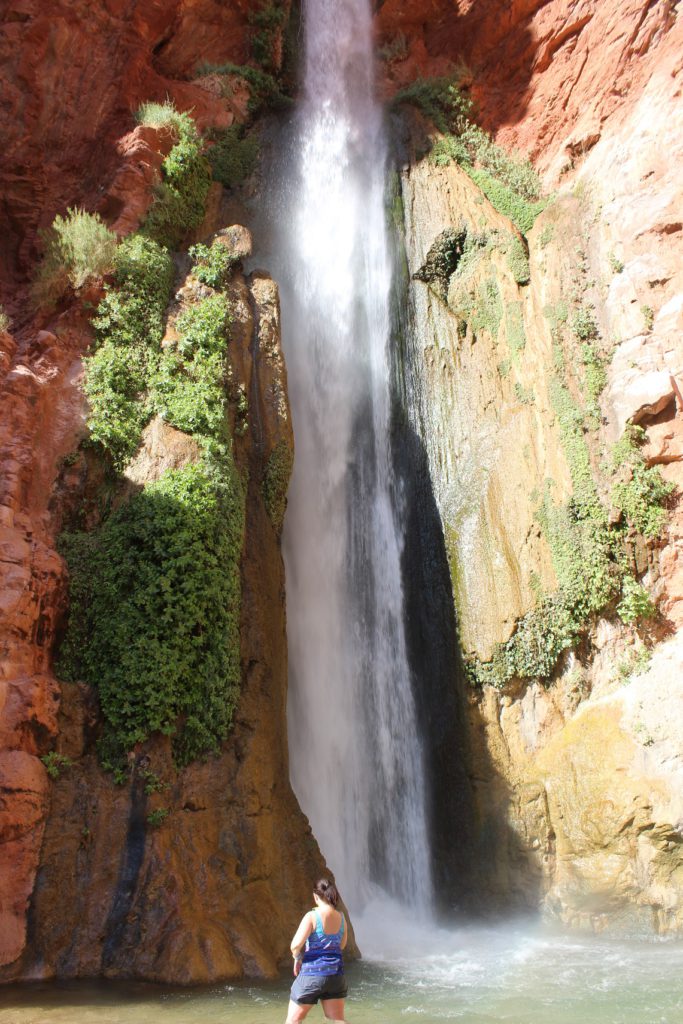 But once she got over the "outdoor experience" toilet facilities, she's been really glad to have come, despite being the youngest by nearly a decade. "I can have a good time with anybody, even my parents," she said.
Even going to bed early was not a problem on the less-than-comfortable cot—not with so many stars to see. "Amazing," she said. That's not to say it has been a perfect experience. "I miss my friends…and WiFi. That's the hardest part."
The hardest part for Donise Walker, here from Texas with her husband Wes and two close friends, has been camping. And despite the heat, she slept in the tent her husband obligingly put up because she felt safer.
"I love the rapids… the camping, not so much, but I'm doing it and I'm not complaining."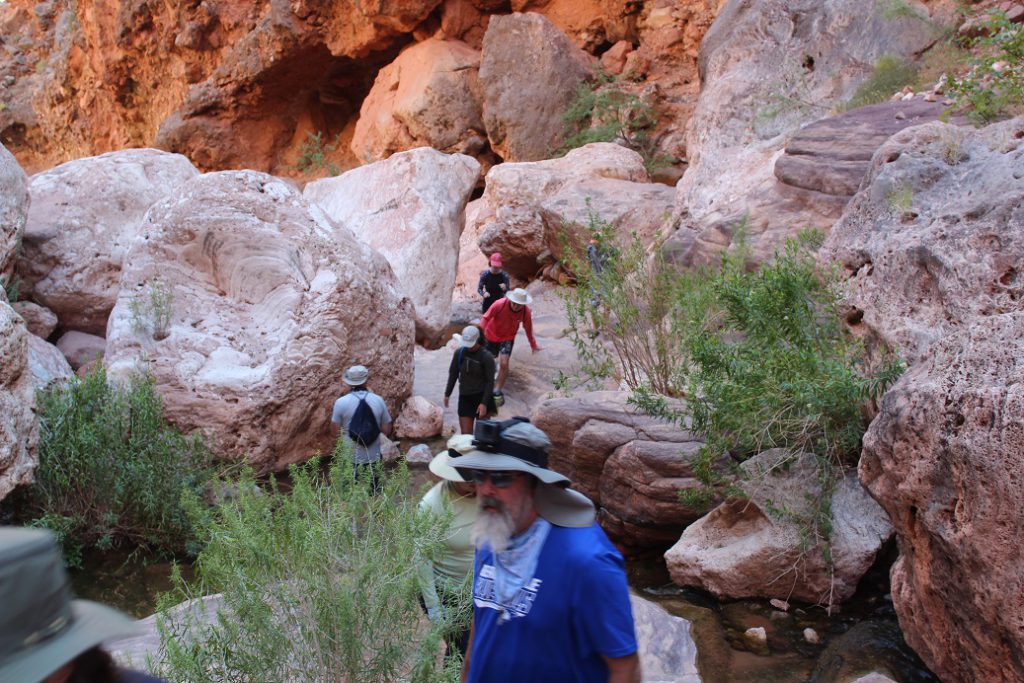 Everyone has challenges on this trip, whether not showering for a week, climbing over rocks on aching knees. Mine is hefting my too-heavy duffel, despite Western River Expeditions' packing list. Yellow 14—our duffels are color and number coded–became the good-natured butt of jokes from those hoisting the bags on and off the boat.
Those challenges are far outweighed by the once-in-a-lifetime moments. "Romance under the stars," said Lori Rushing, here with her husband Bendel and their friends the Walkers.
Besides that, and seeing a shooting star, said her husband Bendel Rushing, has been the opportunity to hike on trails in places few have been able to experience.
"Spending time with my brother," said Jenni Buchanan who lives in southern California with her family while her brother Kevin Paulsen lives in Santa Cruz with his.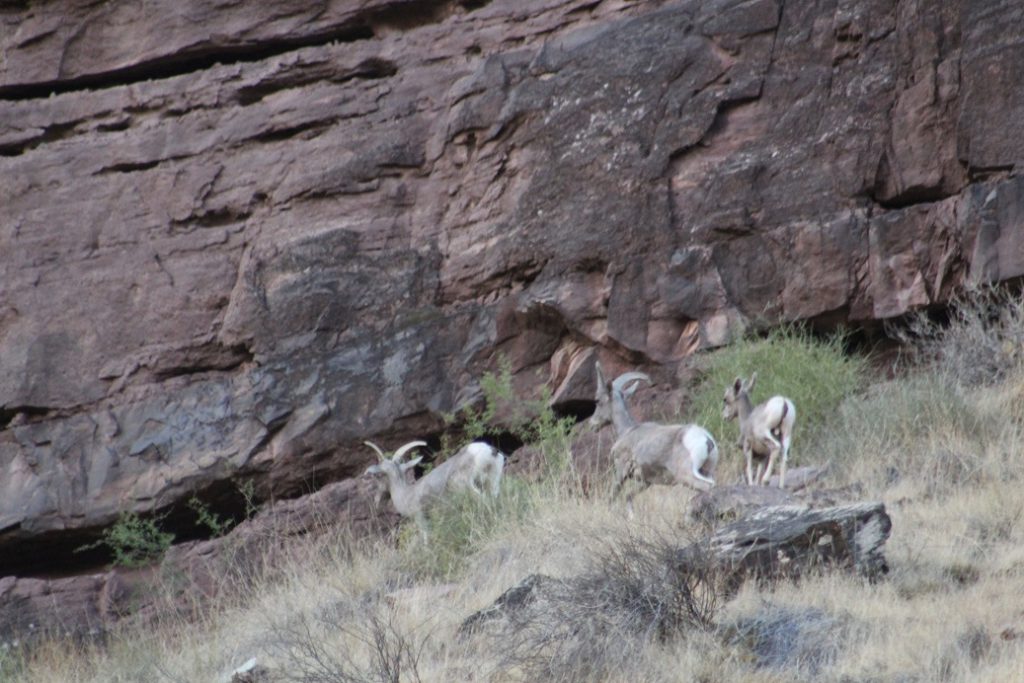 "Communicating face to face, not through the internet and seeing how we have more in common than not," said Dr. Harold Pine, who has relished the opportunity to reflect on the trip he did as a boy with his dad, who has since died.
As I write this, we have set up camp on a long stretch of sandy beach—we will sleep right at the riverbank. As the group waits for dinner—it is spaghetti night–everyone has pulled their chairs into a big circle in front of the rive,r nursing their favorite beverages that they've brought. Several different conversations are going on at the same time interrupted with laughter.
"This is more than I ever imagined," said Ryan Nelson, a firefighter from Raleigh, NC.
For all of us, I think.