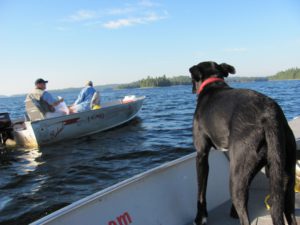 Originally posted April 18, 2011
By Andy Yemma
Hard to believe after one of the snowiest winters I've ever experienced, but summer is coming. And that means fishing.
When our kids were little and we lived in the Chicago area, we took them most every summer to a great spot in northern Minnesota (http://ludlowsresort.com/) where we spent a week in a cabin on a small island, fishing, swimming and water skiing. My son Matt, now 27, has reminded me over the years fondly of those early mornings out on the glass-like Lake Vermillion fishing for "Big Jake" the trophy walleye. We never landed him, although we did bring home supper more often than not.
So last summer, after many years away from the sport, Matt and I decided it was time to go fishing again. We recruited our cousin-in-law Mike Sitzman and his dad John, who live in Golden Colorado to join us. After some basic internet research we decided upon a spot in Canada's Ontario Province – Garden Island Lodge (http://www.garden-island.com/) that seemed about an equal traveling effort for all of us. Matt and I drove the approximately 800 miles from southwestern Connecticut to northern Ontario (a long but scenic drive through New York State's Adirondack Park and the forests of central Ontario). The Sitzmans flew from Denver to Toronto and drove about 200 miles further to our destination, near the Town of New Liskeard in an area known as Tamiskaming Shores. Oh yes, Matt and I also brought along a guest – our 8 month-old rescue mutt Trooper.
Early on a Saturday morning we joined about 15 other fishermen on a dock on the Montreal River, boarded a barge, then transferred over a dam to a water taxi and made our way to Garden Island, in the middle of Lady Evelyn Lake (www.ladyevelynlake.net/), a huge, meandering body of fresh water south of Hudson's Bay. Garden Island Lodge is one of a handful of fishing lodges on the lake, and the only lodge in the expansive south end.
"Lady Evelyn Lake is gorgeous and the boat ride to the lodge was worth the price of the trip alone," said Mike Sitzman. "When we arrived on the island it was all and more of what we had imagined. We could see why Joe had so many returning guests."
Joe Henry, who spends his winters in Southern Ontario, has owned the Garden Island Lodge for the past four years, investing nicely in its nine cabins, docks and central meeting and dining area.
The resort is all-inclusive with excellent meals prepared by "Chef Michael" – a friendly fellow who said he enjoyed getting away from the big city restaurant business. Each cabin has a fishing boat at the ready. The friendly staff is always around to help with boat-loading and some of the dock boys can be hired as guides at very low cost. Lodge rates are very reasonable – with five and seven-day packages advertised (although Joe is very accommodating). Families can save even more with highly discounted rates for children under 16.
"We take up to 24 guests per week to maintain a maximum 3:1 ratio of guests to staff. Last year we had a large number of familiy groups — some were entire families, others were father-son combinations," says Joe. "We already have eight families booked for 2011." The 2011 season opens May 21.
Caution: this is not a spa or frou-frou resort. The cabins are rustic but have electricity, running water, heat, flush toilets and hot showers, along with mini-refrigerators and microwaves. No TV – although Joe has caved-in to modernity by installing a satellite-based WiFi network, so your laptops and Blackberries will work here for outside communication.
Our doggie, Trooper, found nirvana from the moment she splashed onto the island. There were three other dogs for her to romp around and fetch sticks with, and she quickly had them under her spell. Trooper, being young and not far removed from the rescue shelter, had not done much swimming before this but by the end of the week we couldn't get her out of the water.
Matt and I and John and Mike Sitzman secured our Canadian fishing licenses from Joe and headed out the first afternoon to try our luck. It took a bit of exploring but we eventually found some hot spots for smallmouth bass, which were hitting very well the week we there in last August.
Walleye and Northern Pike also abound in this versatile lake, and before the week was out Mike had caught-and-released trophy-sized examples of each – in fact Joe awarded him a "master angler" plaque for the 32-inch walleye. Most of our catches were released under the provisions and recommendations of the fishing authorities in order to keep the lake sustainable. We managed to bring home enough smallmouths that we had delicious fried fish every morning for breakfast, prepared by Chef Michael along with his eggs benedict and other delicacies.
We fished all morning, stopped for a box lunch, and fished until an early dinner – then back out for some twilight fishing. After dark we sat out on the deck and swapped stories while Trooper prowled the island, occasionally spooking a bullfrog or two.
Our five days went by like a blur and too soon it was time to board the barge back to the real world. Trooper was probably most disappointed to be leaving – she slept most of the drive back to Connecticut.