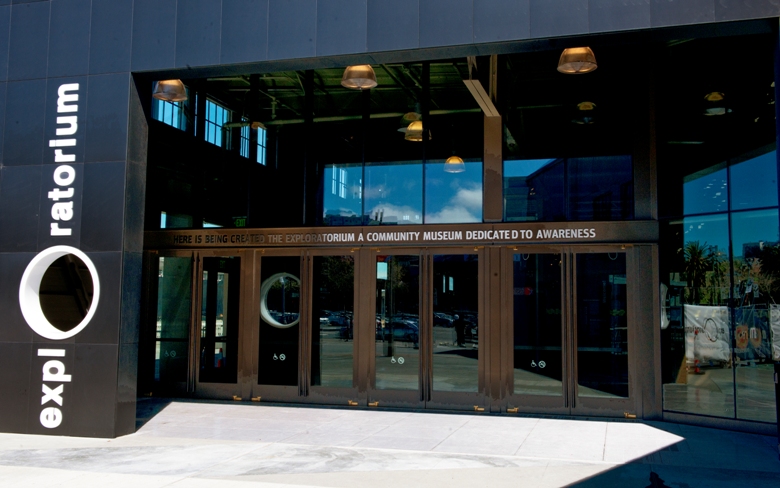 By Eileen Ogintz
Tribune Content Agency
Ready to tinker?
Step right into the Tinkering Studio at San Francisco's Exploratorium where you can tinker until you make lights go on and buzzers sound, make music on a musical bench or create a toothpick sculpture, inspired by the giant toothpick sculpture "Rolling Through the Bay," a replica of the city of San Francisco made entirely of toothpicks. Watch ping-pong balls roll and bounce through the city's iconic sites. The piece took sculptor Scott Weaver 37 years (he started when he was nine) and 105,387-1/2 toothpicks to complete
Don't know how to start? Buy a toothpick sculpture starter kit for $3 from the Tinkering Vending Machine that sells all kinds of inexpensive tools for tinkerers from conductive thread to tape and screwdrivers.
Maybe you'd prefer to build your own marble run, construct and test flying objects at the Wind Table or upload your animated creation directly to YouTube. "It's really interesting to make something myself rather than see something someone else has made," said Clayton Boles, here with a school group and busy working with circuits.
"I'm blown away," said Charlie Nicholas, 11, from Los Angeles. "Even if kids don't like science they'll have fun."
That's the idea, of course, with 650 hands-on exhibits in six main galleries that encourage kids — and the adults with them — to jump with avatars, twirl in front of the Giant Mirror that reflects an upside-down you, push buttons, turn cranks, even sit down inside the trunk of a fallen 330-year-old Douglas fir. There are exhibits outdoors as well (check out the Aeolian Harp, the wave-activated sound sculpture, or the popular pedestrian Fog Bridge, which envelops you in a blanket of fog), including some that don't require museum admission.
The Exploratorium, which tripled in size to 330,000 square feet (huge) when it moved to Pier 15 on San Francisco's Embarcadero a year ago this month, doesn't even seem like a museum at all, kids say. And it has emerged as one of the nation's top family attractions, welcoming more than a million visitors, half of them kids, even before its first anniversary. Just as significant, half of the visitors are from out of town and more than 40 percent are coming for the first time, like the Nicholas family who said the Exploratorium is what spurred their trip to San Francisco from Los Angeles. "You use your body and your brain here," said Charlie Nicholas. "Pretty awesome!"
"You won't get bored," promises Liam Bray, 13, who lives in San Francisco and is here with his mom and three younger siblings.
"We run out of time before the kids get bored," adds his mother, Jayne. "That doesn't happen at other places." The best part: "There is something for all ages here."
That includes young adults who flock to the Exploratorium Thursday nights when you must be 18 to enter — 5,000 every month. Did I mention that 200 teens are part of the paid staff here, working as "explainers" throughout the galleries?
Even the museum's SEAGLASS restaurant is designed to encourage families to experiment. There's no traditional kids' menu but plenty of healthy eats that are kid-friendly from clam chowder to sushi rolls and organic roast chicken. (Read what I wrote about our visit here. "The Exploratorium is all about experimenting," said Loretta Keller, the top San Francisco chef who oversees the kitchen at SEAGLASS. "This is a perfect opportunity to try new things with food, too."
It all began more than 45 years ago when a physicist and science teacher named Frank Oppenheimer decided he wanted to transform science education by making it hands-on and fun.
Ever since, Exploratorium scientists, builders and teachers have pioneered ways to make science more fun with exhibits that explore biology, physics, how we see and listen, how we behave and how art intersects science (there are artists in residence) — all hands-on, of course.
I loved "Team Pac-Man," which demonstrates how people interact by working together — or not — and the Wisdom Arc Time Machine where you can give advice to your younger self on a computer and read others' entries. Megan, 19, told her 14-year-old self, "Grades are not nearly as important as you think!"
Over the years, more than 1,000 interactive exhibits have been built on site (you can watch museum staffers working on new ones); 80 percent of science centers around the world use Exploratorium exhibits, programs or ideas.
Now there is an even greater emphasis on the environment from the environmentally-friendly design, complete with rainwater collection. Pump air into the algae chandelier or check out the plankton populations via a table-sized interactive display. Explore how the microscopic life in San Francisco Bay is constantly changing. Observe how the color of the water changes.
Real-time data from the "Wired Pier" sensors and other scientific instruments around Piers 15 and 17, are presented on a high-definition video wall inside the Fisher Bay Observatory Gallery.
Exploratorium aficionados will be glad to know that the Tactile Dome (one of my kids' all-time favorite museum exhibits) is back and larger. (Make a reservation in advance!) Can you make it through a pitch-black environment just by touch?
"This is a great place for kids!" declared Katie Irvin, visiting with her family from Seattle.
For grown-ups too, Katie.
© 2014 EILEEN OGINTZ
DISTRIBUTED BY TRIBUNE CONTENT AGENCY, LLC.