Traveling with the little ones is never exciting when you're not fully prepared. Therefore, it is wise enough for parents to pull up their socks and sift through the different tips to travel safely with their loved ones. With minimal space in the waiting areas, flying isn't always a good experience. Because little kids don't understand airport security, they won't buy patience to sit close to you. Simply put, the little ones rebel and won't sit quietly for hours on a long flight. Furthermore, they also get frustrated when the air pressure begins to change as the plane takes off.
Thankfully, if you go through this guide and reflect on every tip that we have mentioned, it will be much easier for you to let yourself loose and have an exciting journey with your loved ones. So regardless of whether you're about to set off to a Disney location or struggling to find the relevant COVID-19 travel information, this article will help you make the most out of your efforts.
Book an Early Morning Flight
If you want to avoid any chaos in your flight such as delays or sudden takeoff, we recommend you book an early morning flight. Also, this is a time when kids usually wake up and are free to indulge in morning activities. Furthermore, you'll be intrigued to know that early morning flights are less crowded, so everyone is tired and just wants to take a nap.
Also, try to avoid flights that are a combination of staying at various stops during traves. For parents with newborns or toddlers, it is usually best to book a direct flight to the travel destination.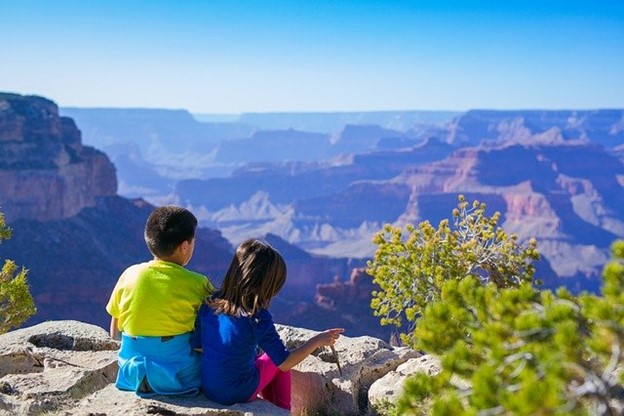 Talk to Your Kids
When kids are aware of what they are expected of, they will act and behave much better. Most parents applaud how well their kids behave when they are explained about the trip in detail. For this to happen, you don't necessarily have to lay out the documents on the table for them.
Although it's a good practice to educate the teens about an international trip, still it is advisable to educate the little ones about how they are expected to behave in a certain country or during the flight. Especially when you have to travel to a different part of the globe, traveling with naughty children can be very frustrating.
Save the Mileage Upgrades
Contrary to popular belief, traveling in the first class is much more stressful than what you expect it to be. Especially when parents travel with loud and noisy children, the other passengers in the business class might get pissed off. Therefore, it's worth it for you to settle in the economy because you'll be provided with more support there.
So ensure to save the mileage upgrades for free toddler seats. For people who travel back and forth, additional mileage is highly beneficial.
Dress in Layers
Always be mentally and physically prepared with a sudden change in the temperature when flying with your little bundle of joy. Therefore, most traveling moms advise new travelers to dress their kids in layers, so they can quickly attend the loo. After all, kids should be given a comfortable travel experience on the flight.
The same goes for shoes since they can be very uncomfortable at times. Avoid wearing laces and don't get the same for the little ones. Avoiding laces is a good method to quickly pass the security check at the airport.
Surprise Your Toddlers
When you plan to travel with a toddler, never ignore carrying surprises with you. There are several benefits to this, first of all, kids love to be surprised and second, they will be excited to play with the new toy and cherish the moments for a long time. Even if it's a new coloring book or magic pens, they will keep the kids occupied for a few hours.
So never forget to surprise the toddlers with something that will quickly grab their attention. On the contrary, not having anything for the kids will only sabotage the experience of your journey.
Pack a Little
As a rule of thumb, get rid of the 50% of luggage that you've decided to carry with you. Bear in mind, packing little will provide peace of mind since you won't get caught up with taking care of your stuff throughout the journey. Secondly, never bring the valuables with you on an international trip. Especially if you try to carry a lot of jewels or expensive stuff, the airport security might hound you.
So pack a little and always prepare a list of the basics first. For kids, you better carry stuff that makes them feel comfortable since little ones usually don't like to be restrained with tons of clothes on their bodies.
Always Choose a Small Stroller
Going to the airport without a stroller is a big mistake. Secondly, when you have no experience managing a lot of stuff by yourself before, not having the stroller will be worse than the worst nightmare. So consider buying a small-sized stroller that can be carried on the flight as well.
Check with Cathay Pacific to know about their requirements or to generally inquire about the stuff that you can carry on the plane. If you're traveling with more than one kid, carrying a stroller becomes imperative.
Prepare a Packing List
Just when you're going through packing everything, it is recommended that you create a quick checklist of everything. Your list should be inclusive of the basics and stuff that needs to be in your bag without any reservations. Ensure to carry a bottle of water, if you're skeptical about purchasing from the airport due to COVID 19 security protocols.
Don't forget to carry the chargers and kid-size headphones. Unless you don't pack the essentials, don't step foot outside. Once everything has been packed, you can take a deep breath and let yourself loose. This process might be a little frustrating but the end results will be worth it.