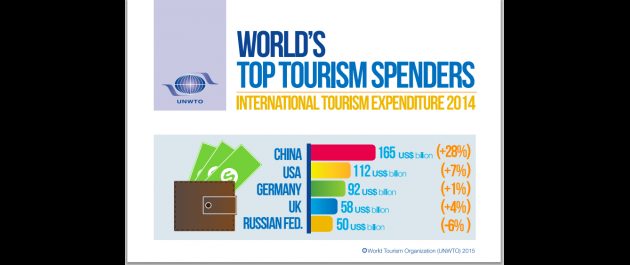 Media Alert: The 3rd annual TMS Summit Convenes in Riviera Nayarit, Mexico to Explore How to Encourage International Family Travel and Cultural Exchange
(Iberostar Playa Mita, 21 April 2015) — As the TMS Family Travel Summit prepares to convene, the World Tourism Organization has announced that 2014 international tourism revenues rose to US$ 1.5 trillion, driven by a 4.4% increase in global arrivals. The TMS Family Travel Summit meeting in Riviera Nayarit, Mexico April 23-25, 2015 will explore how many of the 1.135 million overnight international travelers are families, and how to increase their numbers.
"In a year when oil prices and foreign currencies fell in many parts of the world, knowing that international tourism still has a US$4 billion a day economic impact is very encouraging," notes Joanne Vero, producer of the TMS Summit, TMS Family Travel and Travel Media Showcase conferences.
Global travel is exploding. In the top ten ranking by tourism earnings, China climbed from 5th to 3rd place following an upsurge in visitors from Asia and Western countries. The United States (US$ 177 billion) and Spain (US$ 65 billion) maintained first and second positions in the ranking, with the leading destination, Orlando, Florida reporting 62 million+ arrivals in 2014.
In terms of outbound tourism, the world's top spender China continued its exceptional pace of growth with a 28% increase in expenditure in 2014, reaching a total of US$ 165 billion. The world's second largest spender, the United States posted a 7% increase based on increasing confidence in the economy and a pent-up demand for international travel. TMS Family Travel Summit will explore key issues of concern to family travelers, such as health, safety and the cultural and educational value of international travel for all ages.
Speakers from Google, Yahoo! Travel, ABCNews, Travel Weekly, Meredith, Mexico Tourism Board and others, as well as leading analysts from D.K. Shifflet and MMGYGlobal will present and discuss the latest research on the family travel market, with a sidebar on Mexico and family travel in the Hispanic market.
The 3rd annual Summit is being co-hosted by Eileen Ogintz of Taking the Kids and Kyle McCarthy, editor of Family Travel Forum, who adds, "Our summit's goal is to explore how to increase both inbound and outbound tourism revenues from the family travel segment."
This year, IBEROSTAR Hotels & Resorts is hosting the TMS Family Travel Summit at their 5-star property, IBEROSTAR Playa Mita, an award-winning, all-inclusive in the tropical paradise of Riviera Nayarit."
Presentations from the TMS Family Travel Summit can be followed live at #TMSRivieraNayarit; a final report of findings will be available in May 2015.
About TMS Family Travel
TMS Family Travel conferences bring you the latest in family travel trends, techniques, and technology. A division of Travel Media Showcase, the annual tourism conference hosted by Convention & Visitors Bureaus throughout the United States, TMS Family Travel events are held at family friendly destinations and feature family travel experts, products, and brands. Both are produced by Joanne Vero, President of J. Vero & Associates (JVA), a Business Development firm which she established in 1994.
About Iberostar Hotels & Resorts
Iberostar Hotels & Resorts is a resort hotel chain based in Palma de Mallorca (Balearic Islands, Spain), founded by the Fluxà family in 1986. Iberostar Hotels & Resorts is an integral part of Grupo Iberostar, one of the main Spanish tourist companies with over 80 years of experience, which currently has more than 100 hotels in 16 countries around the world. For more information, please visit iberostar.com.
###
For more information, please contact Kerry@ JVeroAssociates.com