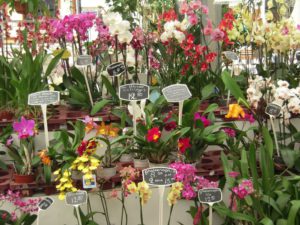 By Eileen Ogintz
Tribune Media Services
I've found vacation nirvana for teenagers and it's a place parents will like just as much as teens do. Welcome to Amsterdam. It's got everything, including teen-safe clubs, terrific outdoor markets that, despite the weak dollar, offer some bona-fide bargains, world-class museums and the chance to explore it all by bicycle. In Amsterdam, everyone seems young, fit and, most important to the teens, hip and there's the appropriate mix of culture, history and quirkiness in a city where marijuana can be purchased legally in coffeehouses and the Red Light District is historic and attracts group tours. Another plus: everyone speaks flawless English (www.visitamsterdam.nl). (GETTING THERE: OpenSkies (www.flyopenskies.com), the new premium transatlantic airline from British Airways, has just begun flying from New York to Amsterdam and is offering new PREM PLUS fares for $499 each way, offering many of the amenities of business class at a significantly lower price.)
We settled into the Ambassade Hotel (www.ambassade-hotel.nl), which quickly became one of our all-time favorites. Within walking distance of just about everywhere we want to go, the 59-room hotel is a series of 10 renovated 17th-century canal houses overlooking one of Amsterdam's famous canals. We can't believe our food choices within a couple of block — Italian, Japanese, Thai, Indonesian, French. We opt for Indonesian at Sahid Jaya (http://www.sahidjaya.nl/content/index.php). Settling in a secluded garden. It's the perfect beginning to our Amsterdam adventure. (I was glad to have "Frommer's Amsterdam Day By Day" (www.frommers.com), a compact, yet complete, city guide with more than 30 maps, tucked into my bag.)
The next day, a short walk from the hotel, I buy tulip bulbs at Amsterdam's famous flower market from Ron Abel, a man whose family has been in business here for more than 50 years. The girls — my 17-year-old daughter and her friend, Hayley Jacobs — are amused by the marijuana lollipops sold alongside the tulip bulbs. Everywhere we look there are narrow streets with cafes, shops and people whizzing by on bikes. (We quickly learn that bikers have the right of way.) We laugh at how some of the historic houses lean in a bit — on purpose we learn. And I'm amazed to learn that Amsterdam has about 1,200 bridges along its 80 miles of canals.
The girls love Amsterdam — the charm, the vibe and the fact that its famous artists, including Rembrandt, Van Gogh and Vermeer, are familiar to them. Amsterdam is the ideal city to combine fun, history, culture and good eats, we decide, as we linger over dinner at d'Vijff Vlieghen (http://www.thefiveflies.com), a restaurant that occupies adjoining 17th-century houses and specializes in New Dutch cuisine. Another night, we head for celebrity chef Jamie Oliver's oh-so-hip Fifteen (www.fifteen.net), one of four Fifteen restaurants in Europe that gives disadvantaged young people professional training.
We're glad we've got the Amsterdam Card (www.amsterdamtourist.nl), which gives us access to museums and a host of other discounts that save us significant bucks. The teens love the flea markets and vintage shops like Episode (www.episode.eu). We even get into a discussion about American politics with the vendor at the Waterlooplein Flea Market who sells the girls sweatshirts — at a good price, they assure me.
We tour Rembrandt's house, which he bought in 1639 at the height of his fame. But there was sadness here too — his young wife died, as did three of his children soon after they were born, ultimately he went bankrupt. The house is furnished with items and works of art from his time, including the kinds of tools Rembrandt used for his famous etchings. There are also demonstrations of how he made his own paints in his studio.
We join the crowd at the Anne Frank House (www.annefrank.org), (save time by getting tickets online), one of Amsterdam's top tourist attractions. The visit is sobering. Anne Frank, of course, is the Jewish girl who went into hiding with her family during the German occupation of the Netherlands in World War II. While in hiding, Anne documented her family's hardships in her now famous diary. After two years, the inhabitants of the "secret annex," were discovered and sent to concentration camps. Only Otto Frank, Anne's father, survived. Anne's diary, published after her death, gave a name and a face to the Jewish children who perished in the Nazi Holocaust.
There are photographs, letters, and even some of the pictures that Anne pasted up on the walls. Later in the day, we gain even more perspective when we visit the Jewish Historical Museum (www.jhm.nl). The building, which once housed four synagogues, is now home to an important collection of paintings and ceremonial objects looted by the Nazis during the war. Interactive computer stations let you hear the stories of survivors. Of the 25,000 Dutch Jews who went into hiding during World War II, 18,000 survived. There is also a wonderful kindermuseum designed to give children an idea of what it means to be Jewish in Holland. Even for those who aren't Jewish, a visit to both museums should be on every family's list when they visit Amsterdam.
On a lighter note, a visit to the Pancake Bakery (www.pancake.nl) is a must-see, it's just down the street from the Anne Frank House in an old warehouse originally owned by the Dutch East India Company. Owner Bastiaan Schaafsma, who grew up in the apartment upstairs when his parents ran the restaurant, explains that Dutch pancakes — often eaten for dinner — are much lighter than American pancakes and thinner, filled with all varieties of cheese, ham, vegetables, and meat, as well as sweets (the banana and apple are especially good.) It's easy to see why this place is so popular!
The next day, we head to Museumplein to visit two of Amsterdam's most famous museums and top attractions — the Rijksmuseum (www.rijksmuseum.nl) is home to the famous 17th-century dollhouses and many masterpieces, including Rembrandt's The Night Watch, in which the artist created a portrait of soldiers in action in a way that had never before been captured.
A few blocks away is the Van Gogh Museum (www.vangoghmuseum.nl), which houses the largest Van Gogh collection in the world — more than 200 paintings. The works are arranged chronologically, which helps the girls gain some understanding of the artist's art and troubled life.
After so much culture, the girls decide a little shopping therapy is in order, so we head over to the Albert Cuyp Outdoor Market, which stretches for a half-mile. You can buy anything here from cheese to dresses, suitcases to socks, fish to nail polish to fresh orange juice and birdcages. The market is packed with locals, doing their Saturday shopping. Afterward, we head to Bazar, a lively local haunt for a terrific (and relatively cheap) Middle Eastern lunch (www.bazaramsterdam.nl).
Touring is exhausting and on our hour-long canal tour, presented in several different languages, including English, the girls fall asleep. But that doesn't dim their enthusiasm for Amsterdam a bit. Next time, they say on the way to the airport, we've got to stay longer.
For more on our Amsterdam adventure, visit the "Travel Diary" on this site.
(c) 2008 EILEEN OGINTZ DISTRIBUTED BY TRIBUNE MEDIA SERVICES, INC.