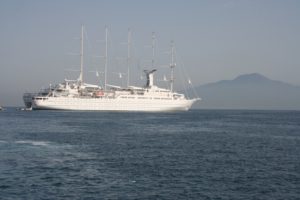 DAY EIGHT: The Amalfi Coast of Italy from the Wind Surf.
WOW!
We are standing on the deck of the Wind Surf at 10 p.m. our eyes glued to a spectral cone rising from the sea ahead of us with occasional pulses of red and pink shimmering off the top. It is the island of Stromboli off the Coast of Italy. As we get closer we can clearly see the lava erupt—bright orange in the black sky.
When we got closer still, we could hear it too – like a dragon's roar.
Passengers oohed and aahed and shouted "YESSSSS!"
This was after dinner on deck in Candles—just 40 people enjoying filets, wine and white-table cloths on the deck. It is as the ship's captain Maurits Groothuis said… by the end of the week, we'd feel as if this is "our" yacht.
Stromboli was an amazing site and one I'm sure we couldn't have experienced on a larger ship.
Our last morning, we are in Sorrento and the Amalfi Coast and opt to take an hour boat cruise to Positano. Others on board go to Pompeii, Herculaneum to see the ruins or to Capri. Some opt to tool around Sorrento so they will have enough time for a last chance on the water sports platform. I never did get to go down the water slide! Six hours is not enough!
My only complaint: We don't have enough time here! Positano is the quintessential Amalfi Coast resort town—well-heeled Italian tourists sunning themselves, fishing boats and yachts bobbing in the harbor, impossibly quaint shops selling brightly painted ceramics and restaurants with heart-stopping views.
We have just barely enough time to walk up Positano's cobblestoned hills to savor the views of the pastel colored houses that seem stacked up the mountain. We shop a bit (lemon soap, balsamic vinegar, a slice of delicious pizza. We sit for an iced coffee, then grab a gelato (lemon of course) and it is time to get back to the boat that will return us along the Coast. We watch other villages in the distance and get a good view of Mt. Vesuvius and the island of Capri.
I think we're all a little frustrated we didn't have more time but a cruise, I think, is meant as a "sample" so that "You know where you want to return and where you don't" another passenger suggested. And I think she's right.
Next: When in Rome….